This Hollywood Guest House Makes the Perfect Outdoor Movie Screen
(Projector not included.)
Charged with designing a beautiful but minimally environmentally impactful home atop a narrow Hollywood Hills ridge line, Belzberg Architects created a gorgeous plan that conveniently includes a unique outdoor movie screen built into the adjacent guest house's exterior.

Having the carport area double as a theater al fresco is ingenious—and given the location, immensely appropriate. It connects the main and guest areas, which total 5,800 square feet. And it maximizes what little site area they had to work with.
The narrow hallway that runs along the main house accentuates its slender nature.
But the interior certainly doesn't lack spaciousness, both in terms of the actual volume under its vaulted ceilings and the sweeping vistas seen through full-length windows.
The polished floors, dangling metallic fireplace and non-boxy furniture give the interior a clean and minimal, yet modern and comfortable balance. And although it feels exposed during the day, the city lights and clear evening sky nestle the house at night.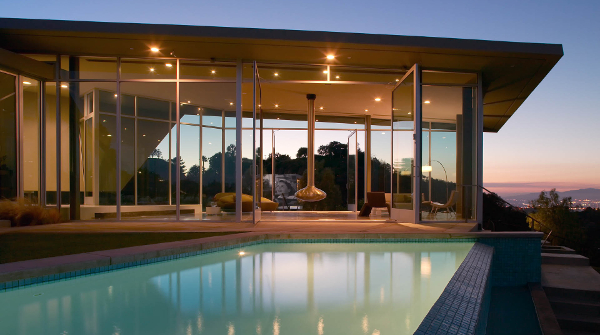 Even the house's fairly sparse interior becomes one of the vistas to soak in. And you're still left a relatively unobstructed view of the killer screen.
But of course, the best seats in the house are reserved for the main house's master, just outside its angular entryway. A picture-perfect way to end any day.