Rule the Rain Forest in This Wild Brazilian Treehouse
If Tarzan had a high-tech treehouse, this would be it.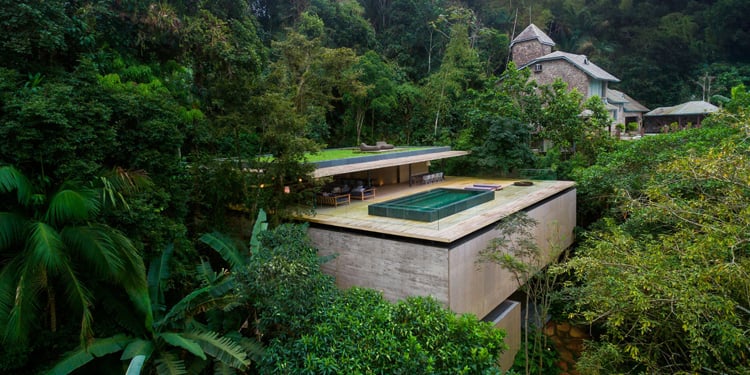 To some folks, blending with nature means installing a fancy plant in their office. For others, it means planting themselves amidst the dense vegetation growing in the Brazilian rainforest. The latter is the motivation behind Studio MK27's Casa Na Mata.
This 3-story "jungle house" is nestled along a hillside just west of the Paulista shore. It's layered vertically in reverse. That is, the deck's on the ground floor, bedrooms in the middle, and the pool and lawn at the top.
Most amazingly, the giant structure only touches the ground with two pillars, essentially conveying it the ultimate lavish treehouse that both respects and somewhat blends into the surrounding land.
Spacious common areas balance the coziness of being surrounded by all those lush treetops, making for a feeling of floating throughout.
Indoor hammocks and balconies adorn five of the house's six bedrooms. For even more relaxation, step into the hot tub sunken into the treelined veranda.
Of course, the pool is another option, either for dunking or just gazing at in pure mesmerization, as you sip piña coladas under the enormity of the blanketing Brazilian night sky.
So when you're ready to get away from the fast pace of the city and melt into organic South American rhythms, the tree frogs, butterflies and other forest creatures are ready to welcome you into their natural habitat.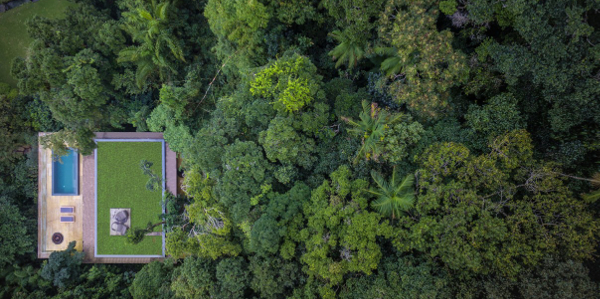 h/t urdesign