An Unabashed Assessment of the Sturgis Motorcycle Rally
We went to America's wildest biker bash and lived to tell the tale.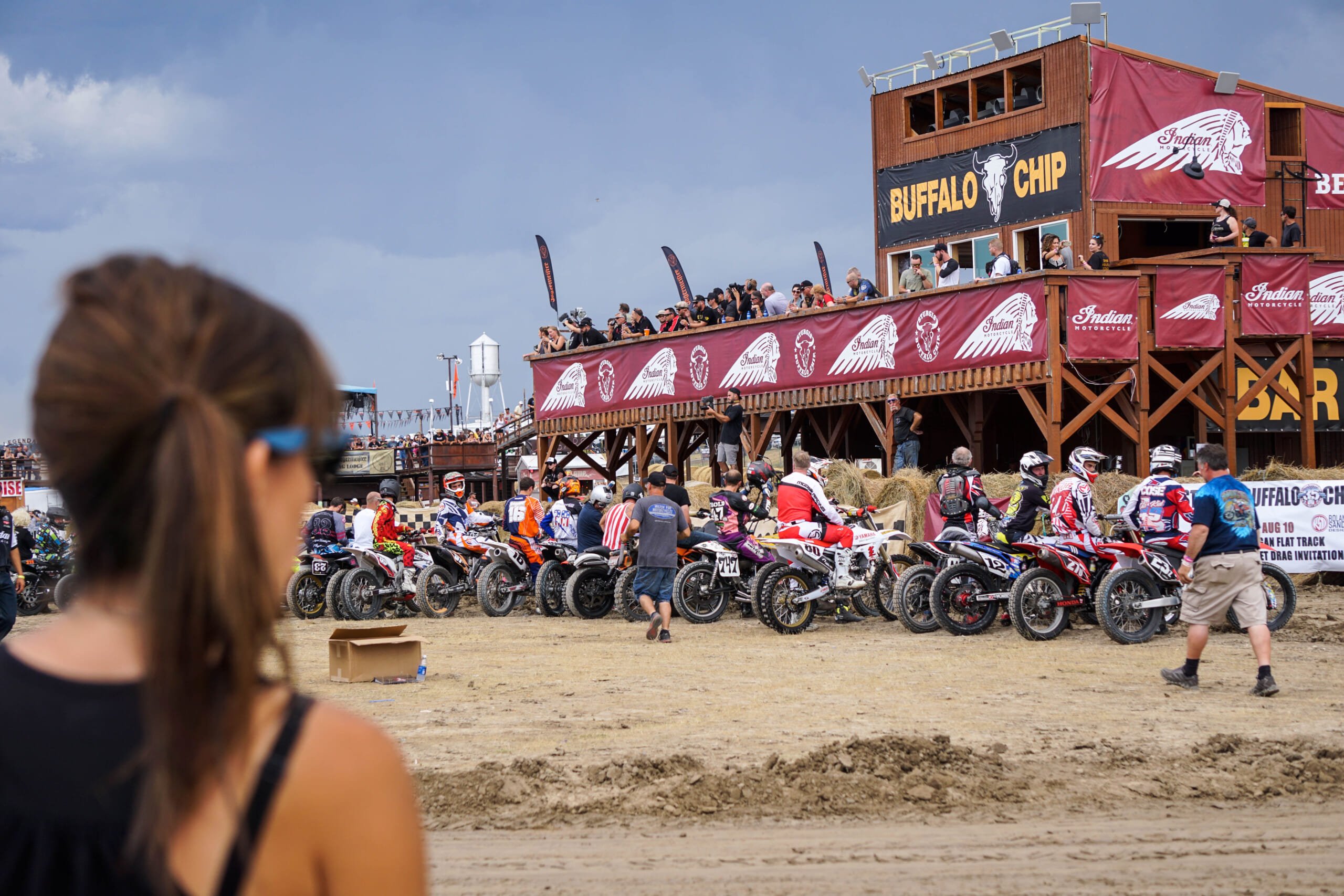 From a sidewalk in downtown Sturgis, South Dakota, I watch a heavyset woman wearing a baggy white t-shirt lumber onstage so a pot-bellied man can pour four pitchers of water on her. You see everything as she shakes dry like a Saint Bernard. Then a well-endowed woman climbs onto the stage after her, wearing no top at all. 
I find it strange the man still pours water on her. Just then a mother pushes two toddlers in a tandem stroller in front of me, her husband hollering across the street as he stumbles behind his family. I question, for the umpteenth time today, why I sort of like the Sturgis Motorcycle Rally, smiling through my self-loathing.
Almost every summer for the past 76 years, hundreds of thousands of motorcyclists have descended upon this tiny South Dakota town for a weeklong celebration of  life on two wheels. When the local Jackpine Gypsies Motorcycle Club started the rally in 1938, they centered it around motorcycle racing and stunts, and people came from all over to enjoy the spectacles and ride the unreal roads tucked into the surrounding Black Hills. 
Those remain keystones of the Sturgis experience, but they're now juxtaposed by an abundance of overpriced carnival food, getups that make Sons of Anarchy shirts seem tasteful, and roves of chauvinistic assholes who lack social skills. It's vibrant and grotesque, freeing and off-putting, delightful and disgusting.
Downtown Sturgis displays the worst of it all. The city is clean and quaint, seeing how only some 6,700 people actually call it home, but supersaturated with tactless bars and garish shops selling shit covered in Confederate flags and "Make America Great Again"-like quips. 
Traffic is thick and moves slowly, but it's easier to navigate the streets than the sidewalks, which are packed tightly with sunburnt people as thoughtless about civility as they are about style, at least until pasties and body paint become fashionable. They use motorcycles as an excuse to pound Bud Light like they're on spring break for the middle-aged and overweight.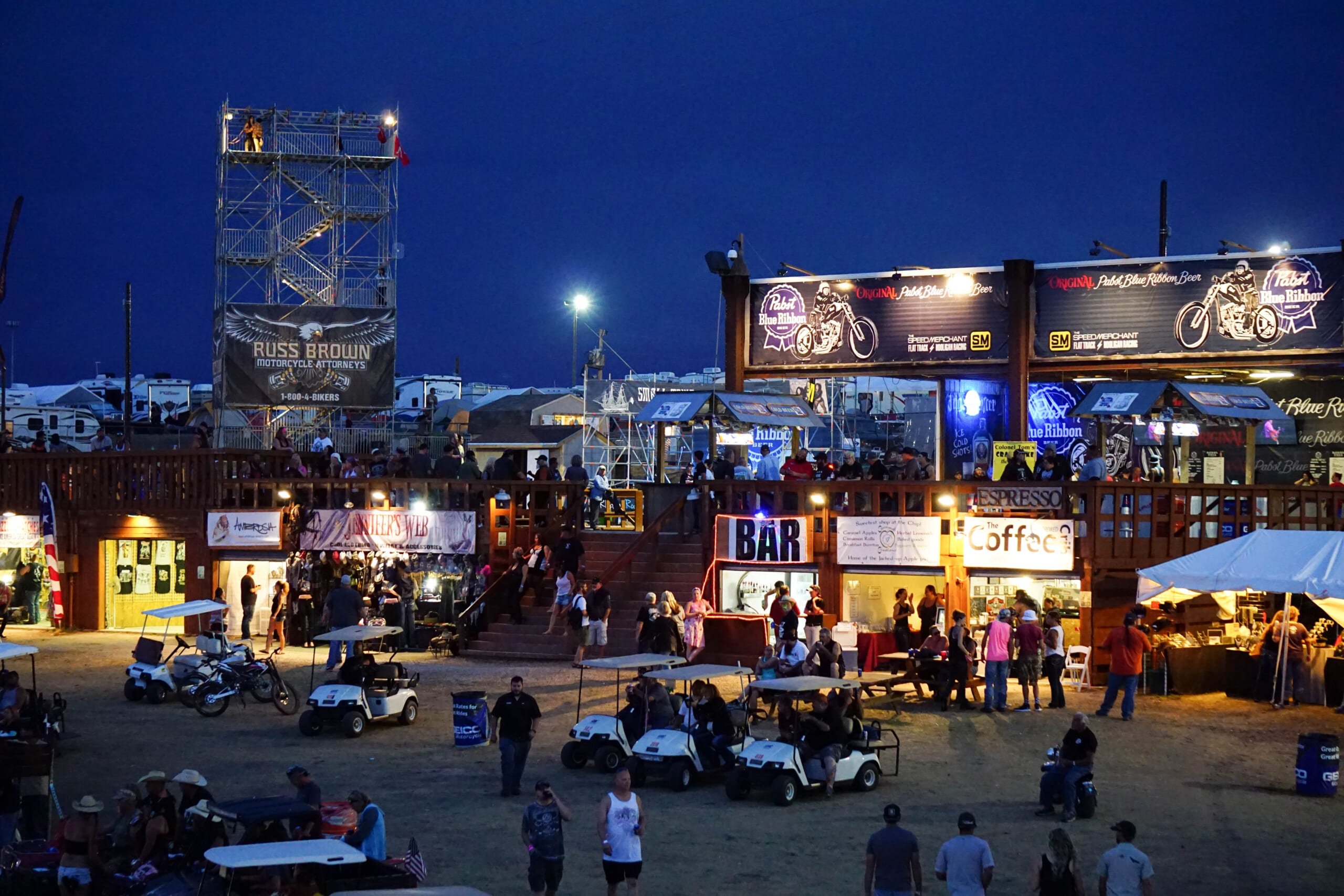 There are, however, small pockets of redemption in downtown Sturgis. The town's charming two-level motorcycle museum has mint examples of eclectic bikes from the past century. 
Sturgis' crisscrossing streets are lined with motorcycles of all colors, no two perfectly alike, and parking lots are home to a few of the fascinating shows you would've seen at earlier rallies, including the young Ives Brothers' mesmerizing Wall of Death. The most enjoyable bits of the rally, though, are beyond the boundaries of Sturgis at places like Full Throttle Saloon or the Buffalo Chip, just several miles outside of town.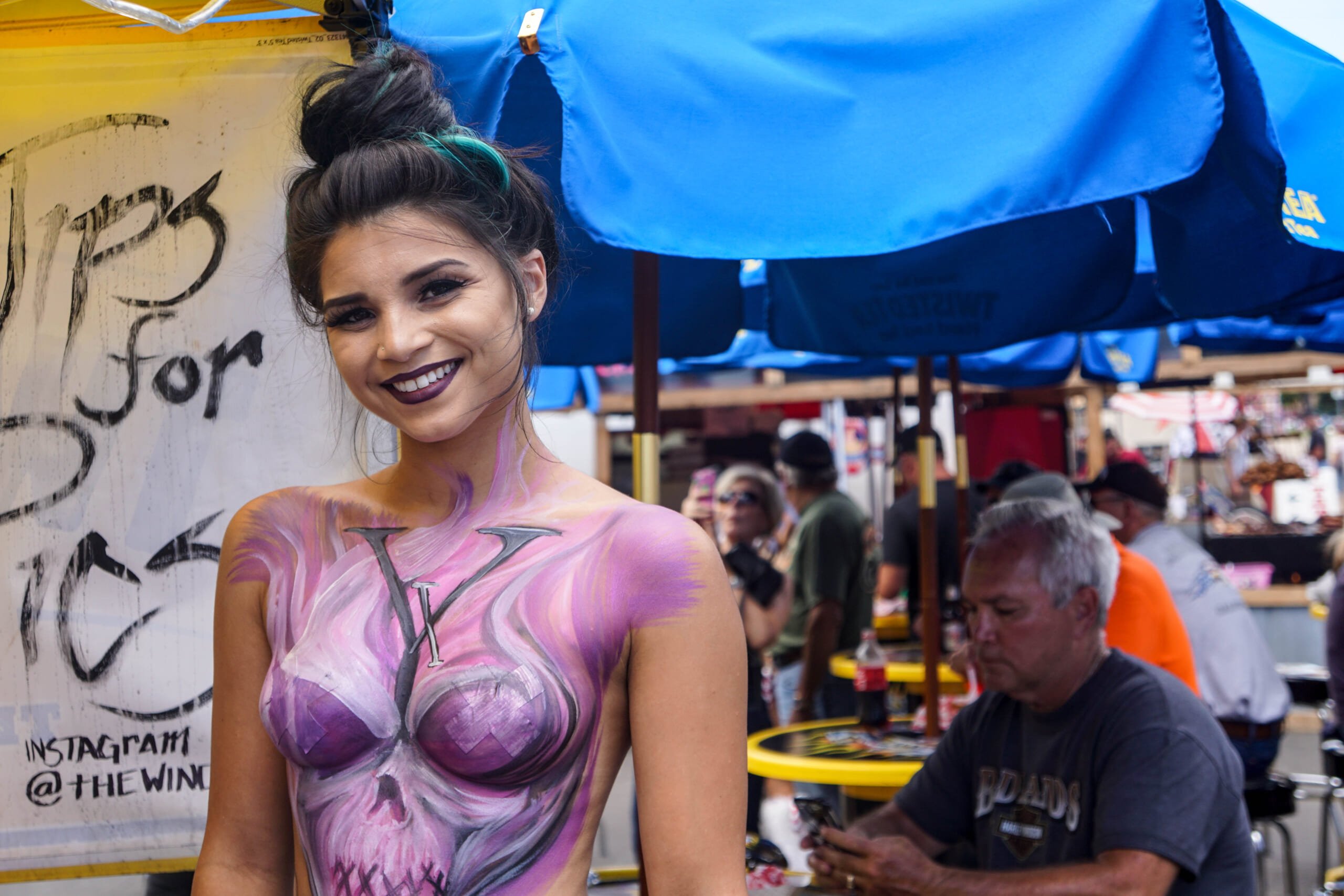 I ride out of Sturgis with Jason Paul Michaels, owner of Orlando's Standard Motorcycle Company, his wife, Leticia Cline, and her women's motorcycle club, Iron Lilies. As we leave Sturgis a man holds up a cardboard sign that says, "SHOW ME YOUR TITS." So I stand on the pegs of my 2016 Harley-Davidson Fat Bob, unbutton my vest and shirt, and oblige him; he flips me off. 
The road is crawling with state police who will happily write me a ticket if I even try to crest the 35-mph speed limit. We pass a field full of American flags as we get to Buffalo Chip, a campground that has grown into "the best party anywhere" over its 35 years. 
It has a tenuous relationship with Sturgis because when the town tried to stop the rally from happening some time ago, Buffalo Chip stood fast and fought back, but now the town profits greatly from the annual event and competes with the Buffalo Chip.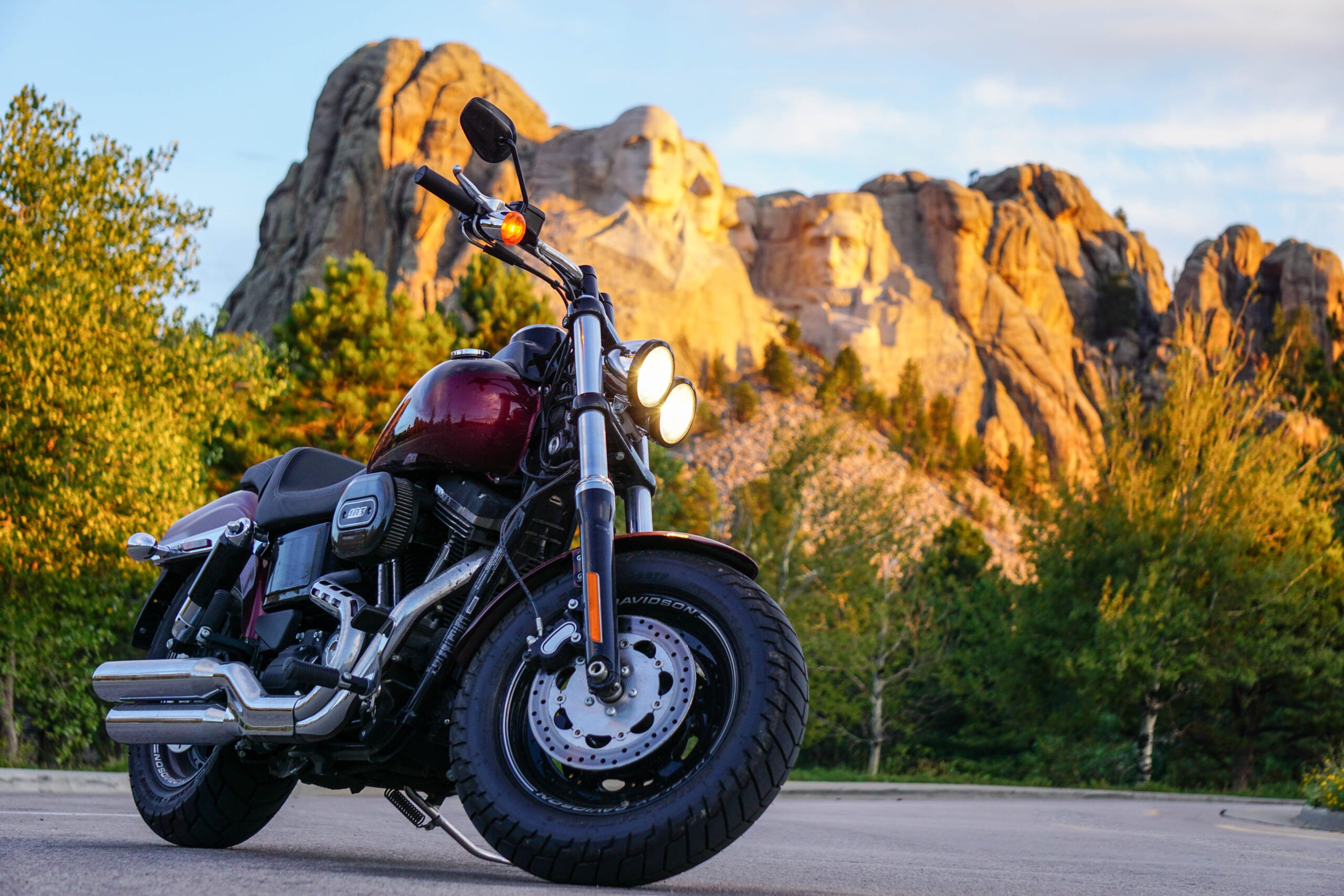 The Chip shares some of Sturgis' shortcomings, including vulgar outfits and a lot of pole dancing, but it sets itself apart from the city by embracing the longstanding essentials of the event, like music and racing.
This year the Buffalo Chip invited big-name artists like Lynyrd Skynyrd, Miranda Lambert, Kid Rock, Elle King, and Five Finger Death Punch to play sets in front of rowdy crowds who pull their motorcycles right up to the stage and rev their engines instead of cheering. That's at night, and during the day there's flat track racing and heads-up drag racing that has open, friendly pits that you can wander around.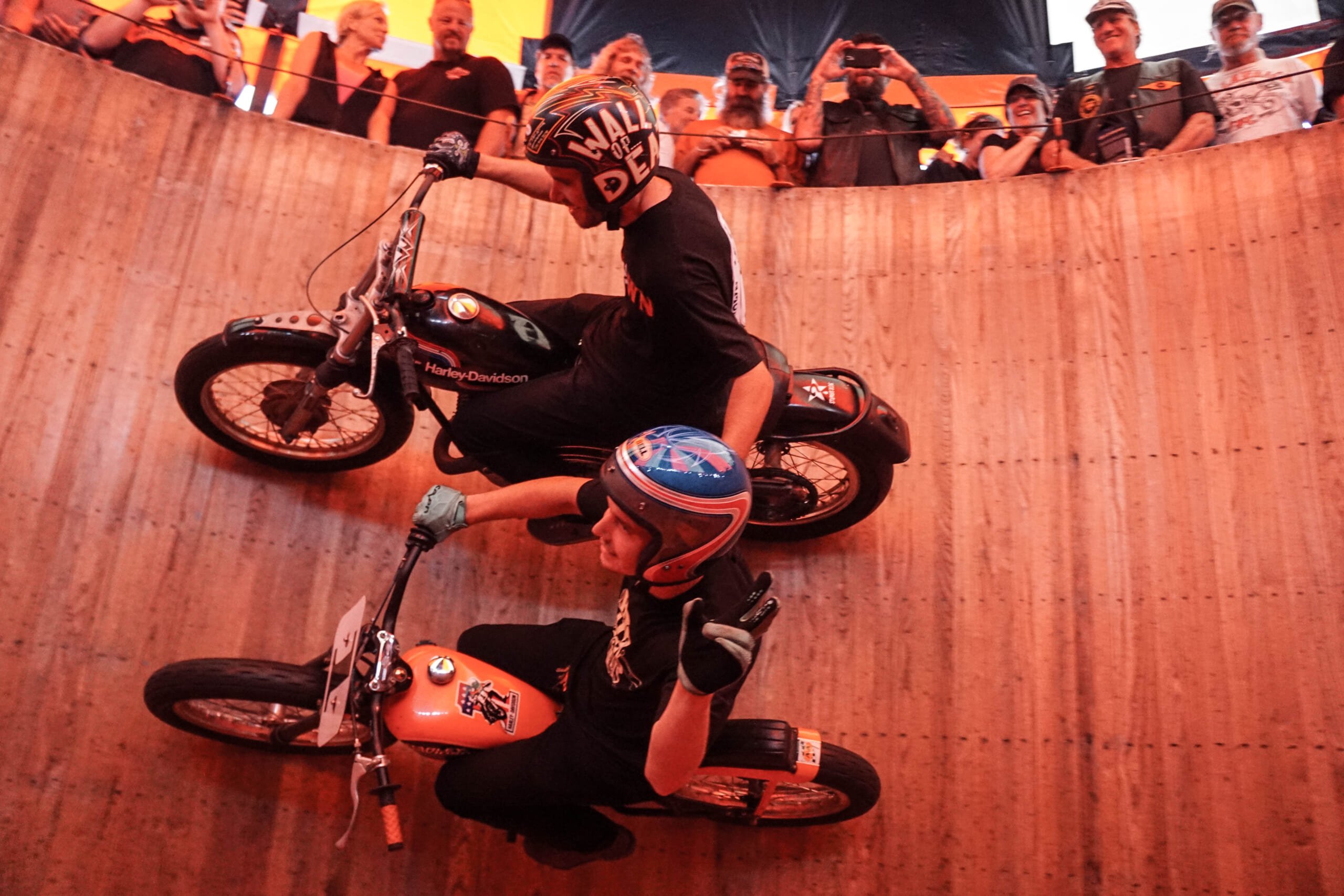 The Chip has a better vibe than downtown Sturgis, one that celebrates motorcycles more than excess, even though both are still evident. I meet with Rod Woodruff, president and CEO of Buffalo Chip, who says, "The heart of this whole thing is the motorcycles. People get focused on commercialization. We're not here to sell deodorant or hairspray. We're here to have a good time. Everyone that's coming here is coming here to have fun."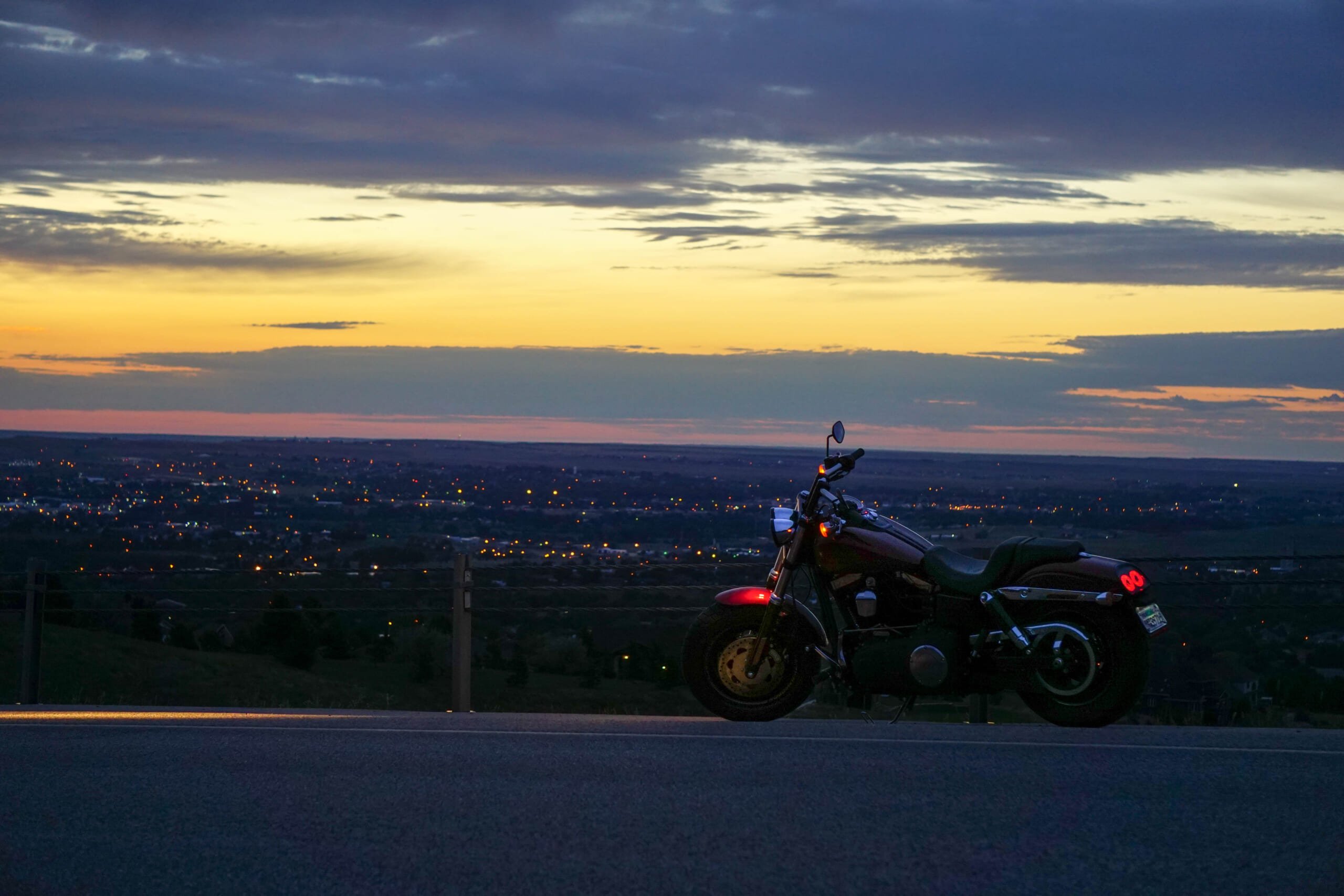 I do have fun at the Chip but still don't find any sliver of salvation here. Or anywhere close to Sturgis, for that matter. I find peace after sunset, under a sea of crisp, bright stars sprinkled across a dark sky. I find myself staring up instead of at the road as I snake through the Black Hills around midnight, my Fat Bob's headlights shining in the eyes of deer I pass by. 
You would think the roads would be empty at this hour, but no. Every turn, I see another motorcycle, and every motorcyclist I pass waves. I pull up to a stoplight next to a couple riding a bagger, their Chihuahua on the man's lap, and my laugh fogs up my helmet's visor.
This place and the people it attracts, I tell you. Some of them strange, a few of them revolting, but almost all motorcyclists with an unambiguous passion for motorcycling that they're excited to share. 
They have stories to tell, and some of them are fantastic. The wrong people come here to escape their lives. The right people come here to enjoy their lives and explore this beautiful place. That's what I love about the Sturgis rally, even if the event itself is as distasteful as a pot-bellied man pouring pitchers of water on women wearing white shirts.