This High-End Floating Home Puts Other House Boats To Shame
The Seattle stunner is way more than just another house boat.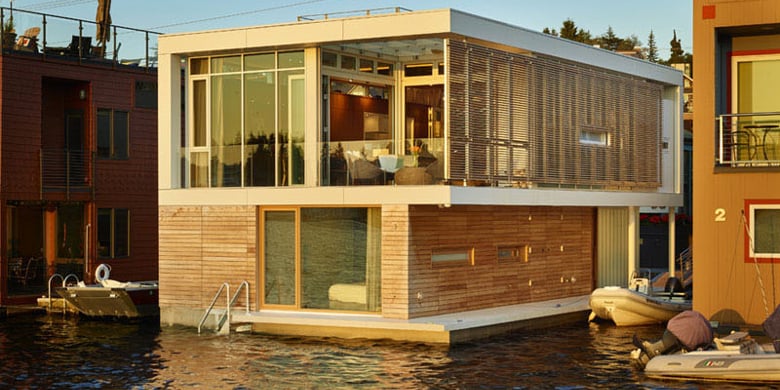 [Cue (Sittin' On) The Dock of The Bay.]

In an outboard slip on Lake Union in the heart of Seattle floats a particularly gorgeous home designed by Vandeventer + Carlander Architects. Nothing against the other surrounding houseboats on the dock, but style-wise this one puts them to shame.

The same two adjoining walls of channel glass that provide privacy from the exterior also let ample natural light into the entryway and cast it upon the cantilevered stairwell that leads up to the main living area with its superior view.
Back at sea level, a bedroom, dressing area, bathroom and private office space comprise the master suite. Separated by a laundry room with direct access to the boat deck, a guest bed and bath completes the first story.
Wood and earth tones anchor the decor (so to speak), from a deck-styled sitting area, to the wall paneling to the slatted ceiling. As differentiated from the contrasting white walls and ceiling that surround this central space.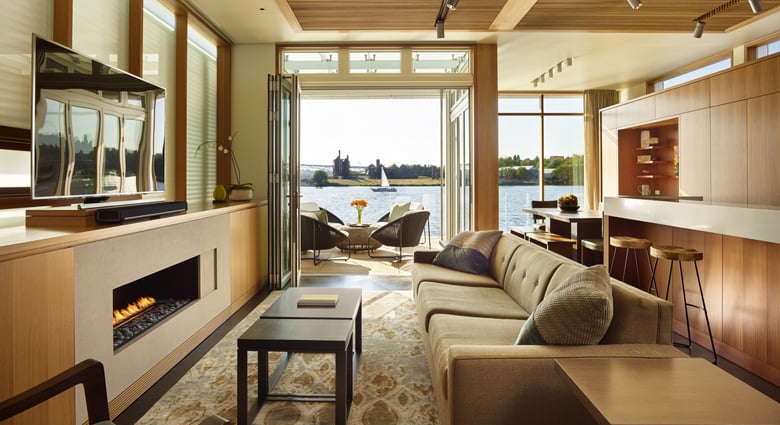 Dual terraces off either end of the great room take advantage of whatever sunlight Seattle has to offer throughout the day. And the terrace seen above features adjacent folding door wall systems that allow it to be shared by both the living and dining areas.
Resting on over 1,000 square feet worth of concrete floats, with watery vistas that include a view of Gas Works Park, this buoyant abode looks like it takes advantage of the very best Seattle has to offer.
h/t: Contemporist