A Billion-Dollar Tech Company Finally Banned Sex in Office Stairwells
No more boozing, either.
Working for a tech startup used to be fun, or so we heard. But apparently the wild days of yore — the copious Blue Bottle coffee, all-you-can-eat sashimi and interoffice foosball tourneys — are coming to a close. Time to get to work, kids. 
At least that's one takeaway from the news that Zenefits, a billion-dollar HR startup based in the Gommorah of the West, San Francisco, has officially banned sex in office stairwells. 
"It has been brought to our attention, that the stairwells are being used inappropriately…." read a company email obtained by the Wall Street Journal. "Cigarettes, plastic cups filled with beer, and several used condoms were found in the stairwell. Yes, you read that right. Do not use the stairwells to smoke, drink, eat, or have sex. Please respect building and company policy and use common sense…"
It was probably the sales team. Turns out they had a tradition of knocking back shots whenever a client came aboard, the Journal reported. At one party, according to Buzzfeed, "about 300 employees took a shot of whiskey to celebrate a big sale."

As the Buzzfeed article notes, office partying and a certain laissez-faire approach to government compliance seemed to go hand-in-hand, becoming rampant as the company quickly expanded from a small startup into a major darling of Silicon Valley with a $4.5 billion valuation.
The new rules are being implemented by the company's incoming CEO David Sacks. He arrived last month after the startup's founder, Parker Conrad (who adopted the company motto "Ready, Fire, Aim") resigned suddenly amid news of serious regulatory malfeasance, including a policy that reportedly allowed sales reps to skirt California licensing requirements. 
Now the fun is officially over. A few people abused their privileges and ruined it for everyone. And it's not only sex in the stairwells, but drinking and smoking that have been forbidden in the Zenefits offices as well. 
"Although it is very common for startups in Silicon Valley to permit and stock these beverages…" Sacks wrote in an email shortly after his appointment. "I believe it's time for a different policy. It is too difficult to define and parse what is 'appropriate' versus 'inappropriate' drinking in the office."
No word yet on how the new rules sit with Zenefits investor Jared Leto, but as long as his money is safe, we imagine he can cope.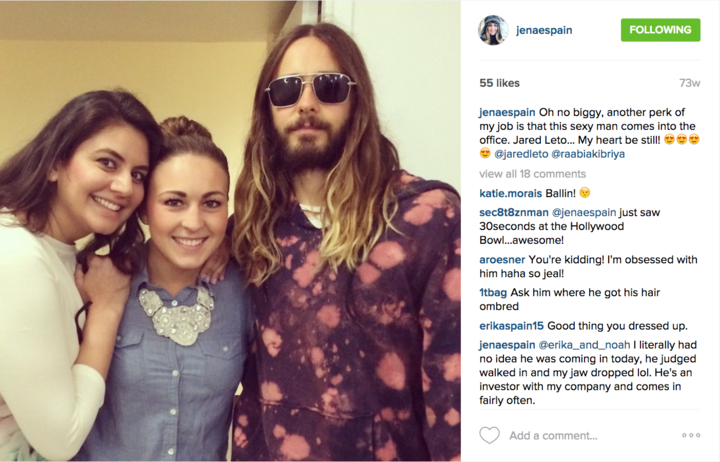 h/t Daily Mail