A $1.4 Million Banksy Painting Destroyed Itself As Soon As It Was Sold
The legendary guerrilla artist has struck again.
Getty Images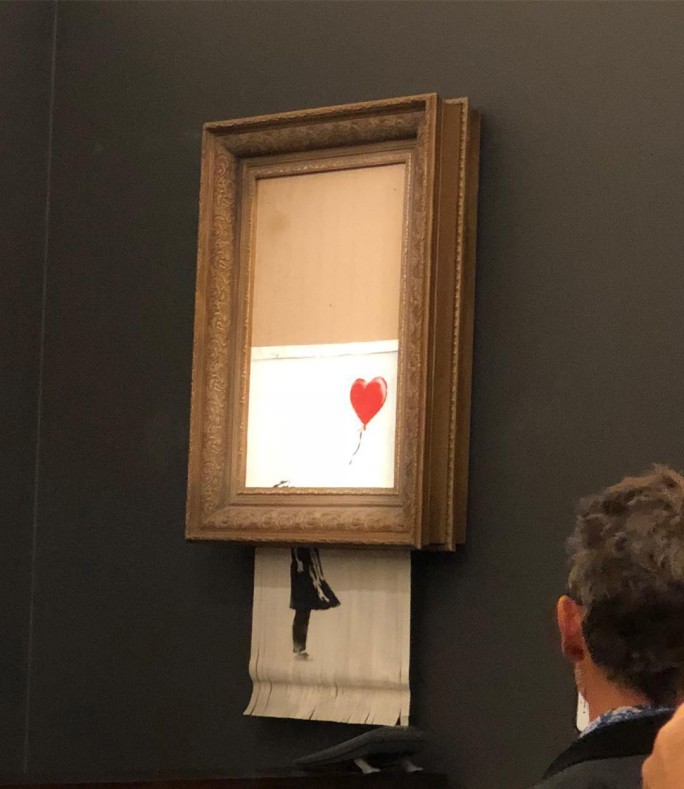 Even though no one knows who he is, Banksy has become one of the most recognizable artists in the world. Through a combination of sophisticated art that critiques society and practical jokes that play as publicity stunts the artist gained an international audience. 
The latest caper adding to the Banksy myth happened this weekend when his famous (and now infamous) piece, Girl with Balloon, shredded itself just moments after being sold for $1.4 million.
" tml-render-layout="inline
How did this even work? Banksy's instagram account demonstrated the inner workings of his diabolical and brilliant plan.
" tml-render-layout="inline
Banksy himself explaining how the painting was destroyed is a fascinating insight into the whole scheme. It was set in motion years ago when the artist installed a covert paper shredder in a frame specifically to activate it ince the framed art was up for sale.
Sotheby's facilitated the auction that led to the destruction of the piece, and they're scrambling to figure out what to do now that they've been Banksy'd. The shredding stunt has drawn more attention to Girl with Balloon than its exorbitant sale price and many are speculating that the piece could now be valued significantly higher than $1.4 million given its newly secure place the history of art.