Beauty Queen, Entrepreneur & Author Iman Oubou On Stepping Off 'The Glass Ledge'
The former pageant winner, cancer researcher and entrepreneur reveals how to overcome self-imposed glass ceilings in her new book, "The Glass Ledge."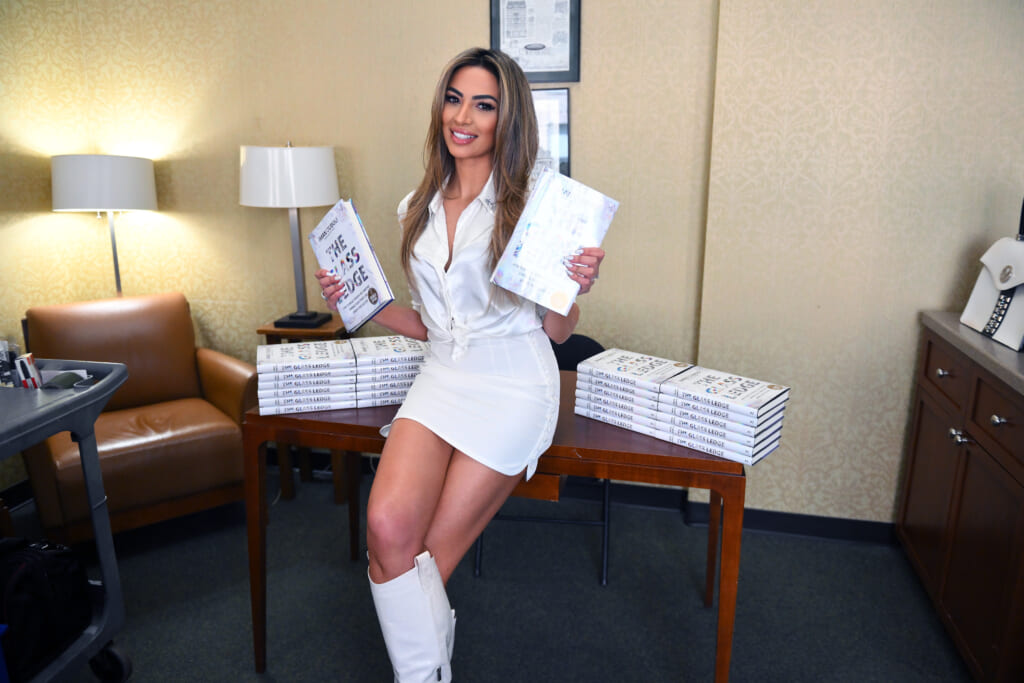 Former Miss New York, published scientist and entrepreneur Iman Oubou is setting her sights on women's empowerment in her new book, The Glass Ledge: How to Break Through Self-Sabotage, Embrace Your Power, and Create Your Success.
The book's title references the so-called "glass ceiling"—that barrier to professional advancement that's attributed to sexism, institutionalized power dynamics, the gender pay gap, and other factors.
But the symbolic glass ledge refers to "internal battles, or self-imposed glass ceilings, that distort women's beliefs about who we are and what we can accomplish," Oubou says. "The glass ledge represents the self-imposed glass ceilings we subconsciously set for ourselves and end up having the most impact on us."
Breaking the glass ceiling will require comprehensive change—something that Oubou also fiercely supports. However, the glass ledge is a phenomenon that women can work to metaphorically balance upon by first asking the question, "What can I do differently?"
Oubou has crafted a methodical way to answer that open-ended question through The Glass Ledge.
The new book explores the 10 most common themes around which women tend to derail themselves, including power, likability, authenticity, conflict, and more. In it, readers will find stories from successful women in multiple industries and exercises rooted in academic and scientific research, among other eye-opening information.
But much of this empowering guide was derived largely from the experiences Oubou amassed while forging a fascinatingly varied professional path.
Born and raised in Morocco, she moved to the U.S. with her family at age 15. "It wasn't long after that move that I began struggling with depression. I'd been forced to adapt to a new lifestyle. A new culture, a new language, and even a new way of learning," Oubou said in an interview with Authority Magazine.
"Along with depression in high school, I developed insecurities around my self-image, shame for not speaking perfect English, which instilled what I call the immigrant mentality in my work ethic: work twice as hard to stand out in a worthy and positive light."
That work ethic propelled her to perform exceptionally through school and college studies in biochemistry and molecular biology before eventually fulfilling her childhood dream of becoming a published cancer research scientist. But her path took an unexpected turn when her mom suggested she "get in touch with her feminine side" and signed her up for a beauty pageant.
"To my surprise, I not only fell in love with pageants but also became obsessed with the preparation process," she told the magazine. " I think it's because I shifted my focus to the self-development lessons that were there for the taking: poise, communication, confidence, resilience, strength, and courage. To top it off, the unexpectedly supportive pageant community introduced me to a new world in which women encouraged one another to become their best selves."
Oubou would go on to win Miss New York in 2015 and place runner-up at Miss United States that same year before pivoting to her third act: entrepreneurship. She founded SWAAY, an all-in-one publishing platform for women that aims to champion their voices through storytelling.
"For me, the road to shattering glass ceilings left me teetering on the edge of my own personal glass ledge as I fell victim to internalized oppression and self-sabotage," Oubou said in an interview with Thrive Global.
"After SWAAY suffered a major setback due to the loss of a life-changing investment, my life was flipped upside down as I was forced to reprioritize my strategy for recovering from this devastating fall. I had officially hit rock bottom: I was in a lot of debt, broke, unemployed, and battling severe anxiety disorder. I didn't really know at the time what to do and how to move forward."
"Diving deeper into a state of self-reflection, my initial instinct was to blame society and the external circumstances I had to go through as a female founder: sexism, sexual harassment, pageant bias, lack of support and resources, etc."
Devastating as the setback and ensuing trauma were, Oubou ultimately discovered the origin of her glass ledge philosophy.
"But while reflecting on my own shortcomings and journaling my thoughts, my perspective began to shift from 'things should be different' to 'what can I do differently for myself.' I realized that in order for me to get back up on my feet and fight for my business and for the life that inspires me, I would have to first turn inwardly to dismantle my limiting belief system and eliminate the self-defeating behaviors that had been holding me back."
Below, Oubou tells Maxim more about glass ledge phenomena, lessons learned through pageantry success, and what to expect from her new book.
You describe the glass ledge as internal battles/self-imposed glass ceilings that distort our beliefs about who we are and what we can accomplish. All people may experience these internal battles, but what are examples of glass ledge phenomena that are specific to women?
For women fighting to earn a seat at the table among the leaders of their industries, the external barriers appear to be never-ending. Because of this, when we find ourselves struggling or experiencing setbacks in our journey, the initial instinct could be to blame society and the external circumstances we might go through as female founders: sexism, sexual harassment, lack of support and resources, childcare policies, or lack thereof etc. Sometimes it can be hard to recognize that while external barriers do exist, the biggest barrier can be your own flawed self-worth.
Before you were ever involved with pageantry, you began working in the healthcare sector as a cancer research scientist. How did this early career choice shape you?
Being a cancer research scientist in a startup was truly the stepping stone to discovering my passion for both impact, leadership and entrepreneurship. Although I soon realized that being in a lab and doing research wasn't ultimately the career for me, it still helped me develop resilience, patience, and perseverance.
It's a heavily male-dominated industry where sometimes your intelligence and competence are heavily questioned based on your gender, appearance and even your side hobbies (in my case pageantry, which didn't go hand in hand with a career as a scientist).
Despite your initial apprehension, you came to love pageantry and described its community as "unexpectedly supportive." What positive experiences did you come away with?
The pageant world has a very negative preconceived stereotype because of how it has been portrayed by the media. I saw it that way before I got to experience it for myself. The outside world thinks of it as shallow, disempowering and full of cattiness and unhealthy competition between the women.
In my experience, it was nothing but a positive transformation, personally and professionally. Pageantry not only gave me a platform to find my own voice and fight for the voices of many other women, but it also helped me find a loving and supportive community of like-minded, ambitious, and accomplished women that are still a big part of my life. I have said this many times and I continue to say it today: Pageantry is a big part of why I am the confident and self-assured woman I am today.
Since winning Miss New York in 2015, You've continued to stay active within the pageantry community, most recently as a judge of Miss Earth USA 2022. Does today's pageantry scene foster any glass ledges?
I believe we encounter glass ledges in every part of our lives and yes, today's pageantry can still drive you out on the glass ledge if you aren't doing the self-work needed to show up as the best version of yourself on the day of the competition. In life as in pageantry, you have to do the inner work and build the right self-awareness needed to thrive in a world that is constantly judging you and undermining your potential.
If you aren't self-aware enough and self-assured in every aspect of your life, it's easy to internalize everything the outside world throws at you as a reflection of who you are and what you are capable of. And in pageantry, comparison and likability conundrums can easily creep up on contestants and make them doubt themselves before they even step on that stage.
Thankfully, today's pageantry environment is full of supportive women who encourage you and help you stay positive. It's not as toxic as it was once before which helps many of us stay focused on the end-goal, which is winning!
What can people expect from your new book, The Glass Ledge?
The Glass Ledge explores issues around power, likability, authenticity, conflict, and more. Each chapter focuses on one of these nuanced themes, incorporating counterintuitive and eye-opening information.
This includes anecdotes from my personal journey, stories from other high-profile successful women, academic and scientific research, lessons and tips to overcome negative self-perception and avoid slipping off the ledge while working our way toward our own definition of success, and of course, exercises that will help us turn the teachings into self-reflections and actionable next steps.
The Glass Ledge is available on Amazon, Barnes & Noble, and anywhere else books are sold.