Belgium May Have Just Thwarted a Major New Year's Terror Attack
Authorities aren't messing around.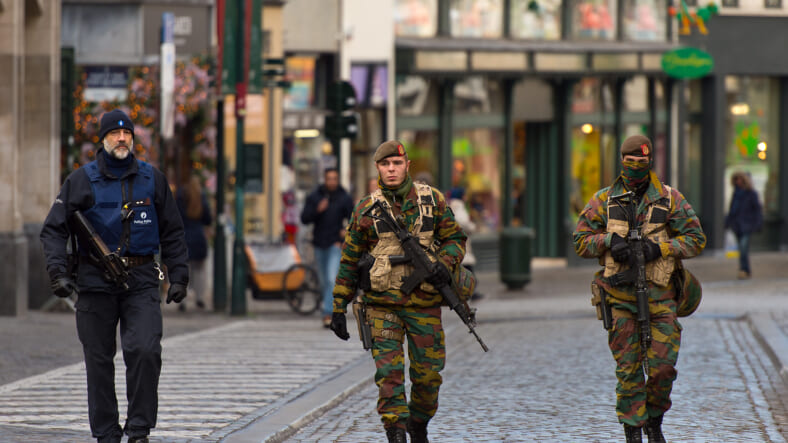 With New Year's Eve bearing down on cities across the globe, Belgian authorities detained six terror suspects during a city-wide search in Brussels on Thursday "as part of an investigation into an alleged plot to carry out an attack in the capital" during New Year's celebrations, Reuters reports.
The city has been at various levels of terror alerts since the Paris terror attacks that left 130 dead in November. The alleged mastermind of the Paris attacks, 27-year-old Belgian citizen Abdel-Hamid Abu Out, was the subject of a massive manhunt by Belgian authorities in an impoverished Brussels suburb in the aftermath of the attacks.
It's unclear if these six have any connection to the terror threats that spooked Belgian officials to canceling traditional New Year's Eve celebrations on Wednesday. Here're the details, per Reuters:
Police carried out searches at six locations in the Belgian capital and one just outside the city, seizing computers, mobile phones and equipment for airsoft, a sport involving guns that shoot non-lethal plastic pellets.

A judge was to decide later on Thursday whether the six detained people could be held further.

Two Belgian nationals arrested earlier this week and named as 30-year-old Said S. and 27-year-old Mohammed K., are being held on suspicion of planning a terrorist attack, prosecutors said. A court on Thursday extended their custody for a month.

Both are members of the Kamikaze Riders, a Brussels-based motor bike group whose members are mostly of North African origin and carry out bike stunts which can be seen in online videos.

Some Belgian media say the group harbors Islamic State sympathizers and that the search for other group members had led Brussels to cancel Thursday night's planned firework display.
It's not just Belgian authorities who are being overly cautious. The news comes as U.S. authorities brace themselves for "alleged plots by Islamic State operatives or sympathizers to launch attacks over the New Year's holiday period," Reuters reports. 
Despite the fact that the Department of Homeland Security has said that there are no "imminent or credible" threats to American targets at this time, cities aren't taking any chances. According to NBC News reports that more than 6,000 heavily-armed police NYPD officers will guard New York's Times Square to ensure the safety of the more than 1 million people expected to watch the ball drop from the Crossroads of the World on Thursday night.

But according to the Associated Press, many New Year's revelers around the world say they won't be cowed into staying home by terrorist scum. 
"We still have this fear but we need to continue to live," said Myriam Oukik, a resident of Paris who lived through the vicious terror attacks that rocked the city in November, told the AP. "We will celebrate."