The Barely Clothed Baristas at This Bikini Coffee Shop Brew Up Heaping Cups of Sexiness
Starbucks this ain't.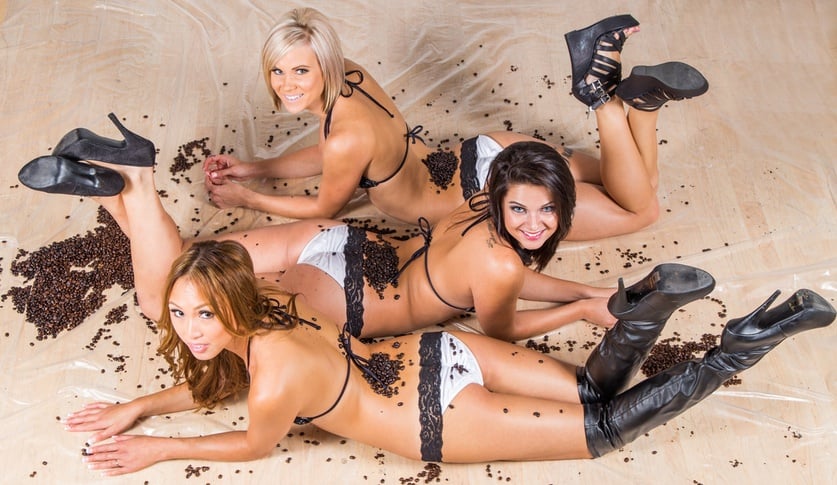 For far too long, coffee shops have been commandeered by hipster baristas with names like "Star" or "Skye." Most have neck tattoos, a philosophy degree and don't know jack shit about brewing a decent cup of coffee.
But a new chain of coffee shops popping up across the U.S. is doing away with the cardigans and pretentiousness. At the aptly named "Bikini Bean Espresso," your morning brew is brought to you by bikini-clad—and sometimes topless—baristas.
Talk about a pick-me-up…
https://www.youtube.com/watch?v=OlyFh97zy7M
The first Bikini Bean Espresso opened in Spokane, Washington, to considerable controversy from local fuddy-duddies (see the video from Zagat above). After the eventual success of the concept, it is opening two new branches in Arizona, where bikini-wearing babes are hopefully less stigmatized.
" tml-render-layout="inline
On the company's website, founder Carlie Jo described the empowerment-driven ethos of the company.
"As the first bikini barista shop in Arizona, we want to empower women to be, and feel good about, themselves. Women everywhere have the right to vote, to be gay, to be successful community leaders and business owners, or even to run for president! We have the right to work with grace, confidence, and dignity, regardless if it's in a business suit, scrubs, or a bikini."
" tml-render-layout="inline
" tml-render-layout="inline
Bikini Beans Espresso is now serving the java and bikini-deprived people of Phoenix and Tempe.