Bill Cosby Blames Racism For the 60 Women Who've Accused Him of Sexual Assault
In his first interview in years, the comedy legend put his foot in his mouth.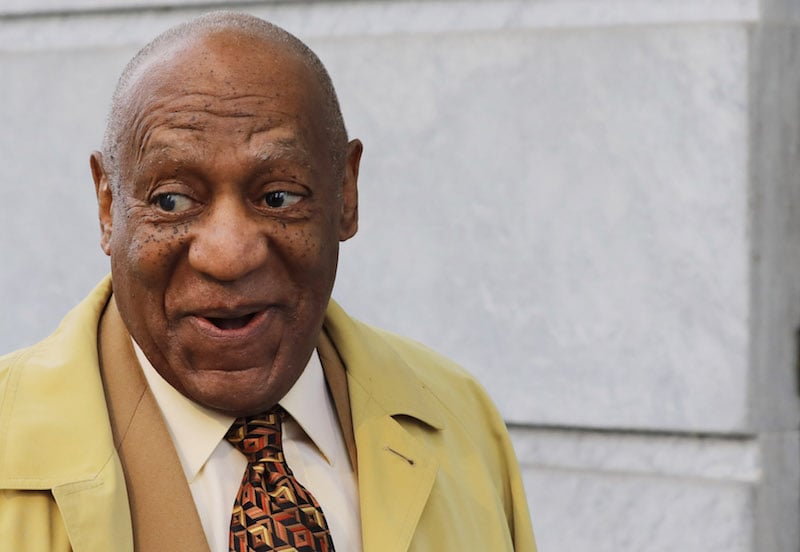 For two years, as dozens and dozens of women emerged to accuse him of rape and sexual assault, Bill Cosby remained silent. Now we know why. In his first interview since 2014, the 79-year-old has said something so dumb that he might want to plan another three year hiatus from talking to the media.
The comment came during an interview with Sirius XM's Michael Smerconish, and it was in response to a remark from Cosby's daughter Ensa, who recently said, "I believe that racism has played a big role in all aspects of this scandal. … My father is being punished by a society that still believes black men rape white women, but passes off as 'boys will be boys' when white men are accused."
Asked about Ensa's take, Cosby said, "Could be… I just truly believe that some of it may very well be that."
This probably isn't what Cosby's attorneys had in mind when they scheduled the interview, which is part of a larger push to try to turn public sentiment back in his favor, an impossible task if there ever was one.  
One of those attorneys, Angela Agrusa, recently said she's hoping to change "the optics" for Cosby, who will stand trial next month for the alleged drugging and sexual assault of Andrea Constand. Cosby is accused of assaulting the then-31-year-old Temple University basketball director in 2004.
Cosby's racism accusation is convincing no one, in part becuase many of women accusing him are black.
In the interview with Smerconish, the comedy legend also said that the only reason so many women spoke out against him was to sway public opinion. "So, the piling on, so to speak is a way—and certainly an impressive, impressive way—to get public opinion to come to the other side," Cosby said.
Cosby won't be testifying during the trail, he told Smerconish. "When you have to deal with examination, cross-examination, et cetera, et cetera—more than two sides to every story. Sometimes it's four or five," he said. "I just don't want to sit there and have to figure out what I believe is a truthful answer as to whether or not I'm opening a can of something that my lawyers are scrambling."
The trial starts in June and the judge has said he expects it to last two weeks.