Belgian Police Had an Orgy Instead of Hunting for Terrorists
What a disgrace — a sexy disgrace.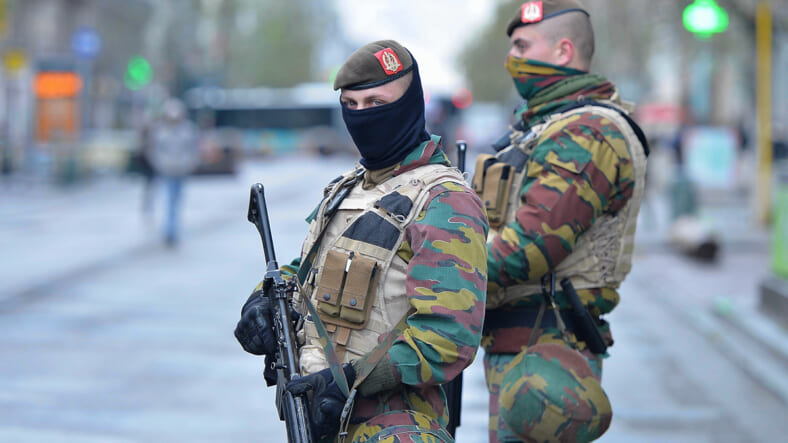 While the residents of Brussels locked their doors and braced themselves for a for an imminent terrorist attack, soldiers and police held an orgy in a makeshift barracks, according to Politico.

Reports in Belgian media outlets La Dernière Heure and De Standaard alleged that eight Belgian soldiers and two female police officers "engaged in lewd acts at a police station in the neighborhood of Ganshoren, just north of Molenbeek" as their fellow law enforcement colleagues frantically searched for suspects connected to the November 13th terror attacks that rocked Paris.

The soldiers allegedly engaged in their "lewd acts" after the Ganshoren police station was turned into a makeshift barracks for soldiers on duty during the November lockdown of Brussels. The lockdown was initiated on November 21st amid warnings of a "serious and imminent" terror attack, the Guardian reported. Sporting events were canceled, shops closed, and citizens were encouraged take shelter.
Here's how La Dernière Heure described the scene inside the Ganshoren garrison:
Upon the arrival of the military police, several officers from the Gashoren division said their female colleagues were already "all hot and crazy" at the idea of getting these men out of their uniforms.

One evening, two police — one belonging to the division of Ganshoren and the ther working in the dispatch area — reportedly spent the night "in the act" with eight of the twenty soldiers sleeping there

A senior police officer discovered the scene.
 The lockdown was finally lifted on November 26th. 

Police spokesman Johan Berckmans confirmed to De Morgen that "15 to 20 soldiers" stayed in the Ganshoren station during a two-week period. An investigation into the allegations is reportedly under way.