JetBlue Said This Dancer's Shorts Were Too Skimpy Too Fly
How short is too short?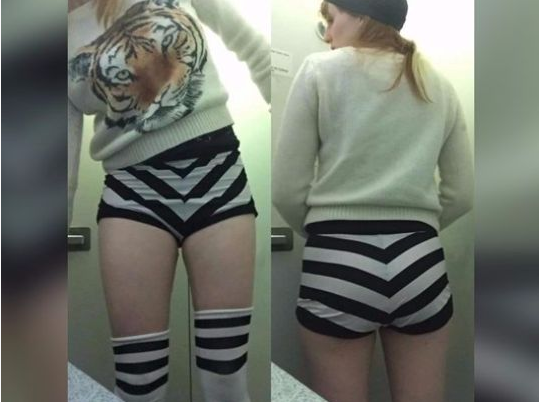 A burlesque dancer has blasted JetBlue for "body shaming and slut-shaming" after she claims a crew member said her shorts were just too short to fly.
Before boarding a transfer flight from Boston to Seattle, dancer Megan McMuffin (yes, that's her actual stage name) was asked by the crew member to change her shorts as "they may offend other families."  
McMuffin, sporting a stylish retro tiger sweater with zebra-esque striped shorts and thigh-high socks, had no apparent issues on her first leg of her journey from New York to Boston. It was only when she landed in Beantown on May 18 that her racy work apparel was deemed a problem.
"A few minutes before boarding was set to start, the gate lead approached me and said there was a problem and that what I was wearing was not appropriate," McMuffin said. "And they were hoping I could put something else on. And I informed them that I didn't have anything else. I had two small carry-ons with me, and they suggested I go buy something."
Since being forced to purchase an extremely oversized pair of pajama pants for $22, the Seattle native has been reimbursed and offered a $162 travel voucher from JetBlue for her troubles. But that's not exactly the resolution McMuffin was aiming to have from this dress code altercation.
"If companies are going to seek action against people like me, they should clearly list their boundaries and their dress code," she said. 
 "I think this seems like a small thing, but it's connected to a lot of larger things in our society, and it's something JetBlue really needs to analyze."
h/t USA Today