'Business Is Booming' for Wily Chef Who Carved Deer Meat in Front of Vegan Protesters
Whoops.
Twitter
It's safe to say that the attempt made by vegan protesters to curb business at a meat-focused Canadian restaurant was an utter failure. 
Toronto's Antler Kitchen & Bar made national headlines after a video showing chef Michael Hunter (real name) carving up a huge hunk of venison in front of angry animal rights activists went viral. Watch it again below.
Marni Ugar, one of the protest's leaders, told Unilad that the restaurant is now busier than ever. 
"It doesn't actually bother me that business is booming for him because my bottom line is how many animals are dying," she said. "These are people who would consume a dead animal, and they're just doing it there now, so that's fine."
She added, "If people were to watch him before he was about to kill the animal, they would likely stop him. It's cognitive dissonance." 
That may or may not be true for some, but it's definitely not for hunters, butchers, or any carnivore who understands that an animal has to die before being consumed. 
The determined anti-meat crusaders have reportedly staged as many as seven sit-ins. Despite the fact that the attention they've received almost certainly contributed to the massive uptick in the Antler Kitchen & Bar's business, the group is confident that they've accomplished something greater.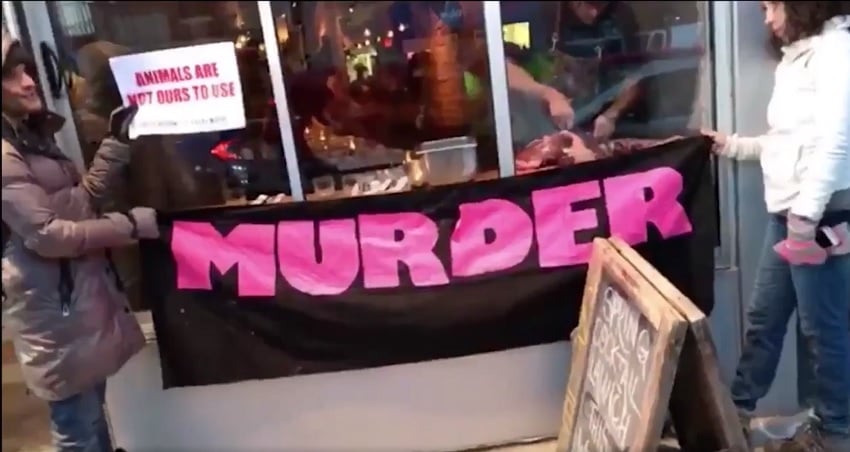 "I can only imagine how many people are reducing and eliminating their consumption of animals, going vegan, saving the animals, saving their health, and saving the environment as a result of the Antler compassion campaign," said fellow activist Len Goldberg.    
"Millions of people are now discussing the issue, are now discussing our long standing abuse of animals."  
Millions. Right.