The LAPD Is Investigating Charlie Sheen Over Shocking Allegations—Even For Him
Looks like all that Tiger Blood messed up his head.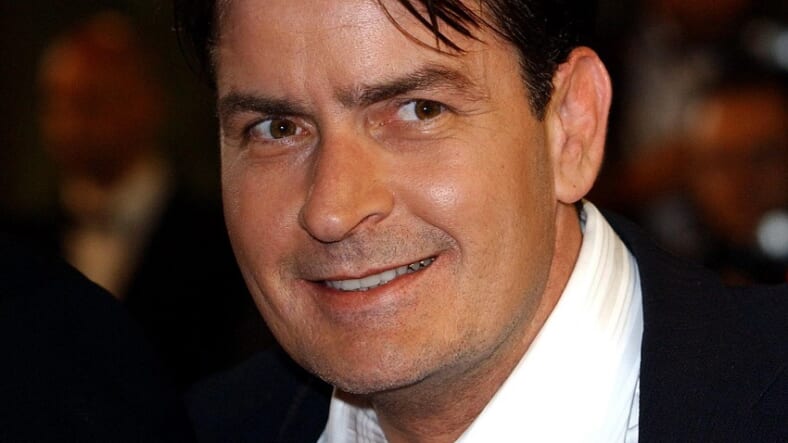 When Charlie Sheen shows up in the news again it's rarely for boring reasons, and this is the least boring reason yet: The New York Daily News reports that Los Angeles Police are looking into allegations Sheen planned a hit on one of his porn star exes.
That Sheen allegedly spoke of hiring someone to take out Scottie Ross — sometimes known as adult film star Brett Rossi — is only part of the story. RadarOnline, which is affiliated with the National Enquirer, reported the LAPD is also investigating secretly-recorded tapes in which Sheen appears to admit he wasn't honest with at least one sexual partner about having HIV. When confronted on the tapes by a partner who demanded to know why Sheen hadn't disclosed his status to her, he reportedly said, "Because it's none of your fucking business, OK!"
In California, RadarOnline noted, that's not true. State law indicates it is a crime there to "willfully expose yourself to another person if you are afflicted with a disease that is contagious, infectious or communicable."
In those same tapes, which LAPD investigators subpoenaed from RadarOnline Wednesday, Sheen allegedly commits a double-barrelled self-incrimination, reportedly issuing a threat he'll pay a hit man $20,000 to kill Scottie Ross and also admitting to straight-up lying about whether he has HIV. 
The Daily News spoke with an LAPD source who gave every indication this is a serious investigation. The unnamed source confirmed a warrant had been issued seeking the tapes in RadarOnline's possession and that the whole thing was "very sensitive" at this point. 
The Daily News contacted a source close to Ross who indicated she was "terrified." 
"He said he was going to pay someone $20,000 to kill her," the source said to the paper, "Lots of people might say, 'That's just Charlie being Charlie,' but we've lived through O.J. (Simpson). We don't take this as a joke."
As for Sheen's reps, his attorney Marty Singer told the News the whole thing was a "publicity stunt." 
In a search warrant liberally quoted by both Radar and the News, Ross painted Sheen as a monster who physically assaulted her, threatened her life and "on several occasions" even "brandished firearms at her."
After a public and dramatic unraveling in 2011, Sheen staged something of a comeback with a new show and then in 2015 a public admission of his HIV status, which seemed to garner a good deal of sympathy. 
Now it looks like his second — or third, maybe fourth? hard to keep track — act may be spiraling even further out of control than his meltdown five years ago. 
Other than statements from attorney Singer, neither Sheen nor his reps had issued any comment as of Wednesday afternoon.
h/t Daily News, RadarOnline