China's Powerful New Laser Can Blast Drones From 2.5 Miles Away
This futuristic weapon is compact enough to mount on trucks.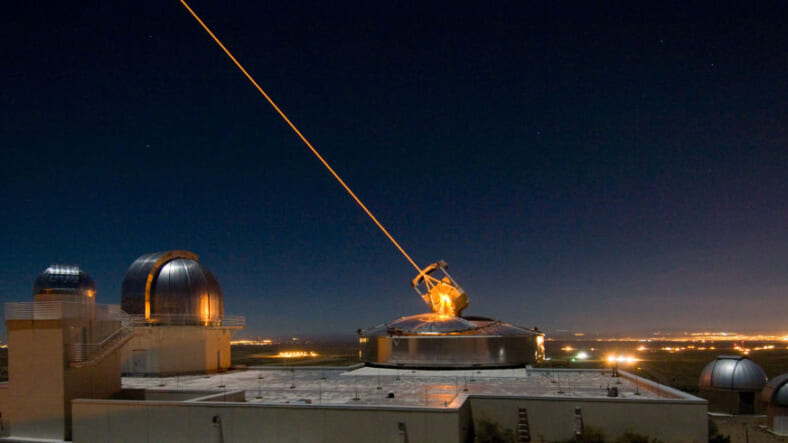 A powerful militarized laser developed by a joint venture between the Chinese Academy of Physics Engineering and Jiuyuan Hi Tech Equipment Corporation was unveiled at the Africa Aerospace and Defense 2016 tradeshow in South Africa last week, and it's something straight out of a Sci-Fi movie. 
The Low Altitude Guard II, or LAG II, is a laser weapons system capable of firing a high-power 30 kilowatt laser beam to knock small airborne targets such as UAVs and drones out of the sky at a range of up to 2.5 miles.
This second iteration of the LAG improves drastically upon the first, with twice the range and power of the LAG I, which makes the LAG II comparable to the Laser Weapons System installed on the mighty floating base, the USS Ponce.
Even with all this power, marketing agency Poly Technologies reports that the system is compact enough to be mounted on medium-sized trucks or 6×6 armored personnel carriers. Using a eletro-optical guidance system, the weapon is capable of using directed energy as a defense against small incoming aircraft. 
The electro-optical guidance system could also theoretically be used to take down larger aircraft, but a more advanced system would be required for defending against projectiles such as missiles or rockets. 
The LAG II is currently being reviewed by the People's Liberation Army for anti-drone missions. It seems China will soon join NATO and the U.S. military in implementing directed energy systems for military use. 
H/T Popular Science