Paris Hilton's Brother's Extremely Embarrassing Arrest Video Will Blow Your Mind
"I'm Conrad motherf*cking Hilton. Don't you forget it!"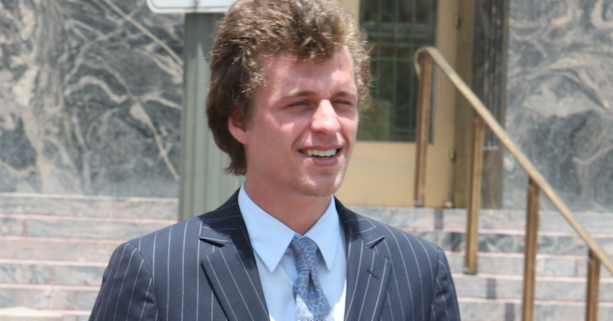 (Photo: Getty Images)
And you thought Paris Hilton led a crazy life.
This weekend the hotel heiress' troubled 23-year-old kid brother Conrad was arrested for allegedly attempting to break into the home of his ex-girlfriend's mom.

His ex is Hunter Daily Salomon, her mom is actress E.G. Daily (that's Dottie from Pee-Wee's Big Adventure), and her dad is notorious poker player Rick Salomon, the co-star of Paris' infamous 2003 sex tape, 1 Night in Paris. 
Got all that? Now watch.
https://www.youtube.com/watch?v=91nMIS_ggFU
Yeah, it's pretty bad. Besides shouting out the horribly clichéd "I'm Conrad motherfucking Hilton. Don't you forget it!" he also screamed "faggot" several times in a brazen display of homophobia and accused a cop of touching his dick.
Conrad allegedly stole Rick Salomon's Bentley, drove it to the house, and tried to break in.
The Daily Mail claims Conrad is mentally unstable, and that he pursued a relationship with Hunter out of revenge against her dad. In the video a female believed to be Hunter can be heard telling the police, "We were friends, and we hung out when I was 14 years old, and then, I don't know what happened, he had some kind of mental breakdown."
Here are some of of her recent insta pics, just in case you're curious.
https://www.instagram.com/p/BTnOOGagSD3https://www.instagram.com/p/BRZu3RCg5uNhttps://www.instagram.com/p/BSAWh-SAGt4https://www.instagram.com/p/BQvw8LKg_Dg
h/t: BroBible