Dan Bilzerian Blasted By PETA After Posting Wild Video of Him Feeding Huge Kodiak Bear
"I was feeding a very healthy, happy bear who was rescued at a young age."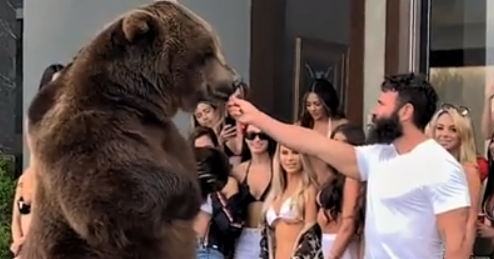 Instagram/@danbilzerian
Dan Bilzerian is facing the wrath of animal rights group PETA by feeding a giant Kodiak bear at his lavish 4/20 party. 
The so-called "King of Instagram" was celebrating the high holiday when he hand-fed one of North America's largest apex predators in front of his typical 'Gram-ready entourage: a cavalcade of scantily-clad young women.
Video of the insane moment quickly went viral as it racked up more than 15 million likes and comments. His caption was also on-brand: "When your girls [sic] hungry." 
The unusual ursine guest was reportedly provided by Steve Martin's Working Wildlife, a business that rents professionally trained "animal actors" for movies and parties, which by the way, has no affiliation with the famed comic actor of the same name. 
PETA responded by blasting out letters to the California Department of Fish and Wildlife and the Los Angeles Department of Animal Services, alleging that Bilzerian and Martin unlawfully exhibited the bear. 
PETA also sent abbreviated versions of the complaints to Bro Bible: 
In a letter to the Los Angeles Department of Animal Services, PETA notes that Bilzerian and Martin didn't have the required permit for this display. They couldn't have had one, because city regulations expressly prohibit keeping bears in the residential zone where the party took place.

And in a letter to the California Department of Fish and Wildlife, PETA points out that because Martin failed to contain the bear in an escape-proof enclosure or to ensure that a safe distance was maintained between the animal and the public, he's subject to permit revocation and a fine of up to $10,000 per violation.


"Bears belong in the wild, not in captivity, pimped out as props by shameless pseudo-celebrities like Bilzerian for Instagram 'likes,'" says PETA Senior Vice President Lisa Lange. "PETA is calling on authorities to throw the book at scofflaw animal exhibitor Steve Martin and the man who hired him for this dangerous stunt."
Bilzerian defended himself by accusing PETA of jumping on "the typical internet bandwagon" in a statement to People. 
"It's pretty obvious I love animals," he says. "I gave up hunting a long time ago. I've tweeted 'you should only kill an animal if you are gonna eat it, and that trophy hunters obviously have small dicks.'"
"I appreciate people trying to stand up for animals," he added. "However, you've got people killing thousands of animals everyday for sport, torturing dogs in China and clubbing seals to death for fun. [PETA] wants to do the typical internet bandwagon on whatever is popular and come after me."
"[PETA] can suck my dick," Bilzerian concluded. "I was feeding a very healthy, happy bear who was rescued at a young age."
Regardless of whether Bilzerian was right or wrong to invite a bear to his bash, it's clear that the guy enjoys the company of animals. 
His recent Instagram posts have featured an array of exotic creatures including a Komodo Dragon, a cobra, a Galapagos tortoise, and even a giraffe.  
One thing's for sure: This definitely won't be the Bilzerian-PETA feud.