Dating Apps Are Basically Useless For Finding Dates, Says Sad New Study
Ever wonder whatever happened to all those unanswered Tinder messages?
Breaking news: dating apps are basically a huge waste of time and seldom help us land a significant other, says a gut-wrenching new study. We can all stop fooling ourselves now.
The report, led by Taha Yasseri and Jennie Zhang from the Oxford Internet Institute, revealed that most of our dating app swipes are ignored, and the majority of our carefully-crafted messages go unanswered. Maybe you noticed that already? I know I did.
Buzz-killing researchers looked at 19 million messages between 400,000 people on an unnamed dating app, and when the numbers were crunched, the results showed why so many of us are still single after years of Tinder-ing.
Sadly, 49 percent of messages on dating apps are single, unanswered messages, and of the 51 percent that did shoot a few messages back and forth, only 19 percent exchanged phone numbers. When you think about it, those are some pretty sad statistics.
"This is probably sad to some people, but reassuring to others who think there is something wrong with them because nobody is responding to their messages," Yasseri said in an interview. "It's not you, it's just a general trend. For some reason, people do not take these sorts of conversations too seriously."
Plus, it was also revealed that men tend to swipe right on anyone and everyone, then filter through matches and message those they deem worthy, which definitely adds to the "unanswered messages" group. You're exposed, gentlemen.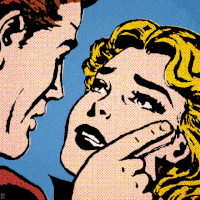 "We interviewed some users and realized that men usually swipe right way more often than females, and they pay way less attention to profiles," Yasseri said. "Females users are quite picky, and when they swipe right, they are more likely to mean it."
Anyway, back to the main point. Spending hours swiping robotically through profiles and getting excited when you get a match, then messaging her only to be ignored, is not your fault. 
That said, don't lose hope–there's no reason why you shouldn't be in that tiny percentage of people who do exchange numbers and possibly meet up for some hot Tinder sex. 
Keep swiping, folks!