Watch Dennis Rodman Weep With Joy In Wild Interview Before Trump-Kim Summit
"It's a great day. I am here to see it. I am so happy."
Video Still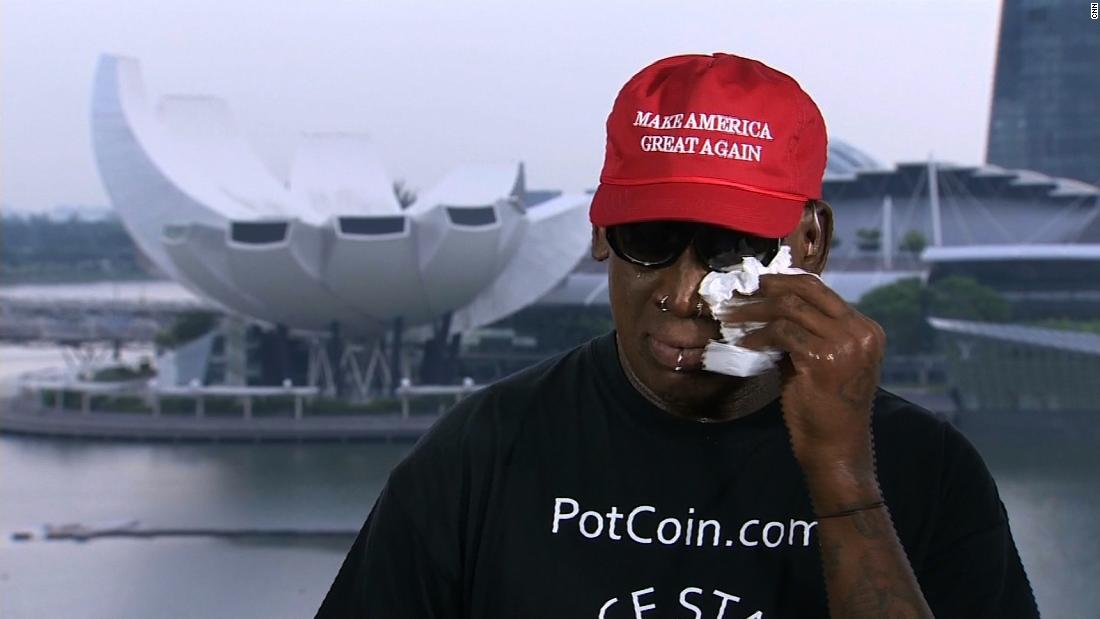 An historic meeting took place early Tuesday morning in Singapore, when President Donald Trump became the first American leader to meet face-to-face with a leader of North Korea.

While it will take many months to determine what, if anything, comes of this summit, at least one observer was reduced to tears by the unlikely chat between Trump and Kim Jong-un. 
"It's a great day. I am here to see it. I'm so happy," Dennis Rodman told CNN's Chris Cuomo from Singapore. 
The NBA legend, who has called Kim a "friend for life," became emotional as he remembered his return from a North Korea visit in 2014. "When I got home, I got so many death threats. I was sitting up protecting everything," said Rodman.

"I had to hide out for 30 days. I couldn't even go home. But I kept my head up high, brother. I knew things were gonna change. I was the only one. I never had no one to hear me."
Rodman, wearing a Make America Great Again hat and a shirt promoting PotCoin, the cryptocurrency that sent him to Singapore, lamented the response he received years ago when he tried to promote Kim to American leaders. "Obama did not give me the time of day," he said.
Trump, who twice had Rodman as a contestant on Celebrity Apprentice, was once highly critical of The Worm, too. 
https://twitter.com/realDonaldTrump/status/464217937516040193
That's changed though, Rodman told CNN. He revealed that a secretary for Trump called him recently and told him that the President is proud of his efforts to promote peace between Pyongyang and Washington, D.C.
"And that means a lot," Rodman said. "After all these years, the fact that I somewhat had something to do with this North Korea situation, but I don't want to take any credit, where credit is due. I think we all need to take credit."
It's still unclear what there is to take credit for, although the worst case scenario—nuclear war between a rogue nation and the U.S.—appears to be off the table for now. 
One of the few concrete developments from the summit is that the U.S. has cancelled its joint military exercises with South Korea, which Pyongyang has long considered practice for a war against the North. Kim and Trump did sign a treaty in Singapore, but it's light on commitments, emphasizing instead the intention for the countries to work toward " peace and prosperity."
Still, the leaders didn't need to sign an agreement for the complete, verifiable, and irreversible denuclearization of North Korea for the summit to be seen as a success.
After all, it was only a few months ago that Trump and Kim were lobbing threats of nuclear annihilation across the Pacific. Their meeting Tuesday may not have solved all the problems between the two counties, but it appears to have the solved the biggest one—at least for now.