'Star Wars: Galaxy's Edge': Everything You Need to Know About Disney's Epic New Theme Park
May The Force be with you.
Disneyland's long-awaited Star Wars: Galaxy's Edge theme park finally opened its doors on May 31, and it's exactly as epic as you'd expect.
The sprawling California park is Disneyland's biggest land expansion yet at 14 acres, and was built to make visitors feel like they're part of the Star Wars world with incredible details like blast marks on the walls and a smelter droid that roasts meat on a spit.
In the park is a village called Black Spire Outpost on the planet of Batuu, which has only a few signs and very vague directions to encourage guests to explore the "planet" and make discoveries on their own.
Immersing yourself in Star Wars comes with an important decision, though: Are you a Jedi or a member of the Sith Order? 
No matter which side you're on, you can pledge your allegiance with something as small as Rose Tico's false-front Alliance insignia ring, or go all out with a replica of Poe Dameron's flight suit.
Black Spire Outpost has a restaurant called Docking Bay 7 Food and Cargo that serves delicacies from a galaxy far, far away like Mustafarian Lava Roll, Smoked Kaadu Ribs, and Braised Shaak Roast. 
If you're in the mood for a snack instead of an actual meal, snacks like sweet and spicy popcorn, turkey jerky, pork-wrapped sausage pita sandwiches called Ronto Wraps, and a giant chicken nugget called a Tip-Yip will hit the spot.
You can even stop by the Milk Stand for a nice glass of the green or blue milk that Luke Skywalker is so fond of.
Possibly the coolest part of Galaxy's Edge, though, is Oga's Cantina, where Star Wars fans can absolutely get lit off alcoholic beverages. Check out the menu right here.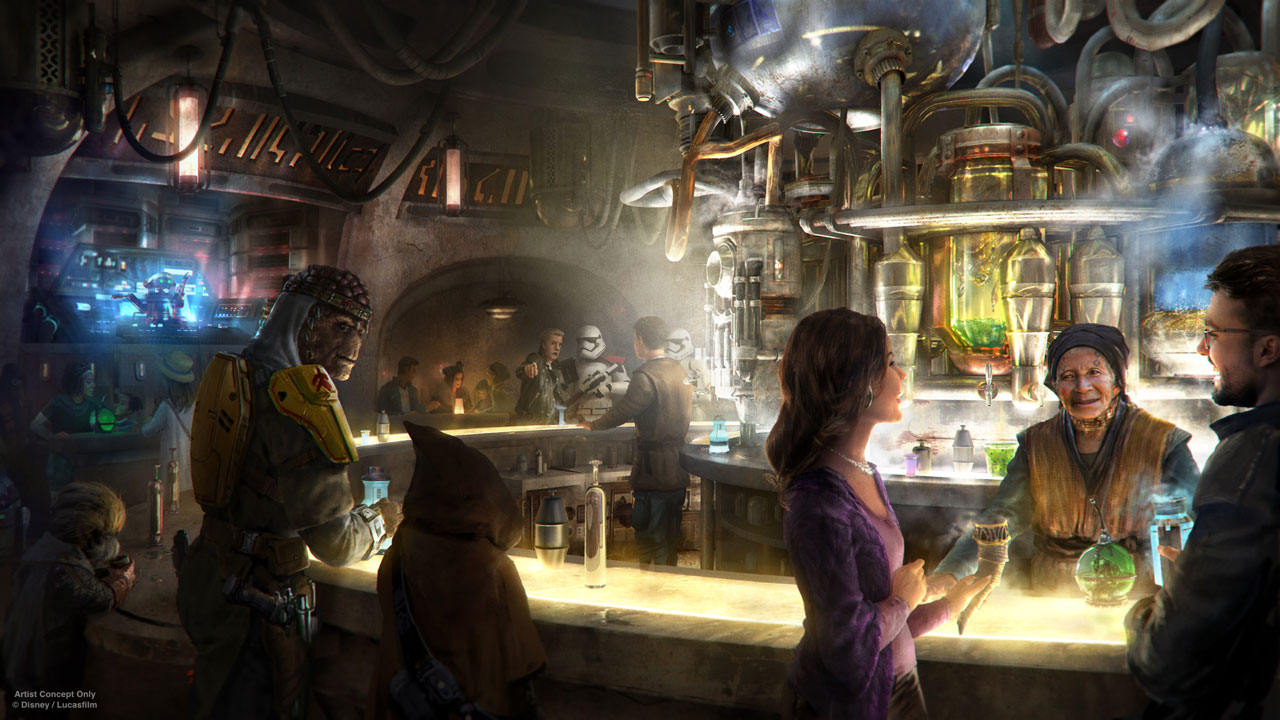 Disney announced the news of the watering hole in a In a blog post that reads: "No self-respecting remote outpost on the edge of the galaxy would call itself a smuggler's planet without a cantina, and Black Spire Outpost is no exception."
Oga's Cantina is the kind of establishment that attracts some of the most interesting and disreputable characters in the galaxy. And you never know when a stormtrooper or a familiar face will show up. Patrons of the cantina come from across the galaxy to sample the famous concoctions created with exotic ingredients using "otherworldly" methods, served in unique vessels. With choices for kids and libations for adults, the cantina will make for a great stop!
At Savi's Workshop guests can build their own custom lightsaber, and at the Droid Depo they can design, assemble, and activate a customized droid.
The Black Spire Outpost shops have goodies like hand-crafted C-3PO figurines. Jedi food capsules, a Toydarian Toymaker workshop, a Creature Stall, rare artifacts at Dok-Ondar's Den of Antiquities, and colorful apparel at Black Spire Outfitters.
Reservations are required to visit Galaxy's Edge now through June 23 and guests who stay at one of the three Disneyland Resort hotels will get a reservation during their stay with one reservation per guest, but beginning June 24 you can just walk right in.
While the Star Wars park at Disneyland is now open, the one at Disneyworld (in Florida) opens its doors at the end of the summer on August 29, 2019.