Meet The Ball-Busting Dominatrix Who's Fighting To Keep Her Job as a New Jersey Cop
She's gotta be good with handcuffs…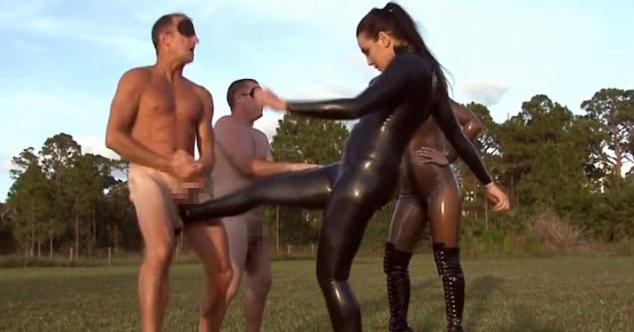 Image: PornHub
A New Jersey sheriff's officer named Kristen Hyman is waging a legal battle to keep her job after her bosses learned that she used to work as a dominatrix who made super kinky bondage videos. 
The New York Post has further details:
The trouble started last month, just six days before Hyman was to graduate from the police academy, when her bosses became aware that she held the kinky job between 2010 and 2012 — and had even made some steamy, R-rated bondage videos.

Hyman is described in the online videos as "a true sexual sadist who hurts people not because she has to, but because it truly brings her pleasure," according to filings by the sheriff's lawyers, the Journal said.

In the videos, she's seen wielding items "such as whips, and kicking the groin area to inflict pain upon the recipient. In most cases the recipient is naked and/or bound," according to court documents in the case.
On May 26, the dom-turned-cop was suspended without pay by the Hudson County Sheriff's Office because she failed to disclose her past work in adult entertainment, but a judge reinstated her and allowed her to graduate from the academy.
The Jersey Journal noted that Hyman was always clothed and never engaged in any sex acts while working under the moniker Domina Nyx. 
Hey, all she ever did was kick consenting dudes in the balls and dunk their heads underwater. We all have pasts, right?   
Hyman is apparently now fully dedicated to law enforcement, and is  preparing with her lawyers for a hearing on June 27 which will determine her future on the force.
James Lisa, one of Hyman's lawyers, acknowledged the videos his client made might be cringe-worthy, but says they shouldn't cost her her career.

"The videos are clearly inflammatory, but there is nothing illegal," he told the Journal.
Hyman has indicated that she's embarrassed by the videos, having called them "stupid stuff I did when I was a kid." 
That may be so, but in the description of the above scene uncovered by Heavy, the kinky cop sounds like she was really into S&M. 
"What you'll see in this video is not a sketch, not a preplanned film, and certainly not something I did for you or for anyone else. It was for me; and as a sadist, it was 100% for my own sexual gratification."
Heavy also noted that while the investigation into Hyman's sexually-domineering alter ego focuses on her work between 2010 and 2012, the Domina Nyx's Twitter account was active as recently as March of 2016. 
Maybe she isn't quite ready to let Domina die just yet.