Drug Traffickers Are Now Hiding Marijuana Inside Hollow Carrots
I'm not even mad — that's just impressive.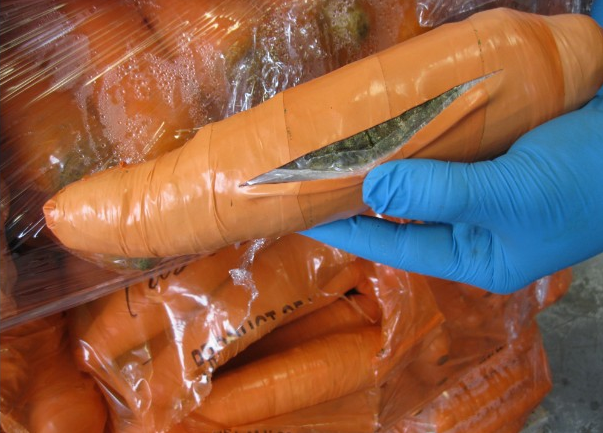 Drug traffickers need to be creative in order to safely ship their wares abroad. but the most serious obstacle for even the most innovative trafficker of narcotics is the U.S.-Mexico border. 
Unfortunately for narcos working for the likes of El Chapo, it looks like America's customs agents are onto some of the traffickers' tried-and-true tricks—like using produce such as carrots to hide shipments of illegal goods. Or even disguising those goods as produce.
Agents at the border crossing in Pharr, Texas recently stopped a mega-shipment of nearly 1.5 tons of weed, reported CNN. The packages of weed were disguised as carrots and then hidden inside a truckload of the real thing. Technology won the day:
The truck hauling the produce crossed the Pharr-Reynosa International Bridge along the Texas-Mexico border near the Gulf of Mexico. The imaging inspection system flagged the vehicle for a secondary examination, where agents found the smuggled drugs, according to the U.S. Customs and Border Protection statement.
There were nearly 3000 fake, ganja-stuffed carrots, and the street value was reportedly almost a half-million dollars. 
A look at the U.S. Customs and Border Protection (CBP) Instagram hints at just how artful smugglers have been in the past. Agents have snagged tomatoes stuffed with over $479,000 worth of marijuana:
" tml-render-layout="inline
They've ferreted out coke hidden among some tasty-looking carrots:
" tml-render-layout="inline
And once again, good old-fashioned weed, this time hidden within a "wishing well."
" tml-render-layout="inline
While Customs agents are likely old pros in hunting down this kind of contraband now, it looks like the cartels are keeping up with them. In December, DefenseOne reported that drug traffickers have figured out how to fool CBP-controlled drones by jamming—or "spoofing"—GPS systems on the unmanned aerial vehicles and re-direct them away from areas where the drones might spot illegal activities. 
The cartels will continue taking creative measures to avoid detection, and perhaps they'll move beyond using produce. In the meantime, you may want to examine the next bunch of carrots you buy at the grocery very, very carefully.