Drunk Man Who Harassed Bison in Viral Video Sentenced to Jail
"I'm sorry to the buffalo. He didn't deserve what I did to him."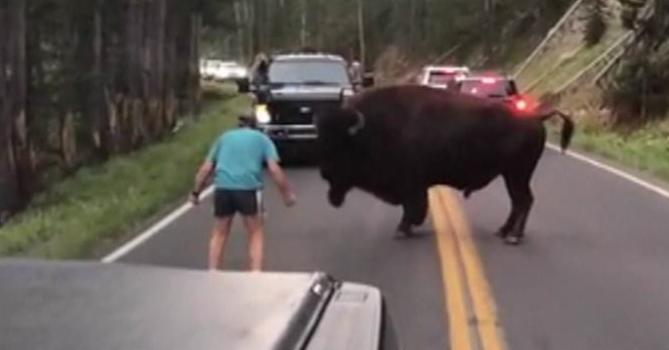 YouTube/KRTV News
An intoxicated man who played chicken with a 1,000 pound-plus bison in a now-viral video just copped a 130-day jail sentence. 
This story comes not the great state of Florida, but Yellowstone National Park. 55-year-old Randy Reinke and his buddy were reportedly on a "last hurrah" tour of national parks that was supposed to end with him voluntarily checking into rehab for alcohol abuse. 
Unfortunately for Reinke, a bystander recorded him drunkenly taunting a bison that had stopped traffic in Yellowstone. He can be seen waving his arms in an attempt to "herd off" the clearly agitated animal, which false charges him more than once. Park regulations require people to stay 25 yards away form bison. 
https://www.youtube.com/watch?v=YqqgeZzSBPY
"I thought I was doing what was appropriate," Reinke said per  the Bozeman Daily Chronicle. "I just didn't think. That's my stupidity."
The video quickly went viral and was picked up by multiple news outlets before Reinke was arrested by rangers in Glacier National Park for drunk and disorderly conduct. 
ABC Fox Montana has further details: 
The National Park Service says the Oregon man had several run-ins with law enforcement in Yellowstone and Grand Teton national parks in the weeks leading up to his arrest, including open container and public intoxication.

He was also cited for disturbing wildlife after the bison video surfaced online in late July.
Reinke appeared before U.S. Magistrate Judge Mark Carman in a Mammoth, Wyoming federal court and pleaded guilty to harassing wildlife, interfering with law enforcement and disorderly conduct. 
"I'm sorry to the buffalo. He didn't deserve what I did to him," Reinke said.
ABC FOX Montana Local News, Weather, Sports KTMF | KWYB" tml-render-layout="inline
Carman agreed with U.S. Attorney Lee Pico that Reinke's case was the "most egregious" example of wildlife disturbance cases in Yellowstone he'd ever seen. 
"You're lucky the bison didn't take care of it, and you're standing in front of me," Carman said before sentencing Reinke to 130 days in jail and banning him from Yellowstone, Glacier and Grand Teton national parks for five years.
Reinke was given credit for 21 days of time previously served and was court-ordered to abstain from alcohol during his probationary period.
Hit the zoo next time, buddy. 
h/t: NBC News