This is the Drunkest Country in the World, According to a New Survey
Here's a hint: It's not the USA.
(Photo: Getty)
With its sloppy college towns, moderately priced happy hours, and wildly drunken weekends, it'd be easy to think the great U.S. of A. is the drunkest country in the world. Well, think again.
According to a new survey from Hangover Heaven, a medical clinic in Las Vegas that offers IV hangover treatments (God bless), the number one drunkest country in the world is…drumroll, please…China!
That's right. China. Apparently, the massive country drinks the most total alcohol, at 54,290,000,000 liters annually.
In second place is the United States, downing 30,500,000,000 liters of booze each year—a significant amount less than China. 
Come on—I don't care that China has a population way WAY bigger than ours, we need to step up our drinking game.
You can see the rest of the top drinkers in the infographic above, so I don't need to go over all of them (except that it seems like Russia's rank is a little lower than expected).
Next up: Top beer drinkers. 
As you can see in the infographic, the coveted number one spot is awarded, once again, to China, who appears to consume 41,772,000,000 liters of beer annually. Well done, China.
Again, the United States takes the number two spot, knocking back 24,245,000,000 liters of beer every year. Not too shabby.
And now let's take a look continent-wise:
Asia wins the award for the largest consumption of beer, which is not surprising considering the size of the continent. And likewise, the Middle East drinks the least for obvious reasons—booze is a huge no-no for Muslims. 
"What about liquor?" you might be asking yourself. Here's what's going on with that: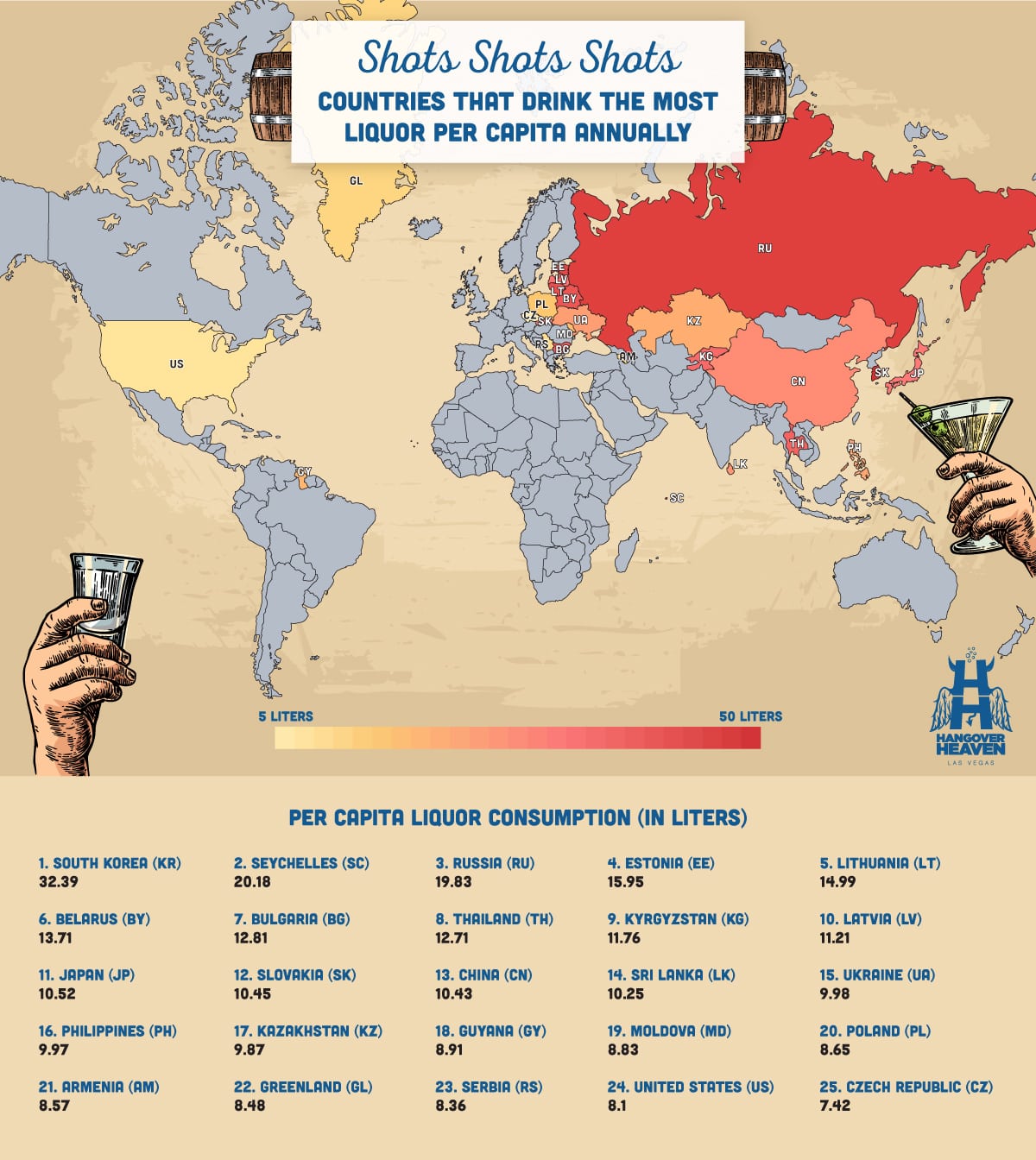 Per capita, South Korea drinks the most hard stuff, followed by Seychelles(!), then Russia. You know, because vodka. 
All the way down in 24th place is the United States. About that I have just one thing to say: COME ON, AMERICA! That's disgraceful. You can do better than that. It's not that I'm encouraging heavy drinking—but I am. 
There you have it. In the worldwide race to the worship the porcelain god the morning after tying one on, the United States just can't keep up.