The World's Most Notorious Drug Lord Is Being Tormented By a Prison Dog
Perhaps El Chapo isn't as tough as we thought.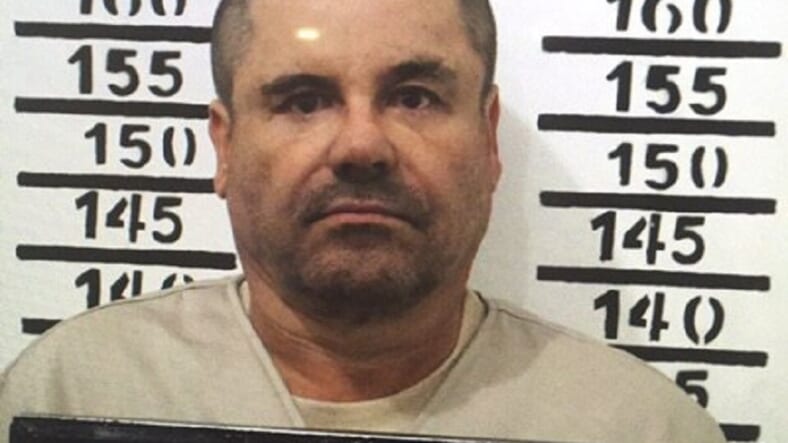 Poor El Chapo. One minute he's a kingpin, the worldwide czar of illegal narcotics who can hobnob with Hollywood superstars while he's on the run from Mexican authorities, and the next minute he's back in prison and recoiling in fear from aggressive guard dogs. 
Since his recapture in early January, El Chapo has been constantly moved from one cell to another within the Altiplano Federal Prison, the same facility from which he escaped through a mile-long tunnel in July 2015. And the notorious drug lord has informed his attorney, Jose Luis Gonzalez Meza, that he's not having a good time, according to UPI. 
Meza told Mexican media of Guzman's complaints, in which the man considered Public Enemy No. 1 in two countries wrote of being awakened "for roll call in the day every hour and in the night every two hours." Even worse, wrote El Chapo, "there is a dog on the side that barks a lot and also scares my sleep."
Meza has complained to the government of Mexico about his client's most recent return to lockup, saying El Chapo has "no access to his family, he has no access to his lawyers, he has no access to the most basic needs." It's so bad, the attorney thinks "even if they caught Adolf Hitler alive, they would not do to him what they are doing to Mr. Guzman Loera."
Sean Penn might be concerned for the lot of the man he called "a humble, rural" man, but we kind of doubt the families of any of the 30,000 or so people El Chapo has allegedly been responsible for killing will feel too bad for him.
h/t UPI