Elon Musk Deletes His Instagram Following Tesla Turmoil and Bizarre Beef With Rapper Azealia Banks
There's a LOT going on here.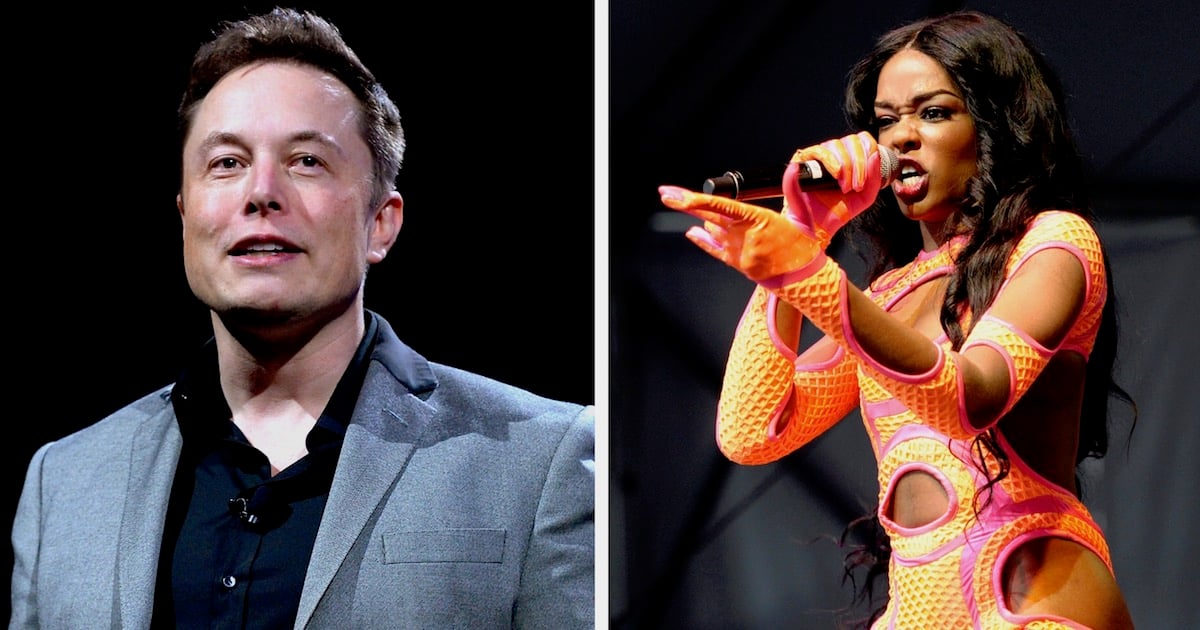 (Photos: Getty Images)
Tesla CEO Elon Musk has deleted his Instagram account following the turmoil at Tesla and his bizarre and still-unfolding beef with rapper Azealia Banks, which may have precipitated and split with his girlfriend Grimes. (Their breakup is still not confirmed.)
Following a slew of recent controversies, including calling one of the Thai cave rescuers a pedophile and being accused of stealing an image of a farting-unicorn, Musk announced on Twitter he was taking Tesla private at $420 a share.
Am considering taking Tesla private at $420. Funding secured.

— Elon Musk (@elonmusk) August 7, 2018
But there was a slight (huge) issue: his stock was only at $419, and he had not secured the necessary funding to so humorously rounded up to $420 (get it?). 
As reported by The New York Times, this kicked off a "chain reaction" in the markets, which could spell trouble for Musk and his company: 
An hour and 20 minutes after the tweet, with Tesla's shares up 7 percent, the Nasdaq stock exchange halted trading, and Tesla published a letter to employees from Mr. Musk explaining the rationale for possibly taking the company private. When the shares resumed trading, they continued their climb, ending the day with an 11 percent gain.

The next day, investigators in the San Francisco office of the Securities and Exchange Commission asked Tesla for explanations. Ordinarily, such material information about a public company's plans is laid out in detail after extensive internal preparation and issued through official channels.

Board members, blindsided by the chief executive's market-moving statement, were angry that they had not been briefed, two people familiar with the matter said. They scrambled to cobble together a public statement trying to defuse a mounting uproar over the seemingly haphazard communication.

The S.E.C. investigation appears to be intensifying rapidly. Just days after the agency's request for information, Tesla's board and Mr. Musk received S.E.C. subpoenas, according to a person familiar with the matter. Board members and Mr. Musk are preparing to meet with S.E.C. officials as soon as next week, the person said.
Musk is now losing it, telling The New York Times that he is working up to 120 hours a week, that he in unable to sleep without Ambien and that he is in emotional despair.
When he seemed to have hit his nadir, somehow things got worse. Enter rapper and notorious shit-sharter Azealia Banks.
Banks claims she had flown to Los Angeles to stay in Musk's mansion in order to record new music with his girlfriend, the 30-year-old Canadian pop star Grimes. But Grimes was presumably too busy consoling a distraught Musk, and the couple never showed. 
https://twitter.com/sadhoeflo/status/1028869317213880320
Banks claims she was left stranded in his mansion for three days and, in a rage, leaked alleged text messages from Grimes, which allege Musk was high on marijuana when he sent the fateful $420 tweet, that he speaks in a fake accent and that he even has a giant penis. 
https://twitter.com/WilliamTurton/status/1031991590569558017https://twitter.com/fuckrashida/status/1030958564519555073
Shortly thereafter, Musk and Grimes unfollowed one another on Instagram (definitely a sign of a breakup), and Musk has since deleted his account.
Things get weirder (and less verifiable). Azealia Banks is still going at it, blaring on her Instagram story that Musk and his lawyers have seized her phone, suggesting she has knowledge of shady business deals.
https://twitter.com/ravenvanderrave/status/1031770473934278657https://twitter.com/sheaonfire/status/1031783039716732928
Musk's rep told Business Insider, "Elon doesn't know Azealia Banks. He doesn't have her phone and neither do his lawyers." He later clarified that he had seen Banks at his home.
Whoever has Azealia Banks' phone, please give it back. We don't need to hear any more about what Elon Musk is packing.