'Being Fat is Not Beautiful' Sweatshirt Spurs Online Backlash
"We sincerely apologize to all those involved."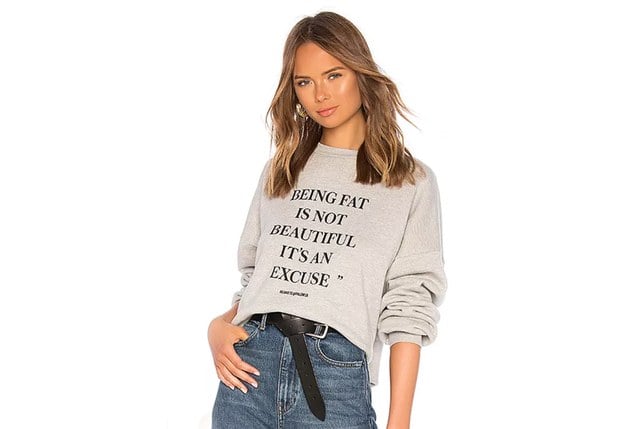 (Photo: Revolve)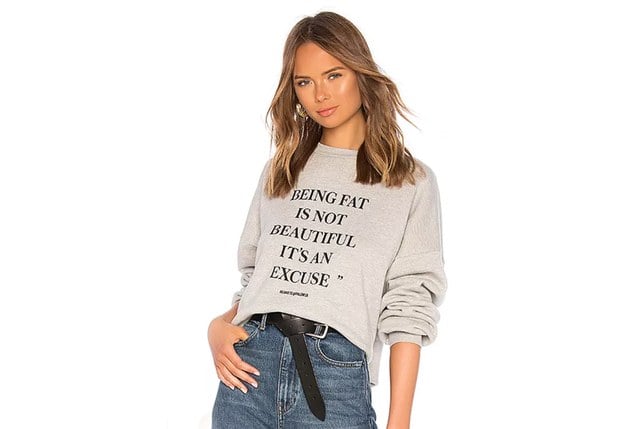 A lot of shirts and sweatshirts out there have some pretty questionable phrases printed on them, but online fashion retailer Revolve is catching all kinds of hell right now for selling a sweatshirt that is…not very well thought out.
The sweatshirt in question, from the brand LPA, reads: "Being fat is not beautiful — It's an excuse," and under the quote, says: "as said to @palomija," referencing a comment left on plus-size model Paloma Elsesser's Instagram.
Twitter has a lot of feelings about the $168 garment, as well as the model wearing it:
https://twitter.com/jameelajamil/status/1039924762917593088https://twitter.com/Tess_Holliday/status/1039903581426438145
why is no one talking about revolve selling a "being fat is not beautiful it's an excuse" sweatshirt, that's so messed up

— martina (@valentisilk) September 12, 2018
https://twitter.com/eiffeltyler/status/1039896574523043843https://twitter.com/eiffeltyler/status/1039904552689049600
What is there to say about @revolve's decision to include this sweatshirt in their inventory? That they think it's okay and will resonate with their customer base speaks volumes. pic.twitter.com/9x1xXXyBGR

— Lisa Braun Dubbels (@lisadubbels) September 12, 2018
Florence Given, a London-based artist, got in touch with LPA about the sweatshirts and posted the conversation on Instagram:
" tml-render-layout="inline
Apparently, the point of the shirt was to collaborate with celebrities to shed light on how hurtful internet trolls can be and donate all proceeds to charity, but instead, the end result came out screaming a very different message.
The other designs were to feature similar quotes from Emily Ratajkowski, Lena Dunham — "Horrible Result of Modern Feminism," Suki Waterhouse — "If you translated a bum onto her face, she'd have a better face," and Cara Delevingne — "Too boney to be boned."
However, as a result of the backlash, Dunham took to Instagram to announce that she wasn't going to be involved in the collaboration anymore. She explained:
"I cannot support this collaboration or lend my name to it in any way. I am deeply disappointed in @revolve's handling of a sensitive topic and a collaboration rooted in reclaiming the words of internet trolls to celebrate the beauty in diversity and bodies and experiences that aren't the industry norm."
" tml-render-layout="inline
Revolve told Yahoo Lifestyle the sweatshirts were intended "as a direct commentary on the modern day 'normality' of cyber-bullying and the shared desire to create a community for those most affected by the epidemic.
"We at Revolve sincerely apologize to all those involved – particularly Lena, Emily, Cara, Suki and Paloma – our loyal customers, and the community as a whole for this error," they added. "The collection has been pulled. We are proud to donate $20,000 to 'Girls Write Now' in the hopes that those who need it can still benefit from what was to be a meaningful, insightful and impactful collaboration by LPA."