Florida Asks Citizens to Stop Shooting Wild Green Iguanas On Sight
"Unfortunately, the message has been conveyed that we are asking the public to just go out there and shoot them up."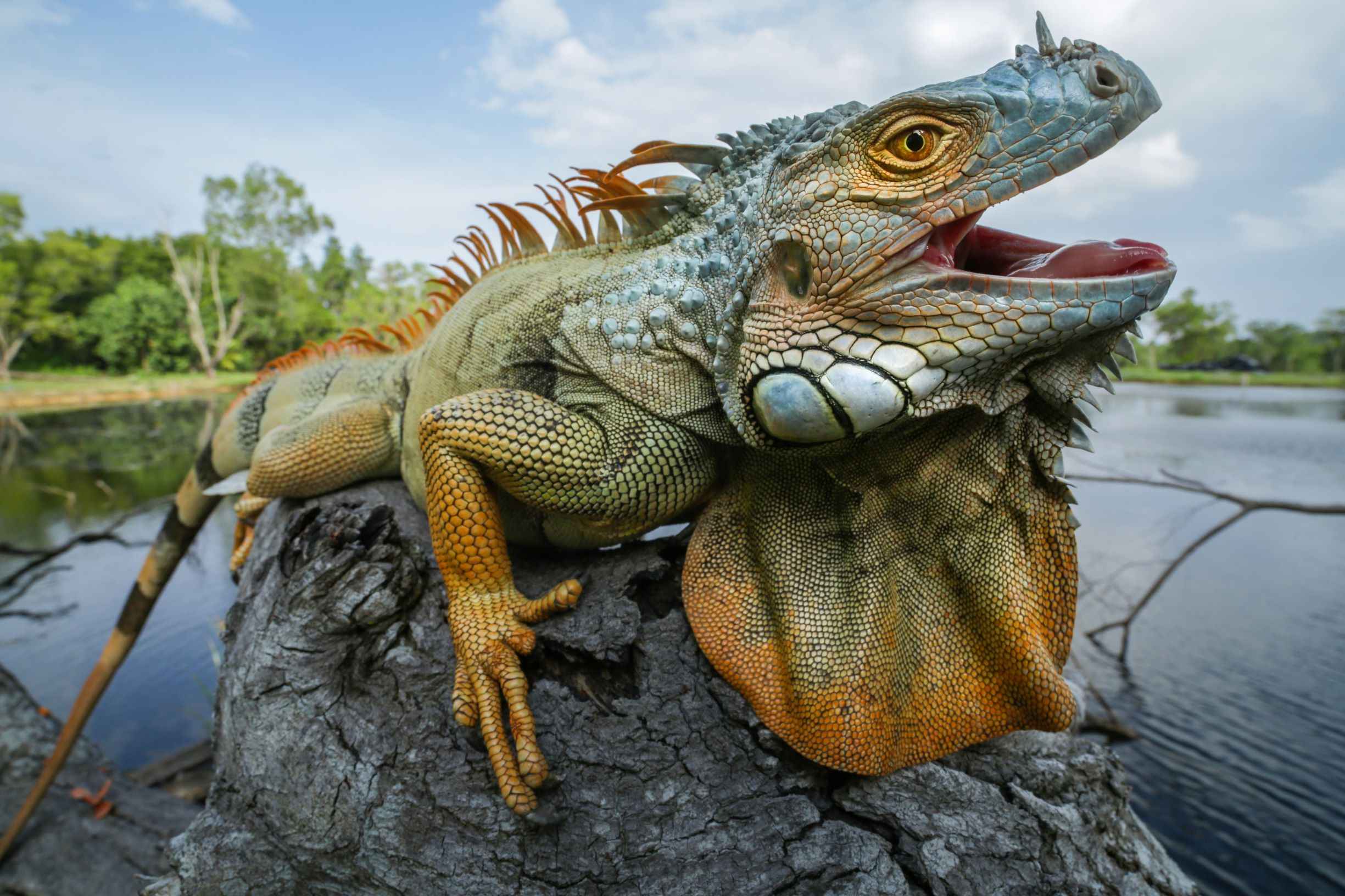 The Florida Fish and Wildlife Commission is walking back a controversial government directive that encouraged fired-up Floridians to kill wild green iguanas "whenever possible." 
A message regarding the invasive species posted to the FWC's website previously read: "Homeowners do not need a permit to kill iguanas on their own property, and the FWC encourages homeowners to humanely kill green iguanas on their own property whenever possible." 
That sentence in particular drew backlash from animal rights organizations and have since been removed from the page. The Huffington Post reports that The Humane Society of the United States accused the FWC of "promoting indiscriminate, random killing" of the wild lizards. 
FWC Commissioner Rodney Barretto clarified the agency's stance on in a new statement: "Unfortunately, the message has been conveyed that we are asking the public to just go out there and shoot them up," Barreto said. 
"This is not what we are about; this is not the 'wild west.' If you are not capable of safely removing iguanas from your property, please seek assistance from professionals who do this for a living."
The website still states the following:
"Green iguanas are not protected in Florida except by anti-cruelty laws and can be humanely killed on private property year-round with landowner permission. The FWC encourages removal of green iguanas from private properties by landowners. Members of the public may also remove and kill iguanas from 22 FWC managed public lands without a license or permit under Executive Order 17-11."
"Captured iguanas cannot be relocated and released at other locations in Florida. Homeowners that trap iguanas on their property may be able to obtain euthanasia services from local exotic veterinarians, humane societies or animal control offices depending on the location and availability of services. If you are not capable of safely removing iguanas from your property, please seek assistance from a professional nusiance wildlife trapper."
Wildlife officials also suggested non-lethal ways of controlling the critters. Residents can remove plants and fill in holes that attract that attract iguanas. Reflective surfaces like mirrors and CDs can be used as deterrents, or you can simply spray them water, according to the New York Post.  
This all may sound extreme, but the non-native species has a serious impact on the Florida's environment. 
Per the FWC,
Green iguanas cause damage to residential and commercial landscape vegetation and are often considered a nuisance by property owners. Iguanas are attracted to trees with foliage or flowers, most fruits (except citrus) and almost any vegetable.

Some green iguanas cause damage to infrastructure by digging burrows that erode and collapse sidewalks, foundations, seawalls, berms and canal banks. Green iguanas may also leave droppings on docks, moored boats, seawalls, porches, decks, pool platforms and inside swimming pools.

Although primarily herbivores, researchers found the remains of tree snails in the stomachs of green iguanas in Bill Baggs Cape Florida State Park, suggesting that iguanas could present a threat to native and endangered species of tree snails. 

As is the case with other reptiles, green iguanas can also transmit the infectious bacterium Salmonella to humans through contact with water or surfaces contaminated by their feces.
If you are going to humanely hunt the reptilian varmint, the South Florida Sun-Sentinel reports that iguanas, aka "chicken of the trees," are an excellent source of protein and make for tasty burritos.