Watch the Dramatic Moment a Gang Member Is Shot Dead in Court After Trying to Stab a Witness
This shocking video is going viral.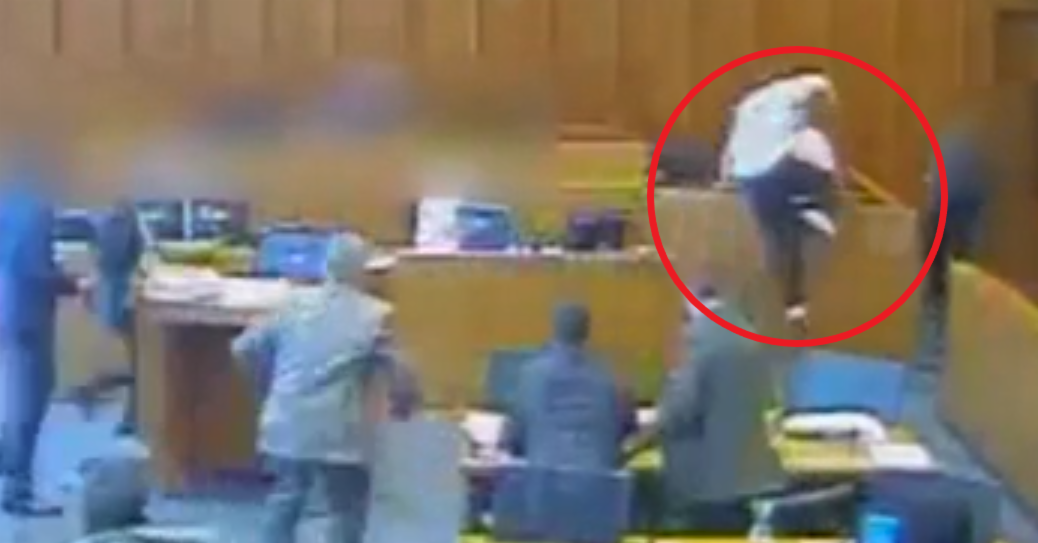 Still: Youtube/Don News
https://www.youtube.com/watch?v=lcCvJA7vEcc
Wild courtroom footage showing a Crips gang member get fatally shot by a US marshal is going viral.  
The video, recorded in 2014 at the Salt Lake City Federal Courthouse after the gang banger tried to stab a witness using his lawyer's pen, looks like something straight out of a Hollywood action movie.
The New York Post has further details on how the insane moment played out: 
The video shows defendant Siale Angilau, a 25-year-old member of the Tongan Crip gang, rising casually from his seat beside his attorney during testimony. He grabs his lawyer's pen.

Before any officers can react, Angilau sprints toward the witness and leaps onto the stand, wielding the pen with his right arm cocked.

The witness jumps back as Angilau falls feet-first over the front of the witness stand. The courtroom appears in disarray during the 24-second video and a US marshal, identified as "Jane Doe," fires four shots at Angilau.
Following the gunshots, an officer can be heard repeatedly shouting, "Drop the pen!" at the dead defendant. 
The Angilau family had filed a wrongful-death suit that was dismissed by US District Judge John Dowdell, who cited the video as proof that the US marshal acted appropriately. 
" tml-embed-width="480″ tml-embed-height="270″ tml-render-layout="inline
Per the Post, 
The Angilau family attorney, Bob Skyes, didn't immediately respond to a phone call and email requesting comment Monday. He has previously said after seeing the video that the marshal "panicked" when other methods could have been used to subdue Angilau.  

The US marshal was cleared of any wrongdoing shortly after the shooting.  

Angilau was the last of 17 Tongan Crip members scheduled to stand trial for a 2010 indictment that brought assault, conspiracy, robbery and weapons charges.
Previous defendants received sentences of 10 to 30 years in prison. A mistrial was declared after the shooting. 
The video was released after a media coalition argued that it was an important public record that raises questions about use of force. 
Below, see mixed reactions from across Twitter about the video: 
https://twitter.com/HeinzTheGoat/status/973547563973595137https://twitter.com/TheWashedOne/status/973536431481282560https://twitter.com/didice912/status/973558853873827840https://twitter.com/sean5900/status/973530274763067393
What do you think?