Watch this Giant Squid Wrap Its Humongous Tentacles Around a Paddle Surfer's Board
Who wants some calamari?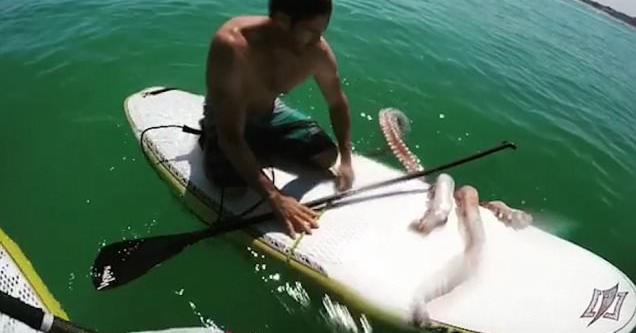 Image: Instagram/ejamestaylor
" tml-render-layout="inline
A paddle surfer floating in the waters off the South African coastal village of Melkbosstrand captured viral footage of the moment a giant squid latched its tentacles onto his board. 
While many would be liable to freak the fuck out (these things obliterate meals with razor-sharp beaks), 39-year-old James Taylor and his wife Christina remained calm after noticing that the massive sea creature was wounded and missing a number of its tentacles. 
According to Atlas Obscura, Taylor decided to retrieve a rope and tow the squid back to shore and put it out of its misery, the reason being that it would have probably died from its injuries or been killed by a predator. 
"It was quite badly injured and barely alive when I caught it," he explained on Facebook. "It didn't even really try and get away, so we ended up putting it out of its misery when we got to the beach. It felt like the best thing to do at the time  
Taylor then did his best to "dissect" the specimen and send pictures to local researchers who were able to conclusively identify it as a true giant squid (genus Architeuthis).
The fact that the encounter even occurred is seems truly incredible when you consider the first footage of these things in the wild wasn't captured until 2006. 
Although Taylor has received some backlash for his decision to haul the creature ashore, we are still stoked he shot awesome clip. 
h/t: Daily Mail