This Iconic Photo of a U.S. Soldier Shielding a Woman From Las Vegas Shooting Is Going Viral
Hero.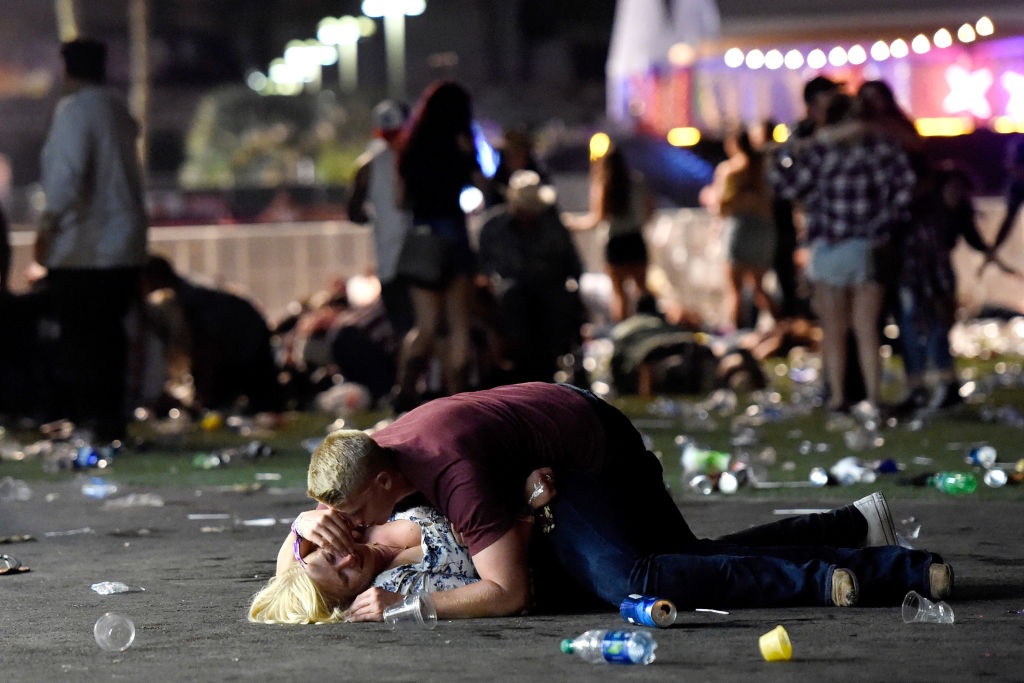 As Stephen Paddock fired round after round on attendees at the Route 91 Festival in Las Vegas on Sunday, many ran for cover as they tried to escape the worst mass shooting in recent U.S. history. There were heroes in the crowd, though, and the image above captured the essence of their courage.
The photo went viral as people tried to solve the mysteries of the terrified woman and her brave protector's identities and fates. Now we know that she made it to safety, and the man who shielded her was a U.S. Army cavalry scout named Matthew Cobos.
The Daily Mail reported that Cobos wasn't just blindly forming a human shield, but even covered the woman's eyes so she wouldn't see the horrible bloodshed surrounding them. 
After Cobos helped the woman in the photo, he reportedly turned and headed back into the line of fire. There he performed first aid where he could, creating tourniquets and actually stopping blood from bullet holes with his fingers.
Cobos is home with family in California, reports the Daily Mail, but he's normally stationed in Hawaii.
The soldier's Facebook has been inundated since his identity became public with people praising his courage. He's remained quiet about the experience—because maybe that's how a hero looks at such things.
h/t Daily Mail