ISIS Executioner Believed To Be Former Bouncy Castle Salesman
British officials suspect the "new Jihadi John" used to sell the inflatable kiddie playgrounds.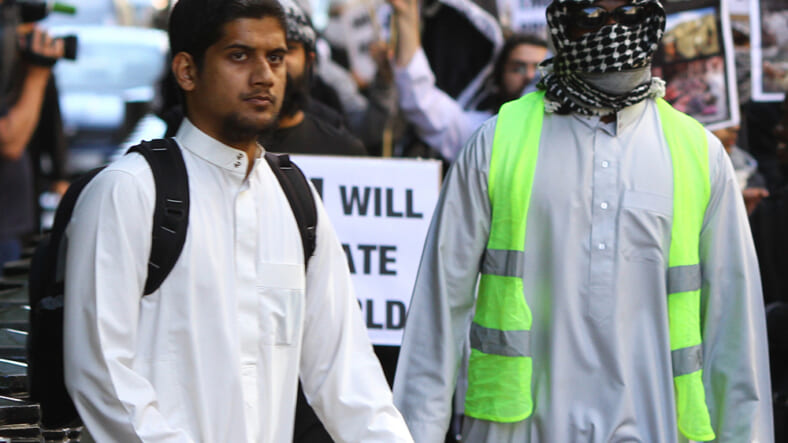 There are many reasons why moronic terror thugs join the Islamic State. Many do it out of pure hatred, utter desperation, or because they want to see the West brought to its knees. Then there are guys like Siddhartha Dhar, who join ISIS because if they don't, they'll spend the rest of their lives renting bouncy castles to snot-nosed kids in London. 
In the Islamic State's latest propaganda video, a masked man with an English accent orders the execution of five "British spies." British officials now suspect that man is Siddhartha Dhar. Known to his friends simply as Sid, the 32-year-old Briton was a fan of Nirvana, Linkin Park, and American action films, the London Sun reports. 
But perhaps the most fascinating detail revealed was this: to support his family, the father-of-four rented bouncy castles to children's parties in London. Then, like thousands of other hapless clowns with dead-end jobs, he bounced into the arms of the Islamic State.
While Dhar made a living bringing inflatable joy to the people of London, he spent his free time plotting their demise. Having converted to Islam from Hinduism at the age of 16, Dhar became involved with a group called Muslims Against Crusaders. 
Prior to joining ISIS, he defended radical Islam in a number of TV interviews with BBC, Channel 4, al-Jazeera, and CBS. In 2014, he was arrested in Britain on suspicion of supporting terrorism. That suspicion was more or less confirmed when he fled to ISIS-controlled territory in Syria while on bail. 
Dhar's talents as a salesman were quickly put to use by the Islamic State. But instead of selling bouncy castles, his job now was to sell jihad to his fellow Westerners. In May 2015, he wrote a travel brochure for the Islamic State in an effort to encourage others to join up. 
He wrote: "If you thought London or New York was cosmopolitan then wait until you step foot in the Islamic State, because it screams diversity." And: "If you were worried about leaving behind your local Costa coffee then you will be happy to know that the Caliphate serves some of the best lattes and cappuccinos around." 
Now, Dhar is believed to be the replacement for the man known as Jihadi John, the gun-toting psychopath who appeared in ISIS execution videos until he was reportedly killed in an American airstrike in November 2015. 
When asked what she thought about her brother's appearance in the video, Dhar's sister, Konika Dha, told The Sun, "If it is him, bloody hell am I shocked? I am going to kill him myself. He is going to come back and I am going to kill him if he has done this." 
You go, sister!