ISIS Suicide Bomber Kills 10 In Tourist-Packed Turkish Neighborhood
Despicable.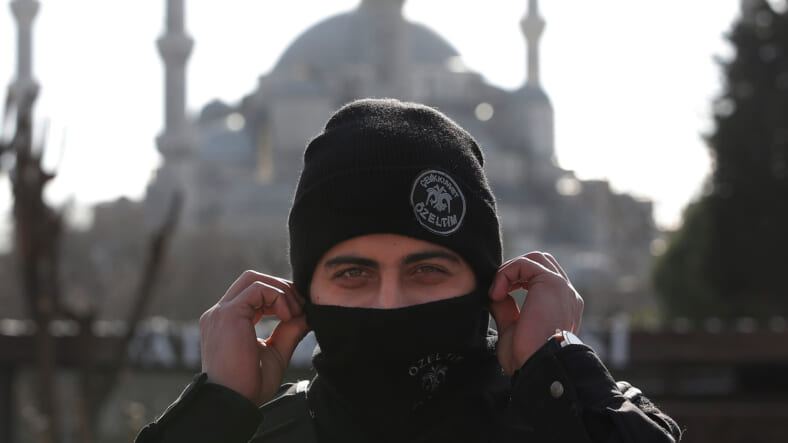 A suicide bomber killed at least 10 people and wounded 15 more, mostly German tourists, in a historic neighborhood in Istanbul, Turkey, on Tuesday, Reuters reports.

The attack, which Turkish security officials believe was planned by Islamic State, was carried out by a 28-year-old man believed to be a Syrian national and ISIS militant. How he entered Turkey is currently unclear.

The explosion appeared to be planned for maximum casualties among tourists. The AP notes that ISIS targeted the popular sightseeing neighborhood of Sultanahmet, and the explosion "was at a park that is home to a landmark obelisk, some 25 meters (yards) from the historic Blue Mosque," a favorite attraction.
"I strongly condemn the terror incident that occurred in Istanbul, at the Sultanahmet Square, and which has been assessed as being an attack by a Syria-rooted suicide bomber," President Recep Tayyip Erdogan said in a statement on Tuesday.
The attacks came less than 24 hours after a series of ISIS-backed attacks across Iraq on Monday. The Guardian reported that at least 51 people were killed by a series of coordinated attacks by gunmen and suicide bombers in Baghdad and the surrounding area.
The series of attacks over the last few days isn't just nerve-wracking for Westerners still anxious over terrorism following the recent attacks in Paris and San Bernardino, but a potential game-changer for Turkey's commitments in the multinational campaign against ISIS. While Turkey recently deployed a battalion of troops to help beat back Islamic State militants advancing through Iraq, the November shootdown of a Russian warplane by Turkish forces and resulting tensions have threatened to destabilize the U.S.-led coalition against the militants.

But that doesn't mean Turkey's going to cower over a suicide bombing. In October, two suicide bombs killed more than 100 people gathered at a peace rally outside Ankara's main train station in Turkey's deadliest-ever attack, the AP notes. While ISIS lives to spread chaos among its potential foes, it's unlikely that the people of Turkey are going to take this lying down.