The Mother of Bullied Boy Keaton Jones Is Now Being Accused of Racism
Kimberly Jones defended the Confederate flags posted on her Facebook page.
Still: CBS
Keaton Jones received support from countless social media users and celebrities like Chris Evans, Katy Perry, and Dana White and when his mother, Kimberly, uploaded a widely-shared video of her tearful son's plea to the bullies of his Knoxville, Tennessee, middle school.
But as Keaton's plight became the week's viral story, the internet unearthed photos of his family members wielding Confederate flags. The pictures, originally posted to his mother's Facebook page, have been deleted. 
Some are now calling Kimberly Jones a "racist" and a "bully" of minorities traditionally targeted by Confederate sympathizers .
That viral video of #KeatonJones talking about being bullied is heartbreaking, and I feel sympathetic towards that child.
But his mom, Kimberly on the other hand, is a suspected racist who makes very problematic posts bullying Black protesters #TheIrony pic.twitter.com/NUhidunP8z

— Tariq Nasheed 🇺🇸 (@tariqnasheed) December 11, 2017
In an interview with CBS correspondent Mark Strassman, she defended the images by calling them "ironic."
"The only two photos—the only two photos on my entire planet that I am anywhere near a Confederate flag," a clearly shaken Kimberly said. "It was ironic. It was funny."
When asked if the photos indicated a "racist intent," she retorted.  
"No. No. Absolutely not. I've said I spent most of my life being bullied and judged because I wasn't racist," Jones said. 
" tml-embed-width="620″ tml-embed-height="349″ tml-render-layout="inline
Keaton's sister, Lakyn, also rushed to defend her mom. People reports that she detested accusations of racism in a now-deleted Twitter post. 
"To those who think my mother is a racist, she is not. She is a southern woman who loves where she's from. She believes in equality and doesn't want any harm done to ANYONE. This is about bullying and my brother. Not her. Please leave it alone."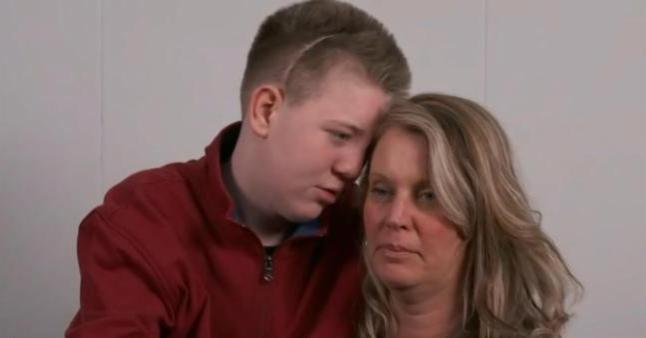 In the midst of the backlash, the GoFundMe page created to raise money for Keaton's future education has been frozen.
Despite the controversy, Keaton told CBS that he's glad he and his mother made the video.  
"It made me feel like I had accomplished something real," he said. "Something that could actually change the world."