Man Takes Home Adorable Free Puppy Only to Find It's Actually a Wolf
Whoops.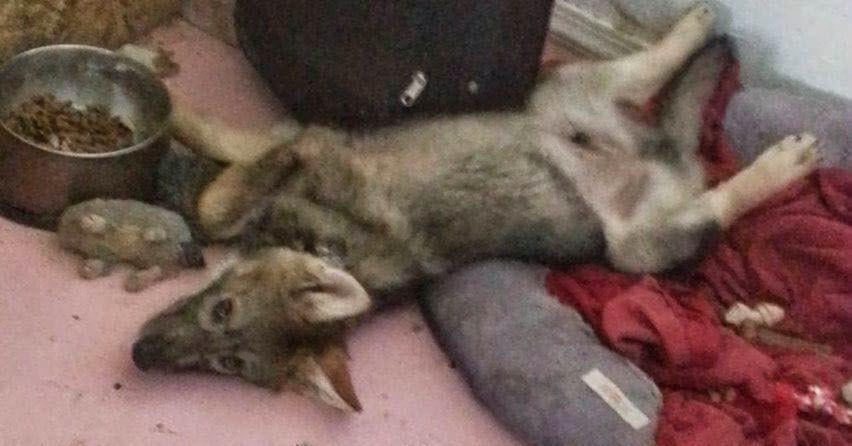 If you're on the hunt for a new canine companion, a sign reading "free puppy" is a godsend. The lure that comes with the promise of a new pup's all-around cuteness is enough to get anyone in the door. That was the story of a Tucson, Arizona man who adopted an adorable young dog named Neo. 

Right off the bat, Neo behaved strangely. He messed all over the unnamed new owner's car and wanted constant, non-stop attention. 
As the animal's new caretaker was enrolled full-time in college and worked full-time well, Neo was often left at home. His strange characteristics—some completely atypical for a normal dog—continued, and became a problem. 

"According to his owner, Neo would dig out or jump the fence to play with the neighbors' dogs," Cate Salansky of Wolf Connection told The Dodo. "He built a higher fence to help contain him, but Neo chewed through it and continued to escape."  
The owner's concerned neighbors brought the dog to attention of the Humane Society of Arizona. This was when suspicions about the canine were confirmed. "I approached the couple and asked, 'You know that isn't a dog, right?'" Maureen O'Nell, the shelter's former CEO, told The Dodo. "They responded, 'we were wondering.'"

Turns out Neo is a "high content wolf dog," a mix of the two species. Along with his long legs and coarse fur coat, his behavior is aligned more closely with that a wolf, which explains an apparent pack animal instinct and overwhelming need to be among other dogs.

O'Nell alerted the dog's owner he'd been caring for a wolf-dog hybrid. He agreed to have Neo placed in Wolf Connection, which is a wild canine sanctuary in California.

You'd think Neo and hybrids like him might make for fun and exciting pets, but you absolutely should not seek one out. They're not meant to be confined inside a human's home, and almost always crave the company of other canines.
If you encounter one, have the due diligence to take the dog to a proper care center, so it can live out the rest of its days happy, healthy and howling at the moon with plenty of other wolf-like friends, just like Neo.