This Maxim Story Became a Meme, But Jonah Hill Doesn't REALLY Feel Attacked for His Looks
Sexy Emma Stone plus chubby Jonah Hill equals viral gold.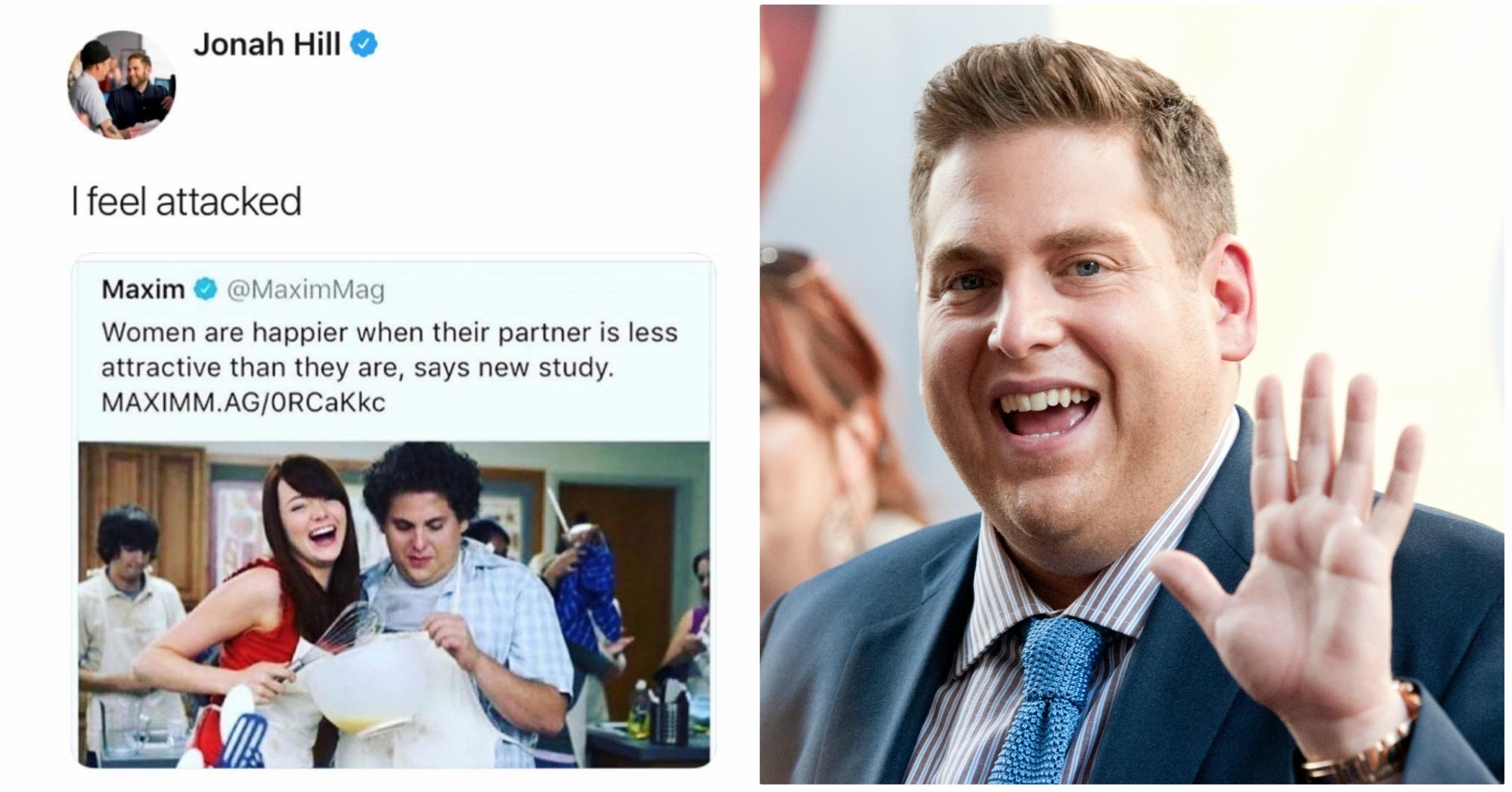 A while ago, we told you about a study that revealed that women are happier when their partner is uglier than they are, which totally explains why we often see super hot women walking hand-in-hand with a dude who is significantly less attractive than they are. Not that there's anything wrong with that!
Apparently, women who have husbands who are as hot as they are (or hotter) are more likely to constantly diet and try to become sexier in order to keep the competition away, which isn't exactly a fun way to live. Ladies who have homelier husbands, however, don't feel the need to incessantly compete with other women, which makes them very happy. 
When you think about it, it make total sense, right? 
And guess what? That fascinating nugget of information we assembled into an article has now officially become a full-blown meme, capturing the attention of hundreds of thousands of people who are forced to come to terms with this harsh truth. 
https://twitter.com/CptnClout/status/904424309111885827
Men's Humor even retweeted the meme:
https://twitter.com/CptnClout/status/904593378205159424
But most importantly, this happened, thanks to the picture we used of a beautiful and smiling Emma Stone with a young Jonah Hill in a scene from Superbad, the classic 2007 comedy that made both of them stars. 
" tml-render-layout="inlinehttps://www.instagram.com/p/Bea-dhIB4Di
Sorry, Jonah. Didn't mean to offend. 
To clarify, though, Jonah Hill did not feel attacked, because the post was meme-ified through the magic of Photoshop, meaning it's completely fake, just like Post Malone's fake Twitter feud with Domino's Pizza. Sad, I know. 
But still, it's an amazing meme, and hopefully Jonah finally notices he's a hilarious meme and weighs in…but considering the fact that he recently lost a bunch of weight, has been dubbed a street style god, and basically looks nothing like his old self right now, maybe he's already noticed.
" tml-render-layout="inline