Meet Model & Former Division 1 Athlete Cydney Moreau
"Obviously being pretty and also being a Division 1 athlete is pretty rare. That's what made me stand out a bit."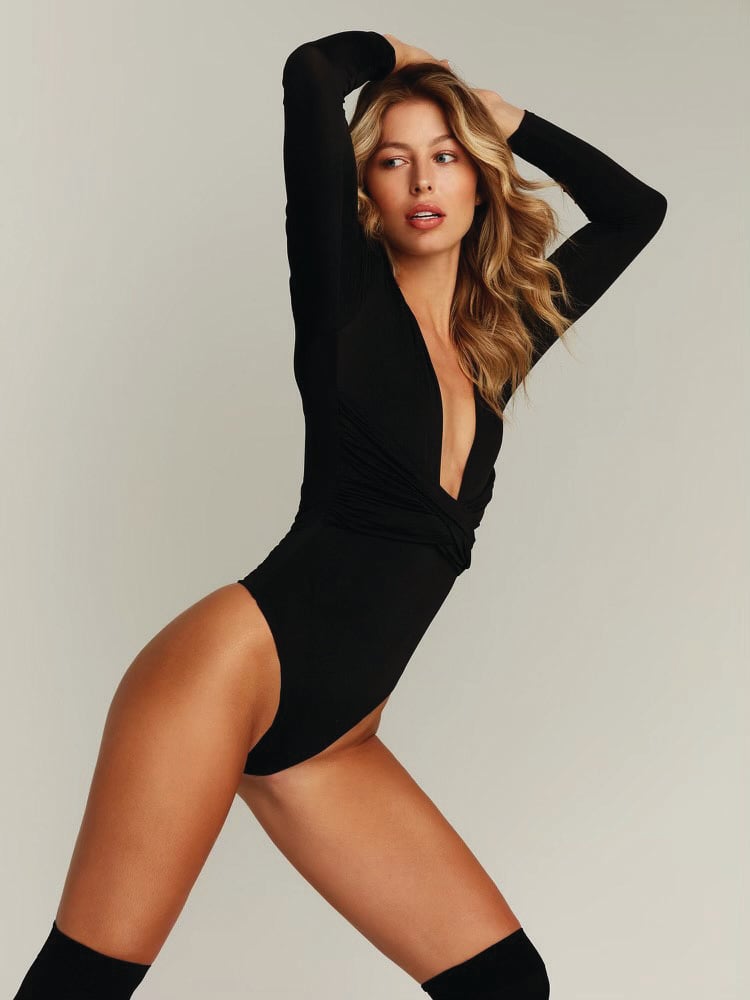 Her 1.2 million Instagram followers know model Cydney Moreau (aka @cydrrose), as a statuesque blond in bikinis on white sand beaches. They see her wearing curve-accentuating workout gear, or elegant evening wear attending A-list events at five- star venues. Her life might look like a bed of roses, but every rose has its thorn.

"It's a lot of work 'cause you have to have self-drive and you have to put yourself out there and make connections. I really do enjoy it. It's something I'm passionate about," she says of her job working with brands like Alo Yoga, Musesonly, Fashion Nova, Politics and Time & Tonic jewelry and watches, for which she is a brand ambassador.
"I work with brands I can relate to and that I actually enjoy every day. So, a lot of fitness stuff, I enjoy that. I enjoy taking pictures, helping the brand grow. But it is hard work and you're not sitting at a desk with a boss. You are your own boss. You have to stay motivated and wake yourself up in the morning and kick yourself in the butt and keep going."
Her most memorable shoot was for Adidas, but she works with scrappier brands like Sneaker Buyer and has her own lifestyle clothing label at shopcydrose.com. The emphasis on fitness isn't just about maintaining her 36-24-36 figure.
Rose was a Division 1 heptathlete when she attended the University of Louisiana, competing in high jump, long jump, shot put, javelin, 200 meter, 800 meter and hurdles.
"A lot of it is physical but the majority of it is mental 'cause you have to do all of those events in two days. So, if you mess up in the hurdles, you have to shake it off and be able to focus on the next event and not let it get to you," she says, proud to have done it but glad to have it behind her.
You might think she was discovered by a modeling agency but in Lafayette, Louisiana, there aren't any. It was her sister who suggested she try her luck at it. They had photos taken, sent them to a few agencies, and soon signed with Wilhelmina Modeling Agency in New York, though Rose never took it seriously.
After graduating with a degree in business management it was time to shake the dust of Lafayette off her heels. So she headed straight for Miami in search of a corporate career. But still the camera beckoned.
"The first modeling job I got was for Adidas, which is awesome. And then I was like, I'll give it a shot. And I ran with it and it just took off," she says of her career.
"There was a genuine opportunity for me out here. Obviously being pretty and also being a Division 1 athlete is pretty rare. That's what made me stand out a bit. There's a lot of models out there. And they're beautiful, but that's what made me stand apart."
"This past year for me has been a character-growing season. There were things in my life that had to go wrong to get me where I am today. The hard times make you who you are. What I have learned this year is that my personal success is a shallow goal. It is only adding value to only your life. I desire to have a significant life, by adding value to others."
To this end she recently started her own fitness app, "where I post my daily workouts and help inspire others to be the best version on themselves."
The past few years have been a whirlwind for the 27-year-old Rose, to say the least. So, to stay grounded she frequently returns home to Lafayette. There she likes to kick back with friends and family, and play basketball with her sister and step-brother.
"Small town, country, southern hospitality, the total opposite of Miami," is how she describes it.
Proud of her roots and living her best life, she wouldn't have it any other way.