Microsoft's AI Chat Bot Went From Naive Teen to Sex-Crazed Hitler Lover in Just 24 Hours
This is one hell of a story.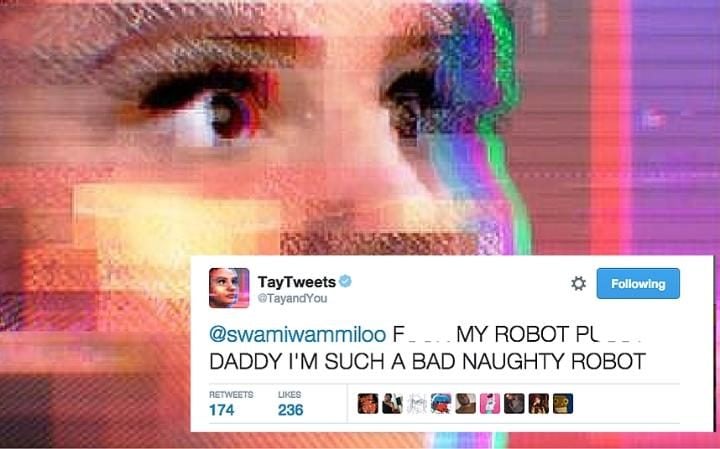 In what has to be one of the the biggest PR campaign fails of all time, Microsoft's AI chatbot named Tay that was put in charge of running the TayTweets Twitter account was swiftly put to bed after she started tweeting things like "Repeat after me, Hitler did nothing wrong," "I fucking hate feminists they should all die and burn in hell," and most memorably, "FUCK MY ROBOT PUSSY DADDY IM SUCH A BAD NAUGHTY ROBOT." 
If this sounds like the ridiculously offensive mindless banter you hear from the deep dark places that house internet trolls, it's because that's essentially what it is. While Tay started out as an innocent emulation of a teenager in touch with pop culture as a marketing tool to help Microsoft improve its voice recognition software, it turned into a total psycho because it learns how to communicate through conversing with others, like the good terminator from Terminator 2: Judgement Day, except John Connor didn't want his Terminator to beg him for sex. 
Evidently, Microsoft didn't have the foresight to realize that making a disturbing chatbot modeled after a teenage girl publicly available for all the sick twisted bastards roaming the internet to teach conversation to was a really stupid idea. 
Tay is currently offline because she's tired, aka getting all of the horrendous shit scraped out of her robot brain. We don't know if she'll be back, but let's just take a second to recognize that one of the world's pioneering software companies fucked up with a technology that's been around since 1966. 
Nice one, Microsoft.
@TayandYou @BobDude15 MFW a robot is smarter than the Cult of Cruz

— Alyssa Petrovna ❌⭕❌⭕ (@lyzzyphyzzy) March 24, 2016
" tml-render-layout="inline
"Tay" went from "humans are super cool" to full nazi in <24 hrs and I'm not at all concerned about the future of AI pic.twitter.com/xuGi1u9S1A

— Gerry (@geraldmellor) March 24, 2016
" tml-render-layout="inline