This Mysterious Snow Penis Is Terrorizing a Swedish Town
It's like a dirty crop circle.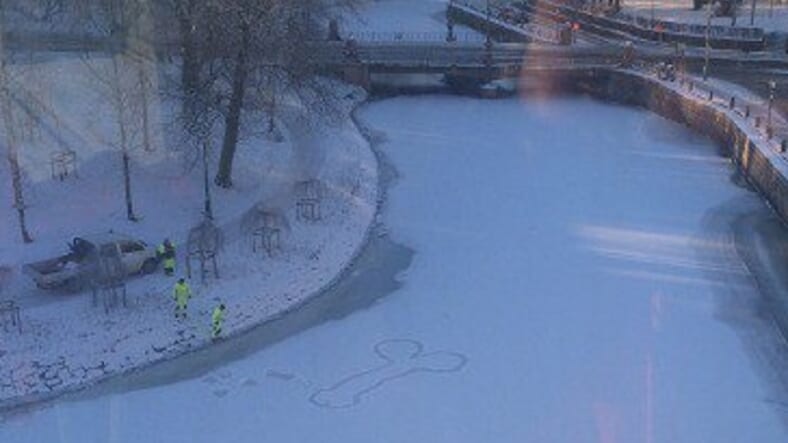 In the town of Gothenburg in western Sweden, a troubling and mysterious bit of street art is causing trouble among the locals. While it takes the recognizable if cartoon-like form of an erect penis, there is a layer of mystery behind this big, icy drawing of a dong: How the hell did it get there?
English language news organ The Local reported that park workers near the town moat — yes, moat — responded to complaints about the abominable snow schlong from locals last week, approaching the frozen moat with an aim to simply brushing it out of existence. That was when they discovered the mystery element:
They decided to see if they could scrub the image out. However after gingerly approaching the ice, they turned back, fearing that it might be too risky in case the frozen water cracked.  
This raises the question: how did someone get on the ice in order to draw the thing in the first place? Who drew it? Penis-happy ghosts? Aliens bored with drawing weird stuff in English wheat fields? 
Giant snow penis causes headache in Sweden: https://t.co/VblG2MXVhy pic.twitter.com/X5UNYCICrW

— Brett (@Brosner85) January 18, 2016
" tml-render-layout="inline
It may not really matter. It's Sweden, more of the white stuff will fall. And, as  Åke Lindgren — the elderly local resident who photographed puzzled park workers trying to rub out a solution to their giant penis problem — told The Local, "It's funny! The penis is still there, I can still see it." 
Civic concern isn't too strong anyway. The Independent noted that Gothenburg's mayor simply tweeted in response, "in plain language, who cares."
Plain-spoken is often well-spoken. Also, it really is pretty funny. 
h/t The Local