The Internet Is Ablaze Over Controversial Video Natalie Portman Made for PETA
She compares eating meat to the Holocaust.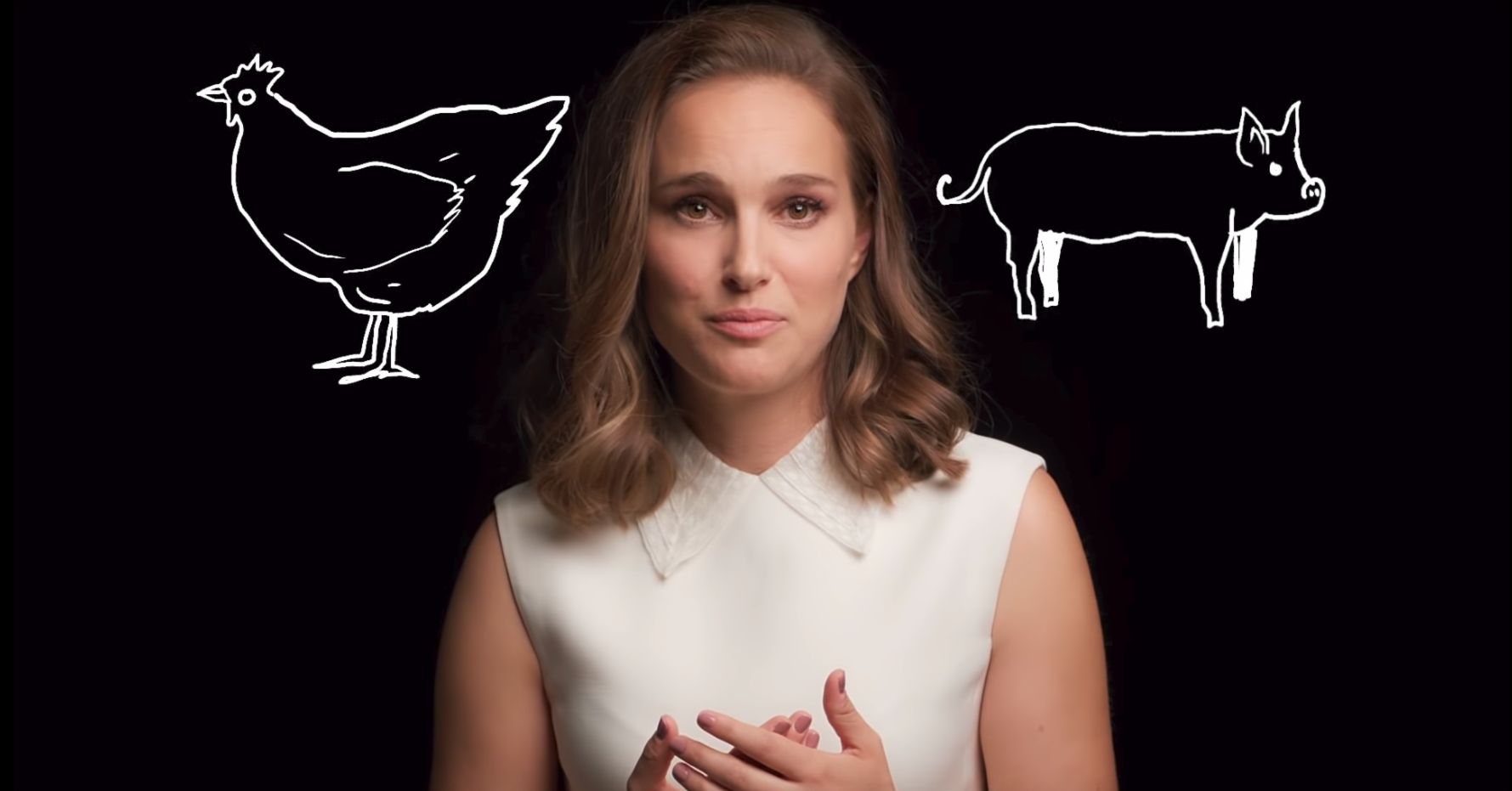 Still: YouTube/ThePETAAsiaPacific
Natalie Portman's new PETA ad is proving very controversial. 
In the video, the Academy Award-winning actress and animal rights activist quotes a famous Jewish author who once compared the slaughter of animals for human consumption to the Holocaust. 
That author is Nobel Prize laureate Isaac Bashevis Singer. Portman recounts his legacy throughout and emphasizes Singer's vegetarianism.
"Decades ago, one man articulated the plight of animals so boldly that the modern world couldn't ignore him." Portman says. "When Singer stopped eating animals, he famously declared, 'I did not become a vegetarian for my health, I did it for the health of the chickens.'" 
But the line that's really riled up the internet comes from Singer's novel, Shosha.
"We do to God's creatures what the Nazis did to us," Portman says. 
Tweets poured in from all sides. Many in agreement with Portman insisted that the quote was used to draw a comparison between the Holocaust and factory farming.  
Thank you Natalie Portman for bringing us this story. It still amazes me how so many people in the world ignore the suffering of animals in the factory farming system. How do we take a stand and outlaw factory farming once and for all?

— Chelsea Carlock (@CarlockChelsea) July 16, 2018
https://twitter.com/KittyHissmore/status/1018844912622632961
I think though, to a point this is true… I've seen way too many videos and documentaries to believe the contrary.

— scott trafford (@scottat107) July 18, 2018
Factory farming is what she is referring to…no compassion there…

— (((Marilyn Gross))) (@marilyon) July 18, 2018
Genuine question: apart from humans vs animals, what is the difference between the *acts* of the Holocaust and factory farming?
Both involve wholesale slaughter using industrial methods.

No one is saying that the killing of animals is worse than the killing of humans.

— TRS_One ਸਿੰਘ (@TRS_One397) July 18, 2018
On the other hand, critics argued that the the lives and deaths of humans and animals aren't comparable. 
https://twitter.com/JenSchweigert/status/1019381272291004416
Animals are our food idiot

— Mike in modesto (@MikeJohnMartin2) July 16, 2018
https://twitter.com/timothygmd/status/1019416080320589824https://twitter.com/VeronicaCrawfo1/status/1019406487444127745
What do you think?