People Are Really Pissed Off About Toblerone's New Shape
And you thought the election had folks fired up.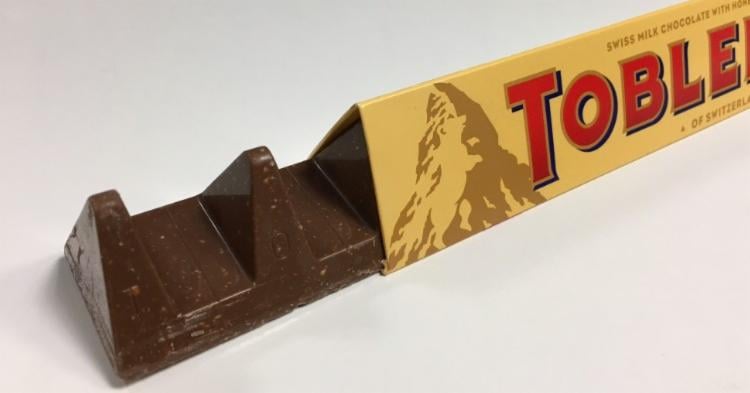 Citizens of the U.K. woke up this morning to an unforeseen consequence of the "Brexit" decision: Newly-shaped Toblerone chocolate bars sold across the pond are now roughly 10% smaller. And they're not happy, to say the least. 
The change is the result of a decision made by Toblerone's new American parent company, Mondelez International, to mitigate production costs. By adding extra space between the evidently beloved triangles, a 400 gram bar now weighs 360 grams and a 170 gram bar has been reduced to 150 grams. 
A post on Toblerone's Facebook page from last month forewarned folks of the coming shift in the candy bar's form.
Toblerone remains one of the best value and most delicious Swiss chocolate products in the market. This is because we always work hard to ensure we offer value for money for our consumers, but like many other companies, we are experiencing higher costs for numerous ingredients. We carry these costs for as long as possible, but to ensure Toblerone remains on-shelf, is affordable and retains the triangular shape, we have had to reduce the weight of just two of our bars in the UK, from the wider range of available Toblerone products.  
While that may have softened the blow, people obviously weren't prepared to see the bars in reality. And, as per usual, they took to social media to voice their frustrations. 
https://twitter.com/DeanomusicUK/status/795905550965948416
https://twitter.com/YoorWullie/status/795939704332021760
h/t: Uproxx