North Korea Successfully Test Launches Ballistic Missile That Could Hit Alaska
"This is a real threat."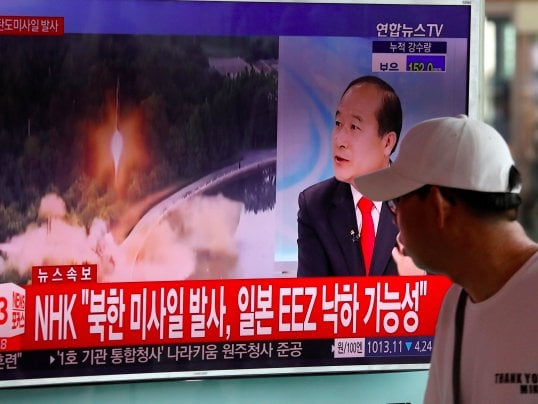 Reuters
North Korea launched a missile on Monday that some experts say is the rogue nation's first successful test of an ICBM capable of hitting the United States.
Business Insider reports on the latest display of aggressive saber-rattling from the Hermit Kingdom:
State officials made the boast early Tuesday morning, several hours after the country launched a missile that landed in the sea near Japan.

The North Korean government went so far as to say its new missile could hit any location on the planet, a claim whose validity was unclear.
South Korea had earlier warned that the test appeared more advanced than usual. The missile's trajectory had an unusually steep angle, suggesting it could travel farther than previous efforts.
The launch, which North Korea's state media said was ordered and supervised by leader Kim Jong Un, sent the missile 933 kilometers, or 580 miles.

North Korea announced a flight time of 39 minutes, though the US Pacific Command listed the flight time at 37 minutes. The missile reached an altitude of 2,802 km, Reuters said.
David Wright, the codirector of the Global Security Program at the US-based Union of Concerned Scientists, said North Korea's claims suggested the missile may be powerful enough to "allow it to reach all of Alaska."
In a blog post, he said: "If the reports are correct, that same missile could reach a maximum range of roughly 6,700 km (4,160 miles) on a standard trajectory."
But some skeptical experts downplayed North Korea's missile stunt because the rocket flew only 580 miles from its Panghyon launch site.
North Korean state media pointed to the missile's unusually steep launch angle and peak altitude of 1,740 miles as evidence that it could have traveled farther if it been on a flatter trajectory, according to Reuters. 
"The test launch was conducted at the sharpest angle possible and did not have any negative effect on neighboring countries," North Korea's state media said in a statement.
The internationally reviled rogue state has long been trying to build a nuclear-tipped ICBM that can hit the U.S. despite repeated warnings. 
President Trump immediately responded with his favorite weapon–a Tweetstorm. "Does this guy have anything better to do with his life?" Trump asked of Kim Jong Un, before calling for China to put "a heavy move" on North Korea as punishment. 
Meanwhile, China and Japan both reacted to the launch:
Japanese Prime Minister Shinzo Abe on Tuesday said he would ask the presidents of China and Russia to play more constructive roles in efforts to stop Pyongyang's arms project.
"Leaders of the world will gather at the G-20 meeting" on Friday, Abe told reporters, according to Reuters. "I would like to strongly call for solidarity of the international community on the North Korean issue."
China has urged "restraint" from all parties following the missile launch, according to AFP.
John Everard, the former British ambassador to North Korea, told Sky News: "This is not just bravado, this is a real threat."