Hide Your Gloves and Bruno Maglis, O.J. Simpson Has Been Released on Parole
This time the Juice is actually loose.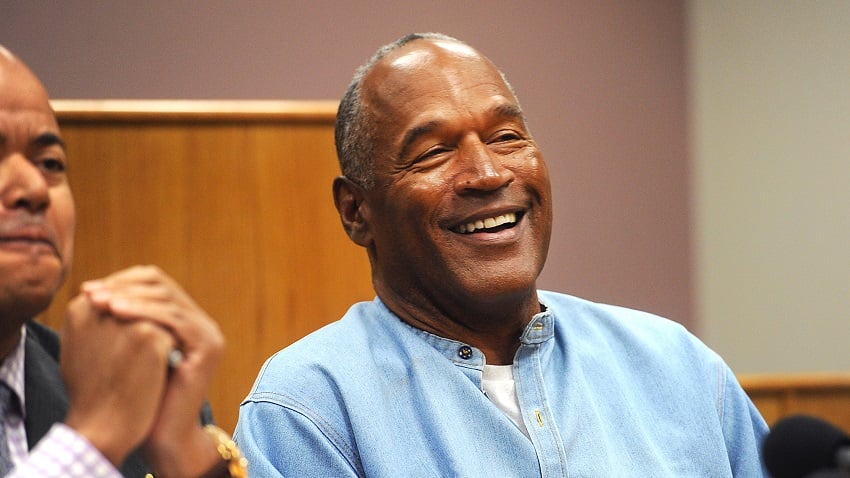 Getty Images
" tml-render-layout="inline
Just after midnight on the west coast, the Nevada Department of Corrections released O.J. Simpson from the Lovelock Correctional Center. Wearing a ball cap and jeans, he quietly drove away with an unnamed friend, and is reportedly staying with friends in a gated community.
The brief video below shows the exact moment Simpson became a (relatively) free man after nine years.
What's next for O.J. is anybody's guess. He has expressed interest in returning to the spotlight, and also in moving to Florida. His attorney told the AP he has no doubt the one-time NFL superstar turned accused murderer and convicted kidnapper will head to the Sunshine State.
Whether Florida will accept him or not is another story. Florida Attorney General Pam Bondi has reportedly discouraged the Florida Dept. of Corrections from accepting Simpson. 
"Our state should not become a country club for this convicted criminal," said the AG in a letter to the FDC. 
As for Simpson, the AP quoted his attorney Malcolm LaVergne, who said the Juice is "looking forward to the simple pleasures," which include "Seeing his family on the outside, spending time with them, eating food that's not packaged." 
LaVergne also said Simpson wants an iPhone. That may be part of Simpson's reported ambition to embrace the age of internet celebrity—which could also include a reality show.
If Florida finds a way to keep him from establishing residence there, at least Simpson still could get that job at the Bunny Ranch. 
Whatever he does, O.J. will have to abide by the terms of his parole.
Re OJ Simpson being granted parole by Nevada Parole Board, here's the most perilous document for Simpson, Parole Terms & Conditions Order. pic.twitter.com/4UqlSfNNo1

— Michael Mortimer (@MortimerEsq) July 20, 2017
He will have to avoid drinking in excess, if at all, can't have marijuana unless it is medically prescribed, can't leave the state without permission, and most importantly, cannot "associate with convicted felons." 
If he sticks to all those things, it looks like we might have a new age of O.J. celebrity, whether we want it or not.