Vladimir Putin Endorses "Absolute Leader" Donald Trump
Sounds like the GOP front-runner already has the Russian strongman's vote.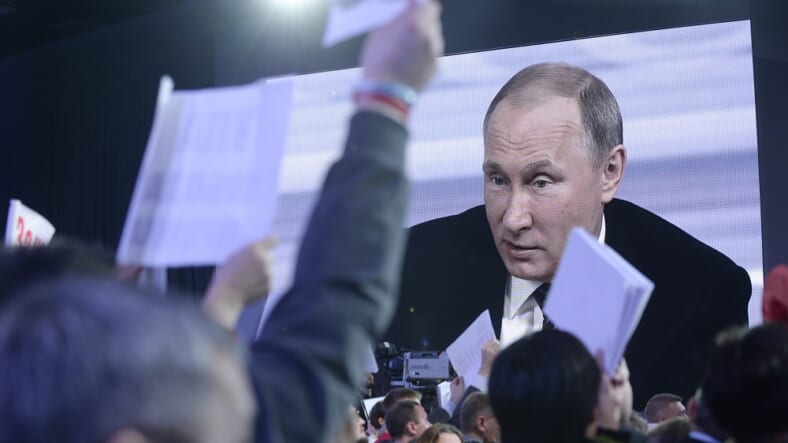 Voting in the GOP primaries is still months away, but top-polling Republican presidential candidate and billionaire reality TV star Donald Trump already has Vladmir Putin's attention. Putin likes what he sees! 
The leader of the Russian Federation doesn't give a lot of press conferences but when he does talk to the media, he—much like Trump—is generous with his time. In a marathon Q&A on Thursday, the Russian president touched on a broad range of topics, from Russia's tensions with Turkey to America's favorite ongoing political horse race. 
As reported by the Washington Post, Putin sounded ready to cooperate with the next administration regardless, but it was clear he found Trump a fascinating figure:
"He's a very lively man, talented without doubt," Putin said according to the Interfax news service after the three-hour news conference. He added that Trump is the "absolute leader in the presidential race."
"He's saying he wants to go to another level of relations, closer, deeper relations with Russia," Putin continued. "How can we not welcome that? Of course we welcome that."
A "President Trump" and Putin might result in an international bromance. As noted by the Post, Trump has said positive things about the Russian president in the past. 
Trump has indicated he believes would "get along" well with Putin and even gone toe-to-toe with conservative pundit Bill O'Reilly over perceptions of the Russian strongman. In an appearance on O'Reilly's Fox News program, the host said "all indications" pointed to Putin being a gangster. As Salon reported, Trump gave a pretty Putin-friendly response:
"That's because he's given the opportunity. I mean, the people we have that represent us don't know what they are doing," Trump argued. "He doesn't like President Obama at all. And I understand that. They have a very bad chemistry and that can happen. In all fairness, I have that with certain people, too. I don't have that with you but I have it with plenty of people. I will say that I think we could be — I think we could get along together."  
Whatever your political bent, it's fascinating to imagine Presidents Putin and Trump fist-bumping on the world stage then taking a friendly sub ride to Putin's Bond Villain digs under the Black Sea—or Putin giving Trump an impromptu judo lesson. 
Even world leaders need to be able to bro hug it out.