The World Reacts to the Death of Anthony Bourdain
The tributes are pouring in.
CNN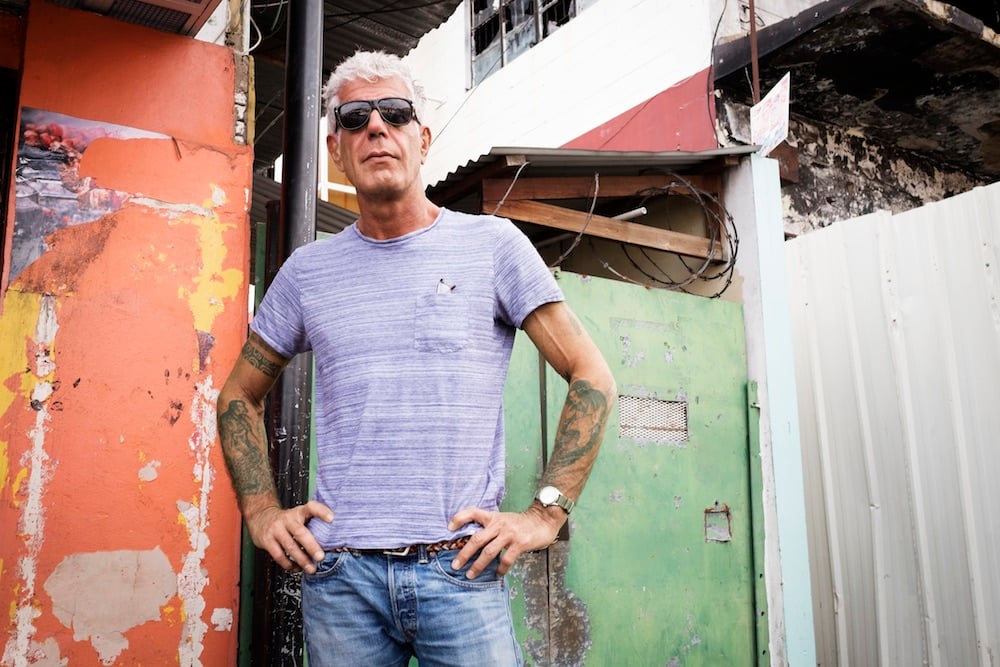 The world reacted with shock and sadness Friday upon hearing that celebrity chef, TV host, and bestselling author Anthony Bourdain has died after committing suicide in Paris. He was 61.
Bourdain's image as a brilliant and charismatic world traveler with a talent for immersing himself and his viewers in other cultures perhaps contributed to the shock. It's easy to believe that famous people have charmed lives and the happiness so many assume goes with that. 
Social media reactions were immediate and emotional, none more than the statement from his girlfriend Asia Argento, who described herself as "beyond devastated." 
https://twitter.com/AsiaArgento/status/1005116310366269440
Celebrities, friends, and fans alike expressed shock and grief, including former president Barack Obama. 
"Low plastic stool, cheap but delicious noodles, cold Hanoi beer." This is how I'll remember Tony. He taught us about food — but more importantly, about its ability to bring us together. To make us a little less afraid of the unknown. We'll miss him. pic.twitter.com/orEXIaEMZM

— Barack Obama (@BarackObama) June 8, 2018
Understandably, some of the most intense reactions came from Bourdain's fellow chefs.
https://twitter.com/altonbrown/status/1005076361004929024
I'm shocked and extremely saddened by the tragic loss of such an inspiring man. Tony was a great soul, a mentor, a friend, a father, and an incredible chef.

— Emeril Lagasse (@Emeril) June 8, 2018
Im so angry this morning. Life is fucking hard and crazy and Tony I love you. Im wearing your boots that I never wore because they were yours, and going to work. Everyone should hug some extra people today. My heart is heavy. https://t.co/2lFmz1UvWK pic.twitter.com/62Qcjwo33f

— Andrew Zimmern (@andrewzimmern) June 8, 2018
I have to say I'm in total shock to hear that the amazing @Bourdain has just died 💔 he really broke the mould, pushed the culinary conversation, Rest in peace chef 👨‍🍳 🙏 thoughts and love to all his family and close friends xxxxxxxxxxx pic.twitter.com/HB7sV7CeRH

— Jamie Oliver (@jamieoliver) June 8, 2018
RIP doubtful. Tony's restless spirit will roam the earth in search of justice, truth and a great bowl of noodles. @Bourdain

— Tom Colicchio (@tomcolicchio) June 8, 2018
Forever with me Tony. Looking at the spoon tattoo we share fills my heart with so much sadness today, but forever will be a reminder that you believed in me.I am forever indebted to this passionate great man. Truly heartbroken today. #RIPBourdain pic.twitter.com/aYZtP8hr8Q

— Ludo Lefebvre (@chefludo) June 8, 2018
Maya and I are so sad to hear the news of our dear friend today. You will be missed terribly. If you or anyone you know needs help, please don't wait to reach out.
.
National Suicide Prevention Lifeline: 1-800-273-8255 (TALK)
.https://t.co/O7MjAEqd7t pic.twitter.com/Sfn09iiGjR

— Marcus Samuelsson (@MarcusCooks) June 8, 2018
Many also responded to the immensely tragic news that Anthony Bourdain died from suicide with empathy and information—numbers to suicide hotlines around the world. They urged others who might be thinking about ending it all to get help.
National Suicide Hotline
1 800 273 8255

I've brushed up against this darkness and I know it's a tempting exit but REACH OUT to ANYONE. Stay on this side of it — in the light and warmth. Where you get to try again, every day.

— Patton Oswalt (@pattonoswalt) June 8, 2018
There's only one person I ever wanted to grow up to be like, and that person was the zesty, no-fucks-given, fearless traveler/eater Anthony Bourdain. #RIPAnthonyBourdain the world is less spicy without you.

National Suicide Prevention Line -> @800273TALK

— Savvy's vaxxxed Peterson (@SavIsSavvy) June 8, 2018
Kate Spade, now Anthony Bourdain. Suicide can touch everyone, especially those whose names most of us will never know. My prayers go out to their families, and all of the families who've lost someone.

Need help? 1-800-273-8255https://t.co/9yrYEDEngm

— Britni Danielle (@BritniDWrites) June 8, 2018
I am just in shock and disbelief. Feels like someone just punched me in the stomach. Anthony Bourdain was a talent beyond measure. RIP legend. 😢💔

If you need help please call the National Suicide Prevention Lifeline at 1-800-273-8255. pic.twitter.com/X3Efp0Ph89

— Edith (@ELermaFaltine) June 8, 2018
Bourdain was a Maxim favorite for obvious reasons. He was colorful, charismatic, and an absolute badass in virtually every way possible. He was a gifted TV host, a talented chef, and an acclaimed writer, not to mention an actual Jiu Jitsu champ, a source of pure wisdom and a just a great person overall.
Anthony Bourdain leaves behind a daughter, Ariane, girlfriend Asia Argento, and a seriously amazing legacy. Rest in power.