Real Estate Tycoon Ari Rastegar On How His Healthy Lifestyle Helps Him Maintain Mogul Status
"I find that the more my health prospers – the more I'm in the gym, meditating, and caring for myself – the better a husband, father, boss, and partner I am."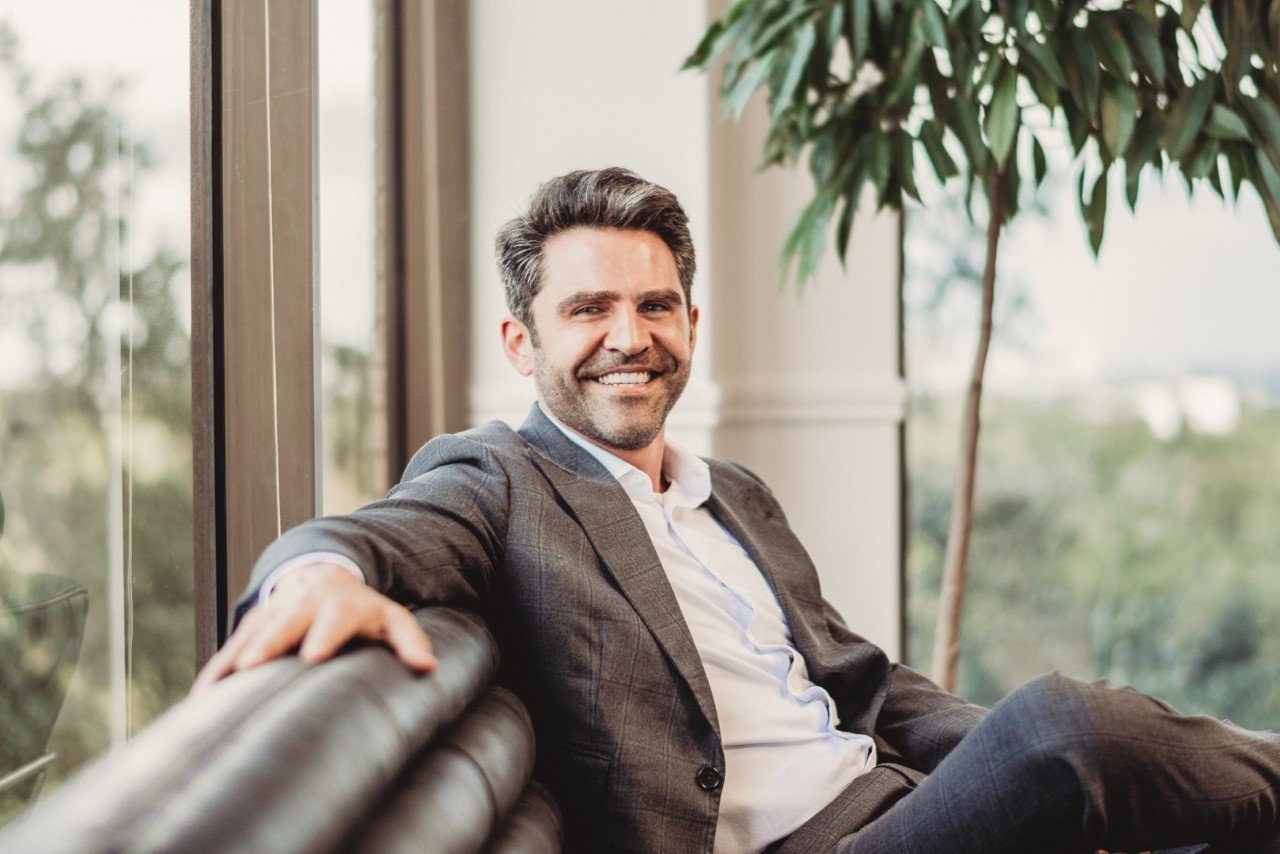 Presented by T1
Real estate tycoon and wellness fanatic Ari Rastegar is on a mission to redefine entrepreneurism and establish himself as a self-made billionaire. With a holistic health and wellness routine that optimizes the three pillars of body, mind, and soul, Rastegar has reached an elevated potential for newfound success in the real estate sector. 
As CEO of Rastegar Property, a vertically integrated real estate company with a distinct focus on value-oriented real estate, Rastegar has found himself in an opportune position for concentrated business scaling. A task deemed daunting by others, Rastegar proves his passion and value, much of which he credits to his progressive approach to traditional health methods, including everything from Transcendental Meditation to the Handel Method.
We sat down with Ari to talk all things business and health and see why he believes the two values often harmonize.

How did you get your start in real estate? Was there a defining moment in which you knew this was an industry you were going to scale competitively?

My first project was a single-family home development in Spring Branch, Texas during my first year of law school. I borrowed $3,000 from a good friend's father and pooled the scholarship and funds I saved from selling cars the semester before to buy a lot in the community.
I had noticed this gentleman's name, Mitch Duggan – still a dear family friend to this day – whose name is on the title to many of the houses in that corridor. I reached out to him and said, "Look, I have this lot. Help get me a loan, and we'll split the profits 50/50." The philosophy of equal sharing of profits is tried and true, and we've held it in the fabric of our firm.
I realized once we started building that house – we sold it  and a second one during framing – I knew that real estate development and investment was something I had in my future. All along, I wanted to get out of the single-family business and move into commercial, but that didn't happen until years later.
But the recession hit in a meaningful way in my third year of law school. And if I hadn't sold that last house, I might have faced bankruptcy. Fortunately, I was able to exit without any significant financial damages.

You founded Rastegar Property after noticing that there was room in the opaque private equity world for a real estate firm that puts investors first. What was your consideration behind this mission?

At Rastegar, we specialize in boring. We always say "boring is beautiful." We don't overcomplicate the strategies. We do things that are recession-resilient and pose strong risk-adjusted returns. We aren't trying to reinvent the wheel; we endeavor to make sure it's balanced and aligned.
I didn't grow up with too much; however, my family comes from an educated family in Iran. After the Iranian Revolution, our family lost everything and we had to rebuild. As a result, the value of a dollar is deeply ingrained in me and helps me track budgets more efficiently and grasp financial analysis deeply. Putting investors first is a long-standing principle that's stayed true for us throughout the years.

What does an "Investors First" philosophy look like in the ever-evolving world of real estate?

I think real estate – and a lot of the investment business – is very transactional. Most look at investments as numbers on a page. We're concerned not only about the core assets themselves, but more importantly, the people behind them. Consequently, we're a very people-focused firm, and we've developed a family-oriented business at Rastegar.
We wanted to create a firm that focuses more on people and those doing the work. Placing a focus on the end-user and creating an experience that isn't driven solely by money. We emphasize creating a fantastic organization and wealth-appreciation system for all our stakeholders; the money organically follows.

Your first development project in Dallas, 1899 McKinney Ave  — a 0.45-acre Uptown/Victory parcel near Victory Park — was an ambitious start to your property development roster. What did you learn along the way? Were there any significant challenges or lessons?

There are many lessons. 1899 is one of the most iconic locations in the city of Dallas. We were fortunate to be able to acquire that property at a time when uptown McKinney was starting to boom. It's one of the last parcels in that area that has the potential to harmonize the connection between Klyde Warren Park, Katy Trail, and this corridor of Dallas that we're deeming Dallas 2.0. It's the urbanization of Dallas – becoming more walkable and green.
We wanted to use the triangular lot, which developers in the past have seen as a challenge, as an opportunity to express an architectural elegance. Something that would be responsive to the landscape and create what many Dallas natives call the 'Emerald Bracelet,' which is the green space that's connecting Katy Trail into Klyde Warren Park, the Central Park of Dallas that sits in between uptown and downtown.
There's been a massive learning curve. We brought in some of the brightest minds in the architecture and consulting disciplines. We enlisted PMA, a best-in-class project management company headquartered in Chicago, to help us run pre-development. Best-in-class attorneys at Winstead and a think tank of brilliant communication advisors are instrumental in helping us communicate with neighbors and structure a cohesive plan that speaks to the overall direction of McKinney.
Learning is central to our story: we met the requisite failures early on. As problems arise, we address them quickly, and bring the greatest minds in the business to the table and empower them with the wherewithal and authority to make decisive decisions. It's something that brings lasting joy. And to know that we'll be able to change the skyline in a meaningful way is tremendously inspiring. It's a dream come true for a young man that envisioned a path to success and social contribution through real estate. Beyond that, signing a 10-year master lease with Sonder, a new-age tech-driven hospitality company, for a 270-unit highrise in Dallas is the icing on the cake. It's an iconic project.

As the founder and CEO of Rastegar Property, you oversee all firm operations, but you often identify yourself as the "deal guy." In an oversaturated industry, how can you tell what deals will be advantageous to take on and add to your diversified portfolio?

Segments of the market are saturated. We differentiate by bringing institutional risk control and management to mid-size deals. When we invest in Austin – our portfolio base, my home, and our firm's HQ – we like to do deals that are larger than what local investors can manage, but smaller than what other private equity firms seek. Traditionally, larger private equity firms need to place more significant quantities of capital.
We've found a competitive advantage in that smaller-tiered deal, ranging anywhere from $4 to $25 million. It grants us a competitive advantage in the operations we bring and the renovations we implement, specifically to our vintage multifamily value-add practice. Now, our partnership with Sonder is pushing the horizon of our real estate business and disrupting the hospitality and short-term rental industries.
For me, it's about finding the right deal – something win-win – where the seller is happy with what they have, the broker working with us is walking away with something great, and the bankers financing us are delighted. When you have that mentality and everybody gets a fair share, it promotes enhanced growth, prosperity, and longevity. We're not playing the short game.
What real estate projects are you currently working on?

We're working on a lot. We have a large pipeline that we're closing. Before 2019, we mostly engaged in vintage multifamily. Currently, we have a value-add office project that we're working on outside of Westlake that will be our future global headquarters in two years. We're additionally working on several development projects in Austin and also in downtown Phoenix, which is in an Opportunity Zone.

With an immense amount of work, how do you find the time to stay on a strict health routine?

I am my most valuable asset. I adhere to the philosophy that you hear on airplanes: if the plane loses cabin pressure and the oxygen masks drop, it's advised to "put the mask on yourself first, before you put it on anyone around you."
I find that the more my health prospers – the more I'm in the gym, meditating, and caring for myself – the better a husband, father, boss, and partner I am. As an intended result, I show up with more vigor, vitality, and ingenuity in professional and personal engagements.
It's not a secret that when you're eating better and exercising more productively, your body and brain excel. Like a machine, your body functions most efficiently with quality fuel in proper ratios. Consequently, you make better decisions, exhibit poise, and act with equanimity. That's what it's about: Bringing your best foot forward and having the ongoing drive to be highly productive with consistency over the long term.

Your health routine is truly next level. Can you walk us through your daily routine?

My daily routine changes based upon what I'm doing in terms of travel. My travel schedule is at times hectic. Sometimes, when I'm on the road, my eating suffers. Between tasks, I don't get my meals in enough and don't have access to my dedicated trainers in Austin. I'm always finding variations and learning new ways to be productive. My wellness director for Rastegar, Shawn Faver, innovates new techniques to complete my posture workouts in hotel rooms, as well as those I can adapt to hotel fitness centers.
When I'm home in Austin, I'm training with a dear friend of mine, Sean Clements, out of Onnit Labs in Austin, doing functional training work, high-intensity training intervals, and frequently switching up the routine – I think these are the most important things to achieve results.
What ties my regimen together and makes everything possible, is what I do with my life coach, Lauren Zander. I text and email with her to make sure I'm aligned on my goals. I'm making sure my priorities are straight, and more importantly, focusing on my personal integrity and being true to my mission and myself.
Beyond that, when my health was in turmoil, Dr. Jacob Rosenstein – a dear friend of ours and partner in numerous projects – creates a tailored vitamin program for me along with hormone replacement and food allergy tests to ensure my nutritional intake is optimized.
It's a synergy of all these strategies, including my meditation practice. Often, I can't do them at the exact times that I would like to, but I find a way to fit them in because they are a priority. The founder of transcendental meditation – Maharishi Mahesh Yogi – said something beautiful that resonates with me: "We water the root so that we can enjoy the fruit."
And all of these practices are how I "water the roots:" the below-the-surface mechanism. When I rise above the surface and move into action, I have the balance to effectuate my goals in the most authentic way.

Where did this all begin? What was your inspiration behind this lifestyle?

Both of my parents were into health and wellness growing up. My mother is a homeopath, and my father was a massage therapist for years before he became an attorney. Supplements, sound nutrition, and physical activity were an intrinsic part of our lives. My stepfather practiced transcendental meditation every day when I was growing up. I was fortunate to have parents that valued education, read voraciously, and were health-conscious. Although we didn't have many means, we still had those things in our lives. I took it to the next level.
When my health started to deteriorate in my late twenties and early thirties, I went on a mission to try every little gadget you could imagine, from hyperbaric chambers to cryotherapy, to IVs to lasers, acupuncture, ad infinitum. You name it, I've tried it. But it wasn't until I met Dr. Jacob Rosenstein, and he put a system in place to test my blood, hormones, and food allergies, that I was able to dial in my intake in a meaningful way. He enables me to unlock the energy and vigor to accomplish everything thus far in my journey.
From a mental health standpoint, working with Lauren Zander now for almost eight years, she's helped me come to a place where I have the self-love and personal integrity to stay true, live in the moment, and continuously adapt to the task and situation at hand.
The inspiration for this comes from my father, mother, and mentors. My grandfather was a physician that immensely valued health and wellness. As I said, it's in my DNA to be conscious of these things. But I'm a self-proclaimed extremist, so I wanted to make sure that I dialed it in a way that fit my personality style.

You claim to have a "biological age" of five. Can you explain what this means and give us an idea of what "biohacking" entails?

The measurement of telomeres determines our biological age. Telomeres are like caps that protect the ends of our chromosome strands from deterioration. As we age, the telomeres shorten with each subsequent cell replication, leading to declining health and the prototypical effects of aging.
Dr. Rosenstein implemented six telomere tests for me over the past three years, for which we've used discrete companies to measure the length of my telomeres. Analysts determine through an algorithm incorporating population averages and standard deviation the telomere length for a person of a given age, which we then compare to our measurement.
When I started in my early thirties, I had a biological age of forty. Clearly, through stress and lifestyle habits, I had outlived myself. However, over the years of optimizing my nutrition, pursuing regimented exercise, and empirically determined supplementation, I've restored my telomeres and reduced my biological age to five years old. You can find a lot of research on this topic and discipline available online.
Regarding biohacking: It's a new buzzword for all the different gadgets you can use to increase your productivity and well being, whether that's by boosting your recovery time through hyperbaric chambers, or through other things I use such as the NanoVi Exo. But it's also about hormone replacement and the vitamins you take. Additionally, it's the mental health exercises we do with life coaching to 'hack into' our organism to increase productivity. But hacking insinuates you're breaking into something, and to me, it's not about breaking in: it's about integrating and synthesizing.

In your opinion, how are business and health interconnected?

Business and health go hand in hand. Often in life, you see great business executives sacrifice their health to make money and then spend the rest of their lives using money to rebuild their health. As a value investor, it's not a fair trade. Early in my career, I spent time elevating my health so I could have the longevity to contribute to society on a sustainable basis.
It's not about making all the money for myself but instead utilizing this platform to do even better work, to help more people, and to effectuate positive change for the community and economy. The more I bring health and wellness to myself, our firm, and culture, the more we resonate with the people and organizations we specialize in serving.
Do you believe you would be where you are today, professionally, if it wasn't for your extreme health practices?


There's absolutely no way that we would be here today. My marriage suffered early on because of my health. I found myself riddled with anxiety and a short temper. Often, people don't know why they feel bad; we misinterpret depression and anxiety as a result of psychological problems, which they absolutely can be. But many times, they are due to food allergies, hormonal imbalances, and nutritional deficiencies. 
I recommend getting all these tests to see what the issues are – you won't know until you check. I owe everything to my health practices and the support and mentorship I've received along the way. The health of myself translates to the vitality of our business.