Rob Kardashian Shares Nude Revenge Pics of Blac Chyna, Proves He's the Worst Kardashian Ever
What the hell, dude?
Rob Kardashian is the undeniable dud of the Kardashian clan. He's a failed sock entrepreneur who can't go a day without documenting his weight gain or his frequent marital woes on social media.
Rob's latest tirade against his wife and mother of his child, a former reality star named Blac Chyna, proves just how miserable he is. After Blac Chyna allegedly cheated on him with the rapper Ferrari, Rob posted private NSFW photos of his wife to Instagram—one of her exposing her breasts and another of her flashing her vagina.
It's highly unlikely Blac Chyna gave her consent to the racy images being shared with the world. Rob has since deleted the posts.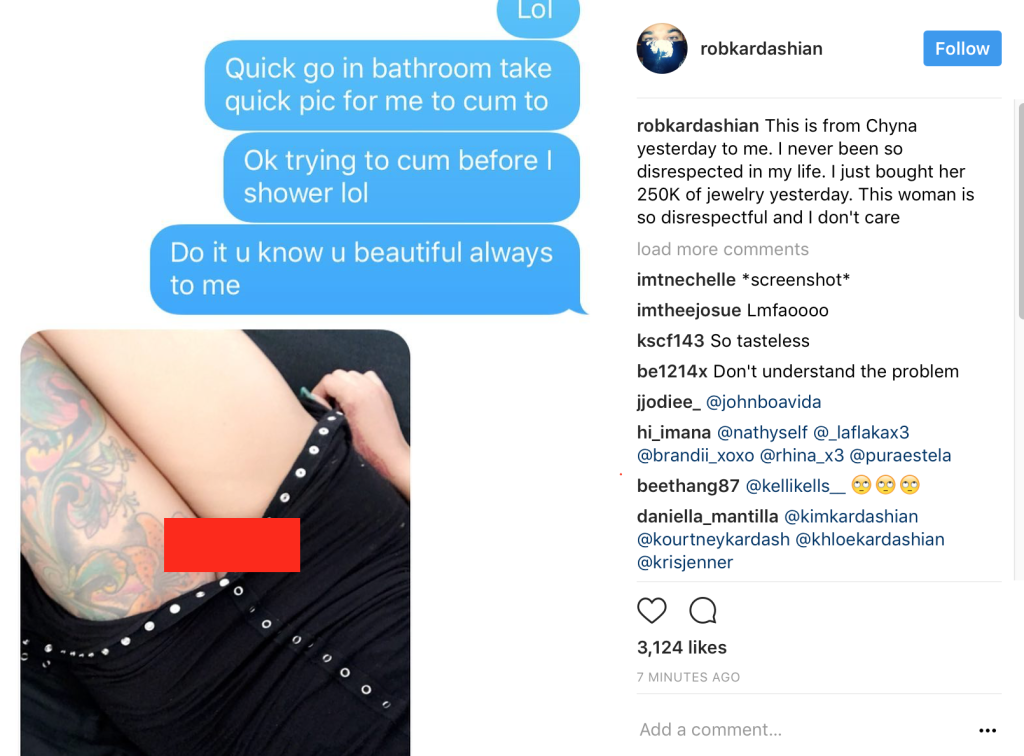 "This is from Chyna yesterday to me," he captioned the above crotch shot.. "I never been so disrespected in my life. I just bought her 250K of jewelry yesterday. This woman is so disrespectful and I don't care."
https://www.instagram.com/p/BWGIncYFOeC
On the topless photo he wrote, "For all u wondering why her damn nipples are so damn big thats cuz she had surgery after the baby was born on our anniversary January 25th that I paid 100k for and they really messed up on her nipples."
"Them shits used to be so cute and now they so damn big!" he tastelessly added.
Seriously, can this guy be any more pathetic? Also, pretty sure breast implants don't cost $100,000, but that's a whole other story. 
Rob says he was outraged when Chyna–who previously had a baby with rapper Tyga before Tyga hooked up with Rob's little sister, Kylie Jenner— sent him a video of her kissing the aforementioned rapper named Ferrari.  Everybody following this?
https://www.instagram.com/p/BWKxqafBvFw
Then he fired back by sharing Chyna's private photos.The former rap video vixen responded on her social media platform of choice, Snapchat, charging that Rob has been physically abusive to her.
Finally, the great Snoop Dogg posted his own advice for Rob.
Let's hope these two can safely part ways and give their kid a chance at some kind of normal life.