Watch a Rogue Bear Wander the Lobby of the Hotel that Inspired 'The Shining'
We're not sure this is real.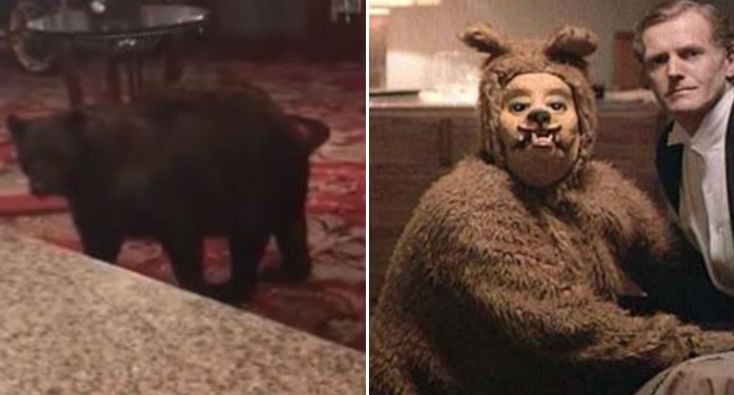 Screengrabs - Overlook bear video
https://www.youtube.com/watch?v=SuYbQm-f_RQ
We're not so sure this is real—but the video came from a source that seems trustworthy: The Stanley Hotel, a.k.a. the hotel that inspired Stephen King's novel, The Shining. 
So yes, this could be a damn bear wandering the lobby of a (fictionally) haunted hotel.
It's not even blowing a guy in a formal tuxedo. 
In King's novel, and later in Stanley Kubrick's interpretation of the novel for the big screen, the Stanley was transformed into the Overlook. It had a checkered history littered with death and mayhem which seemed to infuse the hotel with an evil life of its own. 
The real hotel is (unlike the Overlook) open year-round and a pretty popular destination for bears and people alike. 
The Stanley's general manager told CBS Denver that the bear wasn't inside for long, and staff managed to get it out of the lobby—from a distance, of course. 
"It's part of being in the Rocky Mountains," Rowley said, "we do have a hotel next to a National Park… wildlife is part of the gig." 
Rowley continued, saying that "[the] bears up here are super clever and once in a while they do figure out a way to poke their heads in." 
Even though the Stanley's staff was the source for this footage, we're skeptical. Watch the video below.
https://www.youtube.com/watch?v=KhGZczcJsBc
What you see is seriously creepy footage of a robot (wearing a mask for some reason) walking with a natural human-like gait. It looks totally real. It isn't. It was actually created by a guy named Maxim (seriously):
Hi. I took the background footage with my phone. Put the character in post. Was just testing an HDRI lighting setup I'd made… And it seems to have gone viral. 🙂 Robot is a free download for the unity game engine.

— Maxim Sullivan – Lektrix (@M_X_M) August 20, 2018
Even if the bear video was originally posted by Stanley Hotel staff, we can't help but be skeptical. If someone can create such a convincing yet fake video, it's not a stretch to say someone doing PR for the Stanley decided to get some freaky attention by ginning up a harmless hoax.
Bears like to eat fish and claw the faces off humans who get too close. It's not often you see one considering a stay at a posh hotel—though anything is possible.