Ryan Lochte And Teammates Made Up Robbery Tale to Cover Up Fight, Cops Say
Here's why the Olympic swimmer is suddenly in hot water.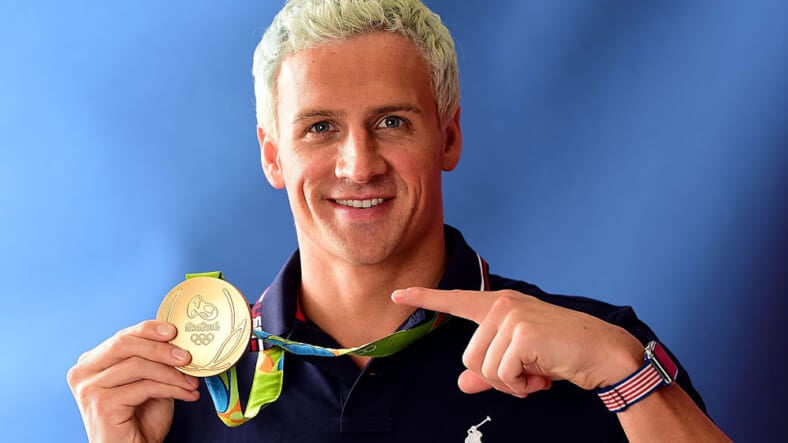 It now looks as though when Ryan Lochte and fellow Olympic swimmers Jack Conger, Gunnar Bentz and Jimmy Feigen claimed they'd been robbed in notoriously dangerous Rio de Janeiro they were playing fast and loose with the truth.  
ABC News reports they came up with the story to cover up a (probably drunken) fight with a security guard:
"One of the swimmers was seen on CCTV footage breaking down the door to the bathroom at the gas station and fighting with a security guard," a Brazilian police source told ABC News on Thursday. 
The Associated Press backs up the tale, reporting that instead of having guns held to their heads or even pointed at them, Lochte, Bentz, Conger, and Feigen really "tried but failed to open the door of an outside bathroom." And then, according to the AP, things got really stupid:
A few of the swimmers then pushed on the door and broke it. A security guard appeared and confronted them, the official said.

The official says the guard was armed with a pistol, but he never took it out or pointed it at the swimmers.
Soon the gas station manager was on the scene. A helpful customer handled the English-to-Portuguese duties to facilitate communication between the Americans and the manager, and they came to an agreement, reports the AP—the swimmers gave "him an unknown amount of money and then left."
From there, the swimmers essentially handled the situation like teenagers lying to mom about why they missed curfew, and ginned up their tale of tense gunplay on the mean streets of Rio after making it back to the Olympic village early in the morning. 
A Brazilian official who spoke with the AP said that swimmers Jack Conger and Gunnar Bentz copped to the whole thing being made up after police pulled them off a plane leaving Rio on Wednesday. 
The story of a robbery blew up in the athletes' faces after Lochte, age 32, told his mother, who then relayed it to the press. 
Several outlets, including CNN, have reported that the incident was even tackier than the swimmers simply breaking down a door:
Buzzfeed reports that while Ryan Lochte is safely at home in the United States, but the swimmers detained in Rio will speak with police Thursday at 3 p.m.
All the athletes involved could face a misdemeanor charge of lying to police, which would entail a fine and possibly up to a year in jail. 
As for star swimmer Lochte, he has to face the social media drubbing he should've expected would come from such a ridiculous incident.
https://twitter.com/hymanthepieman/status/766310065846575104
h/t Associated Press, Buzzfeed