Samsung's Galaxy Note7 Drops Soon—With a Slew of Killer New Features
Here's everything we know about Sammy's upcoming new phablet.
At Samsung's live Unpacked event on Tuesday, held in New York and simulcast to audiences in London and Rio, as well as in immersive 360 for mobile, Gear VR and Web viewers, the South Korean electronics behemoth announced that its Galaxy Note7—what it's calling "the world's most intelligent smartphone"—will begin pre-orders soon, and officially be released on August 19th.

As suspected, the popular five-year old phablet will incorporate iris scanning (which is not expected in iPhones for a couple of years), as a way to quickly confirm the user's identity for such applications as replacing passwords, unlocking a private secure folder, and making mobile payments.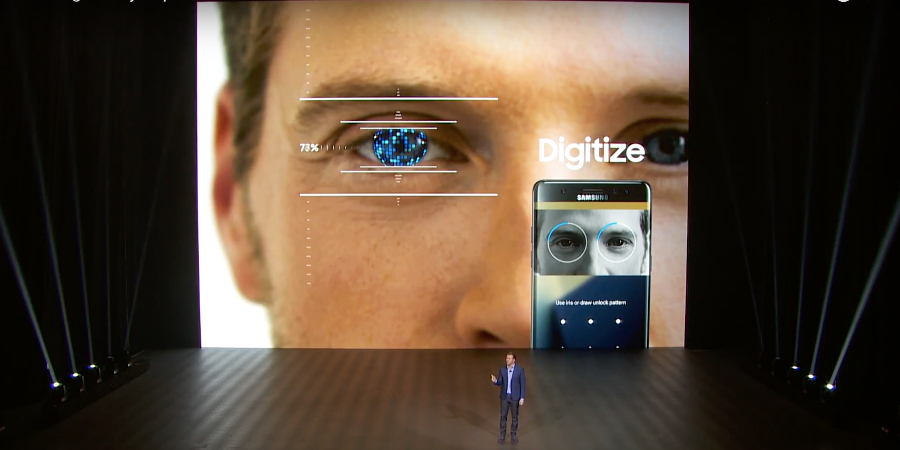 Other quick highlights of the phone: it'll feature faster and more powerful processors, IP68 dust and water resistance, speedy wireless charging, an HDR TV chipset optimized for mobile, a massive battery, and double the base memory (64GB) of the previous model.
The new and improved S Pen stylus is quite impressive on its own, too.

Aside from being more sensitive, precise and responsive, it's also dust and water resistant to a depth of five feet for up to 30 minutes. And it features a 56 percent thinner tip that can take notes with the screen off, blend colors like an oil brush when sketching, translate foreign words by hovering over them, and quickly create GIFs on-the-fly.
For all the folks who might be holding out for a new iPhone, Samsung made sure to point out key differences in the new device, such as the fact that this phone includes a stylus you don't have to purchase separately or charge before using, a headphone jack, an expandable memory card slot, and an adapter, so you can use their existing micro-USB charging and synching accessories with the device's USB-C connection.

In case those sorts of details entice you to either upgrade or jump sides to this phone, Samsung offers a SmartSwitch app to help you migrate all your data to the Note7, which automatically comes with 15 GB of free storage on their new cloud service.
If you'd like to watch Tuesday's hour-long event for yourself, view it below on YouTube (be sure to drag the timeline slider to the 45-minute mark, where the presentation actually starts).
Or even better, look for the Unpacked 360 View app in the Oculus store and watch it in virtual reality. While you view it, you can not only look around and see the audience members, but a couple of cool VR experiences are delivered within the presentation.
https://www.youtube.com/watch?v=HCpVkeW40pI